WHAT IS IT?
Benign paroxysmal positional vertigo (BPPV) is a condition which is fairly self descriptive. It is a neurological condition that is characterized by episodes of vertigo due to changes in head movement. It is thought to be caused by calcium crystals (otoliths/otoconia) that affect the cupula or cause abnormal endolymph movement in the ear.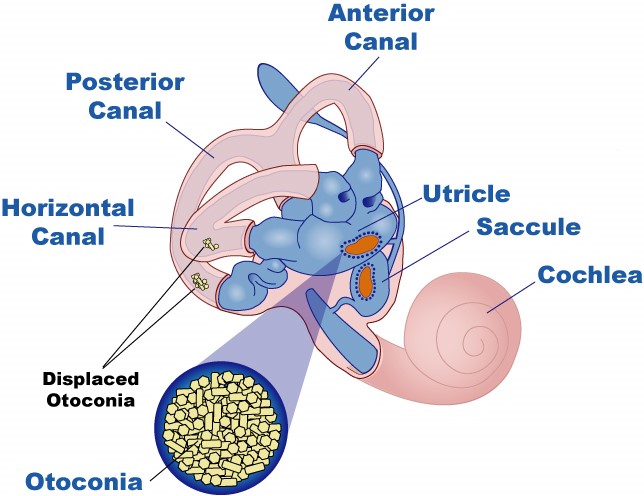 Depending on where the otoconia has been displaced, the patient will have a different type of BPPV (i.e. horizontal or posterior canal BPPV).
WHY IS IT A PROBLEM?
Patients will experience vertigo with head position movement, and this can be very disorienting.
WHAT MAKES US SUSPECT IT?
Risk factors: female, recent head trauma, inner ear disease, prolonged immobilization of heart
Presentation involves short, intermittent episodes of dizziness brought on by head movements and associated with nausea and nystagmus
HOW DO WE CONFIRM A DIAGNOSIS?
Dix-Hallpike maneuver will help diagnose posterior canal BPPV. Tested first
Roll test is used to help diagnose horizontal (lateral) canal BPPV. Tested with negative Dix-Hallpike
HOW DO WE TREAT IT?
Physical therapy is used in order to reposition the otoliths out of the canals.
The Epley maneuver is used for patients with posterior BPPV.
Antivertigo medications can be given for symptomatic relief.
Antihistamines such as meclizine
Anticholinergics such as scopolamine
HOW WELL DO THE PATIENTS DO?
This condition (given its name) is not dangerous or life threatening (although the vertigo can be severe). Many cases will lessen in severity spontaneously, and physical therapy is effective in resolving this issue in many patients.
WAS THERE A WAY TO PREVENT IT?
Prevention methods are not clear given the mysterious etiology of the condition.
WHAT ELSE ARE WE WORRIED ABOUT?
Misdiagnosis of BPPV (which may mask a more serious underlying condition) should always be considered.
OTHER HY FACTS?
Most common cause of vertigo
FURTHER READING
Page Updated: 05.28.2016