WHAT IS IT?
Pneumothorax refers to the accumulation of air in the pleural space. There are a few different types of pneumothorax:
Primary spontaneous: this is due to the rupture of apical blebs or cysts. This occurs in the absence of lung disease.
Secondary spontaneous: this results from a dieased lung (such as bull in emphysema or infections). It can be caused by using mechanical ventilation with high pressures which leads to barotrauma.
Traumatic: this can be caused by blunt (rib fracture) or penetrating (knife/gunshot) trauma.
Tension: this can be any of the above examples. Air will enter the pleural space but can not exit. This increase in trapped air (with each breath) leads to the tension pneumothorax designation.
WHY IS IT A PROBLEM?
Accumulation of air in the pleural space will cause the lung to collapse (making portions/all of the lung useless). It will also increase intrathoracic pressure, decreasing venous return to the heart, and ultimately decreasing cardiac output.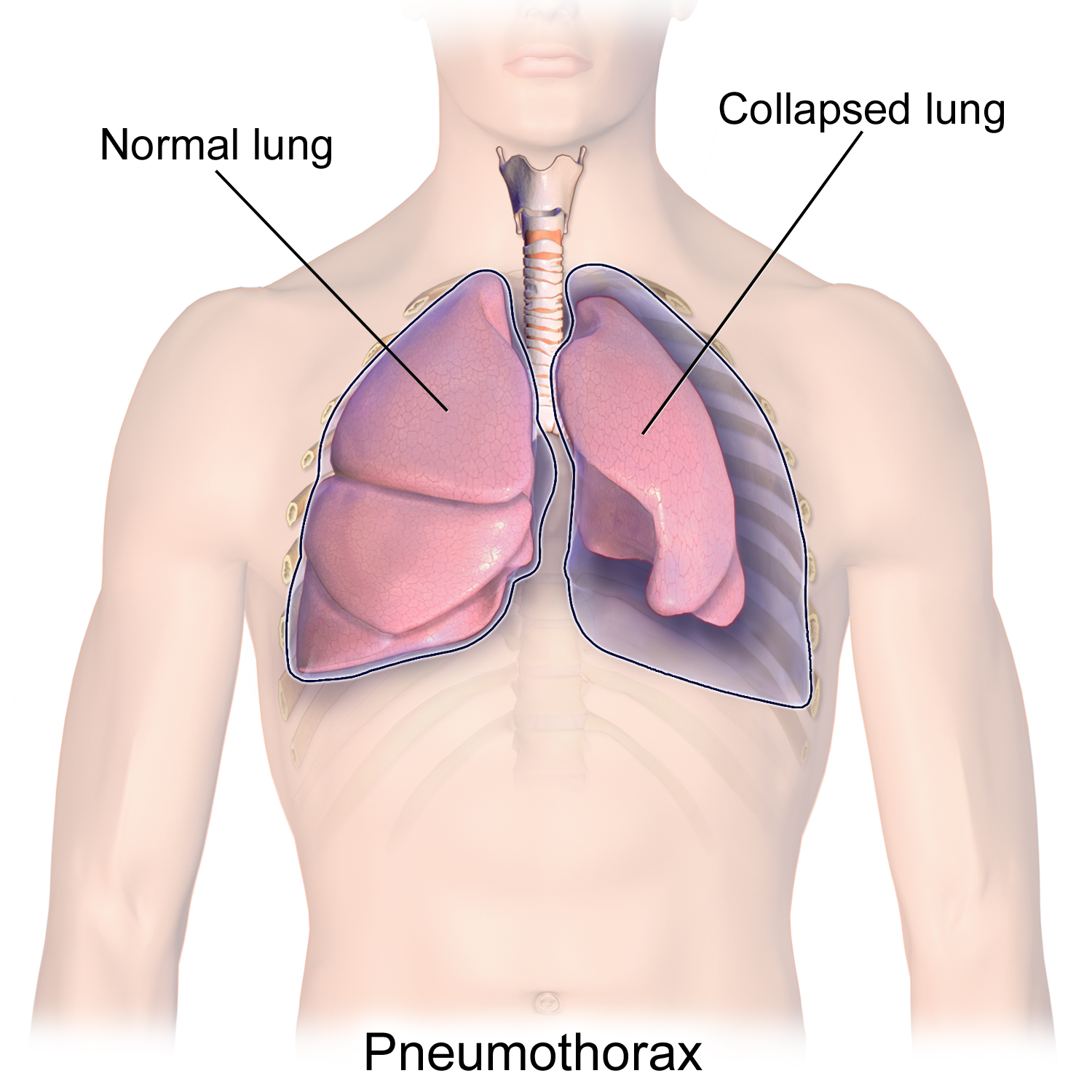 WHAT MAKES US SUSPECT IT?
Risk factors: tall and thin young males, COPD
Chest pain that is unilateral and worse with inspiration.
Dyspnea is also a common chief complaint given that might be associated with an increased respiratory rate.
Decreased O2 saturation can be a common finding when looking at vitals.
Pulmonary physical exam will reveal:
Unilateral chest expansion
Decreased fremitus on affected side
Hyperresonance on percussion of the affected side
Decreased breath sounds on the affected side.
*Any clear signs of puncture trauma should raise concern for pneumothorax! 
HOW DO WE CONFIRM A DIAGNOSIS?
Arterial blood gas can demonstrate hypoxemia.
Chest X-ray will show decreased lung markings in the area of the pneumothorax.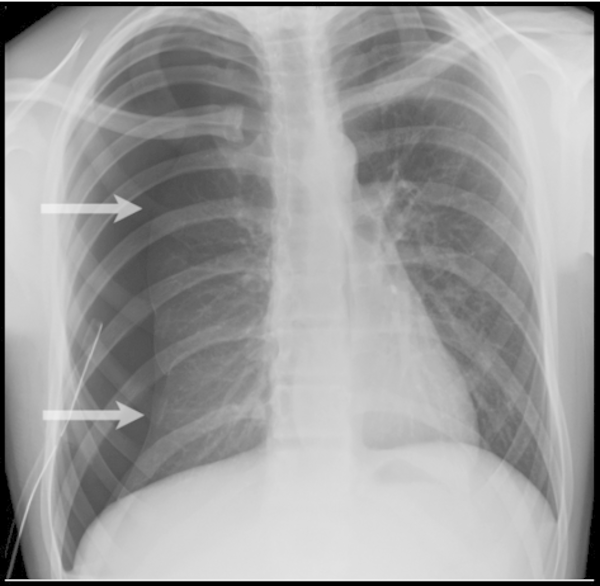 In a tension pneumothorax the trachea will deviate away from the affected side (due to the accumulation of air).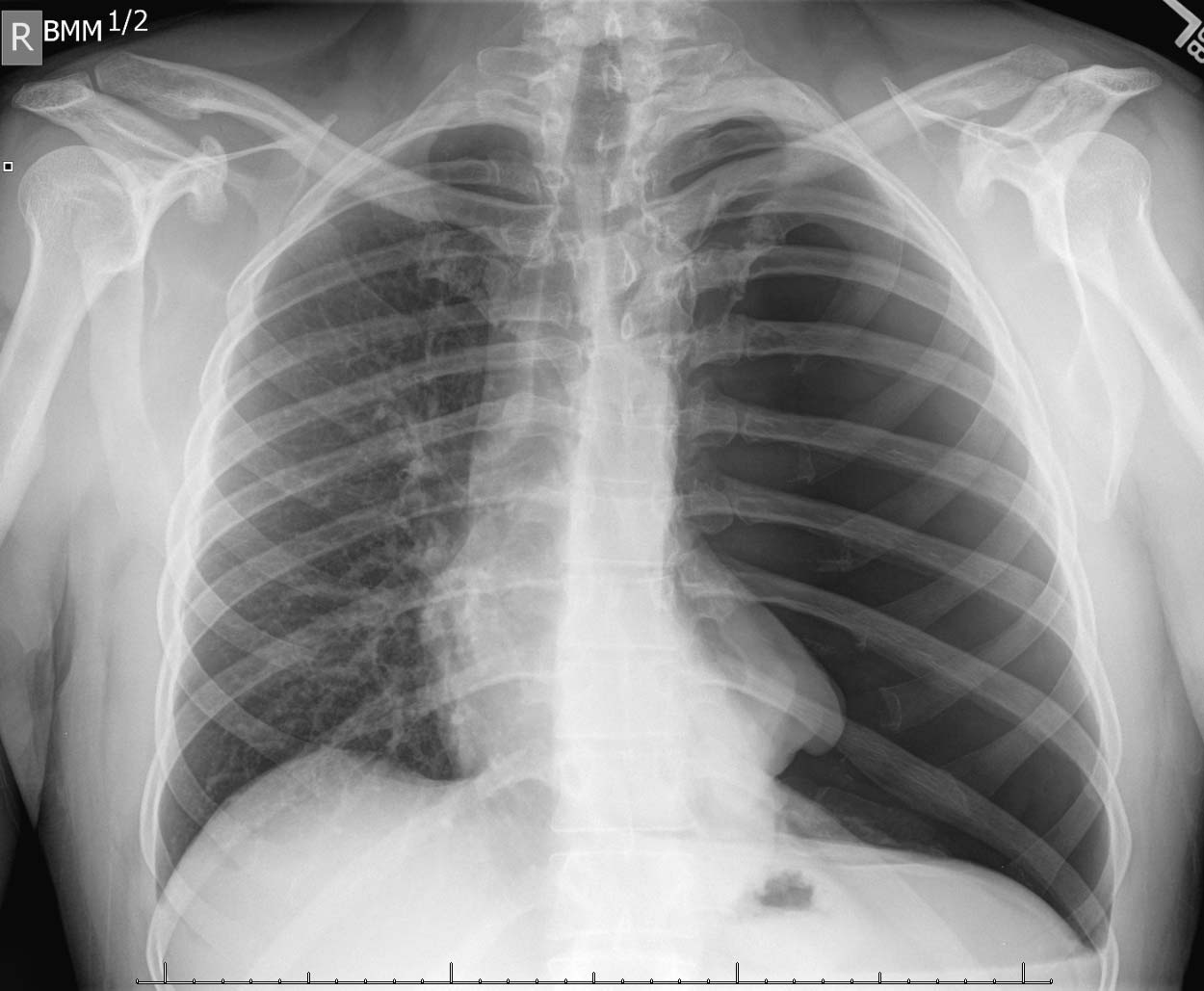 CT Scan: while not the "go-to" imaging modality to visualize a pneumothorax, a CT scan can confirm the diagnosis.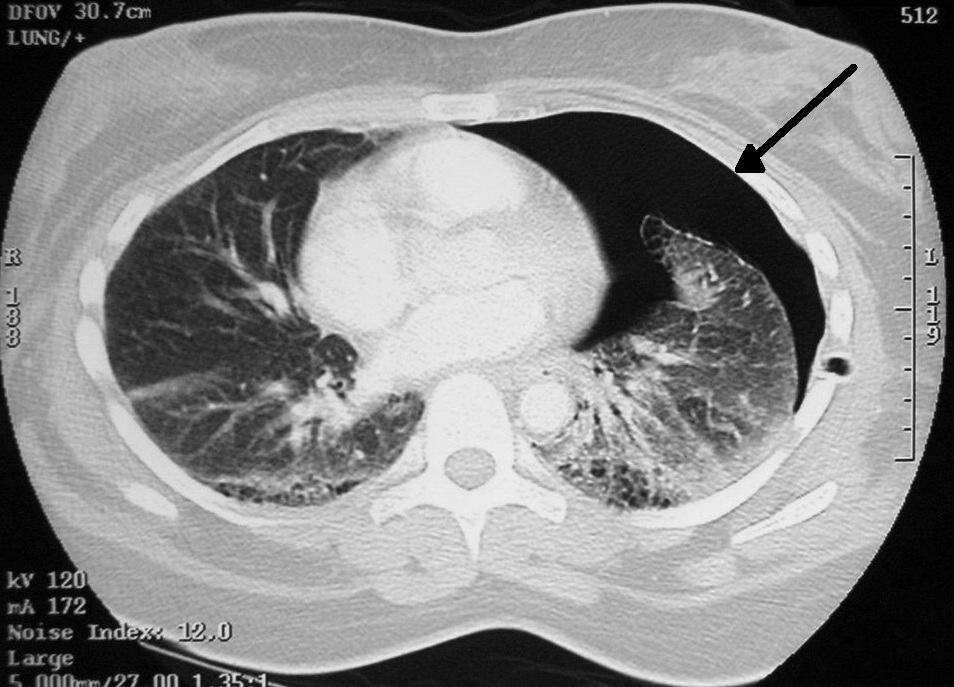 HOW DO WE RULE OTHER DIAGNOSES OUT?
Chest X-ray will be very useful in visualizing the pneumothorax and helping confirm the diagnosis of the pneumothorax.
HOW DO WE TREAT IT?
Treatment will depend on the severity and type of pneumothorax.
Less severe: small pneumothoraces (that are asymptomatic) might be treated with observation alone. This is because the vasculature beneath the visceral pleura gradually resorbs air. Administration of 100% oxygen greatly increases this process.
More severe: large and symptomatic pneumothoraces (i.e. tension pneumothorax).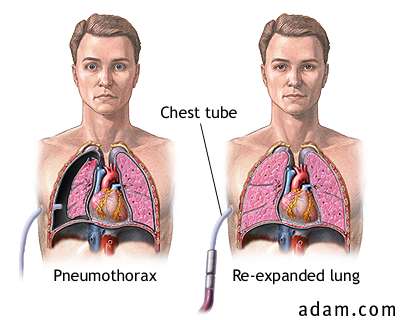 HOW WELL DO THE PATIENTS DO?
This depends quite a bit on the severity of the pneumothorax. Small pneumothoraces are non-emergent, while traumatic tension pneumothoraces often deal with patients who are in critical condition.
WAS THERE A WAY TO PREVENT IT?
Avoiding high pressures for mechanical ventilation one patients with diseased lungs can help prevent iatrogenic causes of spontaneous pneumothorax.
WHAT ELSE ARE WE WORRIED ABOUT?
Death secondary to respiratory compromise and collapse of the cardiovascular system. In a tension pneumothorax, the increased intrathoracic pressure will decreased venous return to the heart, ultimately resulting in reduced cardiac output.
OTHER HY FACTS?
Tall skinny young males are a common (used on exams) demographic that develop spontaneous pneumothorax.
ARCHIVE OF STANDARDIZED EXAM QUESTIONS 
This archive compiles standardized exam questions that relate to this topic.
FURTHER READING
Page Updated: 05.28.2016