WHAT IS IT?
External hemorrhoids are dilated hemorrhoidal veins (inferior hemorrhoidal veins) in the submucosal layer of the rectum. They are found below the dentate line and receive somatic innervation (inferior rectal branch of pudendal nerve) and are therefore painful. Constipation/straining during defecation contributes to their formation.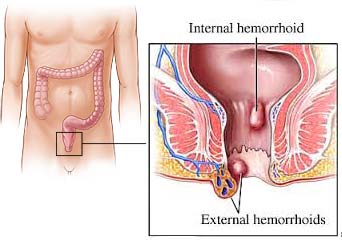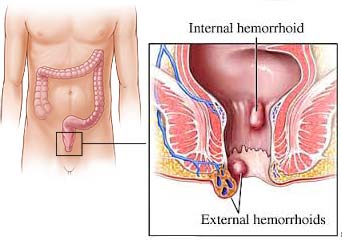 WHY IS IT A PROBLEM?
These are painful!
WHAT MAKES US SUSPECT IT?
Risk factors: liver cirrhosis
Rectal pain is common (typically without bleeding)
Rectal exam can reveal skin tags and a visible external hemorrhoid.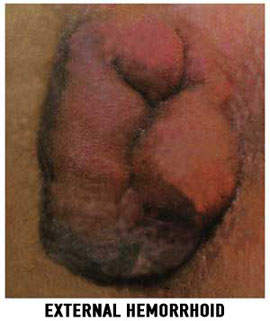 HOW DO WE CONFIRM A DIAGNOSIS?
Visualization of the external hemorrhoid is sufficient for a clinical diagnosis.
HOW DO WE RULE OTHER DIAGNOSES OUT?
HOW DO WE TREAT IT?
Stool softeners can reduce straining during defecation
High fiber diet can reduce straining during defecation.
Hemorrhoidectomy can be a surgical treatment option.
HOW WELL DO THE PATIENTS DO?
While not life threatening this condition can be quite painful.
WAS THERE A WAY TO PREVENT IT?
Avoiding excessive straining during defecation might help prevent this condition from occurring.
WHAT ELSE ARE WE WORRIED ABOUT?
Thrombosed external hemorrhoids can develop when the vein becomes engorged with blood that begins to clot.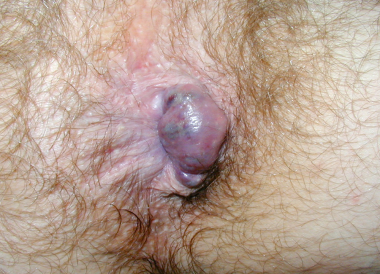 OTHER HY FACTS?
External hemorrhoids are painful and internal hemorrhoids are painless (generally speaking)
ARCHIVE OF STANDARDIZED EXAM QUESTIONS
This archive compiles standardized exam questions that relate to this topic.
FURTHER READING
Page Updated: 05.23.2016