WHAT IS IT?
An anal fissure is tear in the rectal mucosa below the dentate line. While the exact cause is unknown, precipitating factors are thought to include trauma (either by difficult stools, childbirth, or unreceptive intercourse). A correlated physiological factor also seems to be an increased resting anal sphincter tone (which sensitizes the anal mucosa to trauma during bowel movements).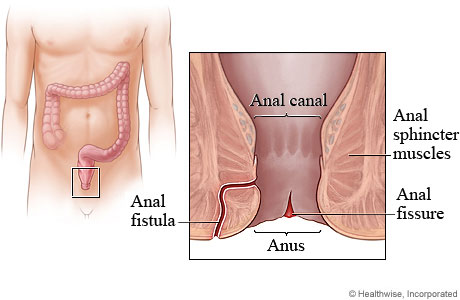 WHY IS IT A PROBLEM?
This tear can be very painful for patients, and can even bleed.
WHAT MAKES US SUSPECT IT?
Risk factors:
Inflammatory bowel disease, more common in young/middle aged adults (both genders), constipation
Rectal pain will be present in patients with an anal fissure. Patients may compare this to passing razor blades or broken glass.
pain often occurs during or after defecation
small quantities of bright red blood on toilet paper
Exquisitely painful on digital rectal exam. Can be associated with increased sphincter tone on exam.
Rectal exam can sometimes reveal tear in the mucosa. Sentinel skin tags (small external lumps) can indicate a fissure even if fissure is not readily visible.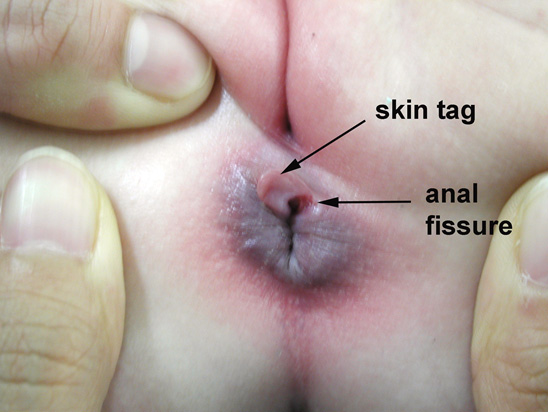 HOW DO WE CONFIRM A DIAGNOSIS?
Visualization of fissure can confirm diagnosis (either on regular rectal exam or by using anoscope).
HOW DO WE RULE OTHER DIAGNOSES OUT?
Rectal examination can help differentiate between an anal fissure or hemorrhoids (which can often be confused for each other).
HOW DO WE TREAT IT?
First line therapy is more conservative and includes:
Stool softeners
Increased water intake
Sitz bath combined with dietary bran
Topical steroids
Refractory/chronic cases of anal fissure may require:
Topical nitrates (such as nitroglycerine): this is to improve blood flow to the area and promote healing.
Topical CCB
Botulinum toxin can be injected into the affected area to lower the resting tone of the anal sphincter.
Surgery may be needed for some refractory cases of anal fissure. It involves separating the muscles of the anal sphincter to lower the resting tone of the sphincter permanently. This is often avoided because it can lead to fecal incontinence if this resting tone is lowered too much.
HOW WELL DO THE PATIENTS DO?
While not a life threatening condition, anal fissures are very painful and can greatly affect one's quality of life.
WAS THERE A WAY TO PREVENT IT?
Prevention of anal fissures is not something that is very established, however the usage of bran in one's diet has been shown to perhaps prevent recurrence of the condition (source)
WHAT ELSE ARE WE WORRIED ABOUT?
Perianal abscesses may form as a complication of an anal fissure.
Perianal fistulas may also form as a result of this condition.
ARCHIVE OF STANDARDIZED EXAM QUESTIONS
This archive compiles standardized exam questions that relate to this topic.
FURTHER READING
Page Updated: 05.23.2016