WHAT IS IT?
Nitroglycerin belongs to the nitrates class of cardiac medications. It vasodilator by increasing nitrous oxide in vascular smooth muscle, ultimately promoting vasodilation. It is thought to dilate veins more then arteries, reducing preload on the heart (especially at lower doses).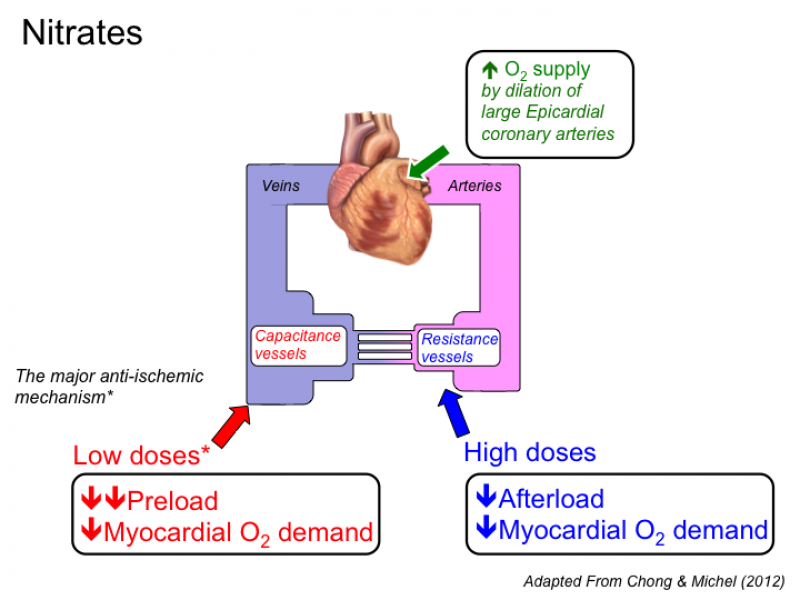 Nitrates are thought to have the following effects on the cardiovascular system:
Decrease end-diastolic volume
Decrease blood pressure
No effect on contractility
Increase heart rate (reflex response)
Decrease ejection time
Decrease myocardial oxygen demand
WHEN DO WE USE IT?
In patients with angina (such as stable, unstable, or prinzmetal angina), acute coronary syndrome, pulmonary edema, and even anal fissures.
WHEN DO WE AVOID USING IT?
Patients who are taking PDE inhibitors such as sildenafil (Viagra), vardenafil, tadalafil. This will lead to life threatening hypotension.
HOW IS IT ADMINISTERED?
Sublingual administration is very common for nitroglycerin however IV, lingual, and topical routes are also possible.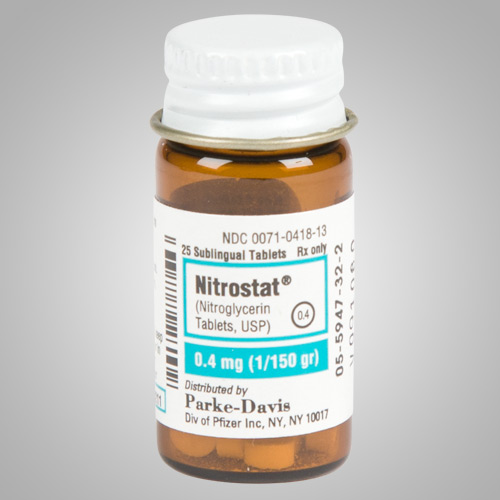 WHAT ARE THE SIDE EFFECTS/TOXICITY?
Reflex tachycardia, hypotension, flushing, headache.
Methemoglobinemia can be caused by nitrates. They oxidize hemoglobin.
ANYTHING ELSE TO KEEP IN MIND?
Tolerance to nitrates occurs quickly and patients must take breaks in its page or its efficacy will diminish.
Monday disease is caused by industrial exposure to nitrates (at work). Individuals develop tolerance for the vasodilating actions during the work week, and lose the tolerance over the weekend. Then when they being work again on Monday (and are re-exposed to the nitrates) they develop tachycardia, dizziness, and headache.
FURTHER READING
Page Updated: 05.21.2016