WHAT IS IT?
Stable angina pectoris is a specific type of chest pain that occurs when the patient is NOT at rest and is exerting themselves. It is often secondary to atherosclerosis/coronary artery disease, however other factors can also contribute (such as anemia or aortic stenosis). Stable angina belongs to a category of conditions called "Ischemic Heart Disease".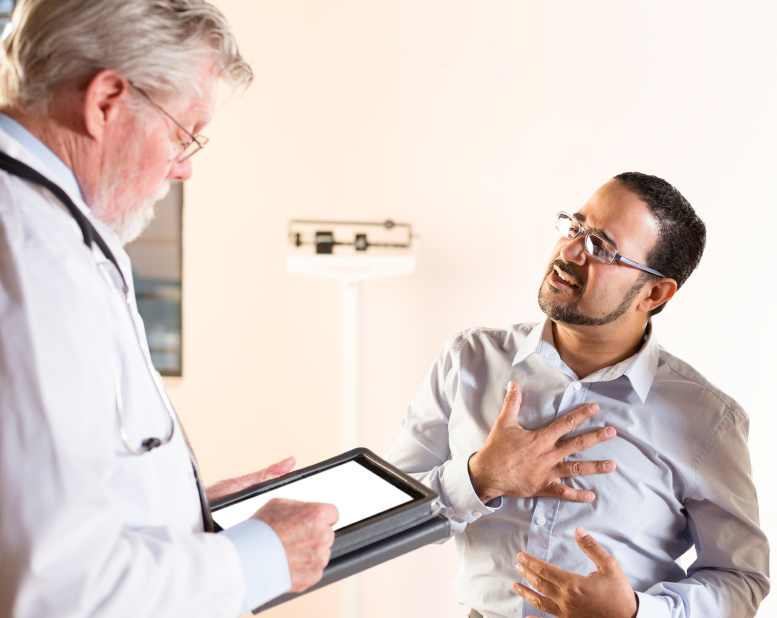 WHY IS IT A PROBLEM?
The paint felt by the patient is due to ischemia of the myocardium. This fundamentally is a problem because the muscles of the heart are not getting proper perfusion.
WHAT MAKES US SUSPECT IT?
Risk factors: aortic stenosis, atherosclerosis/CAD
Chest pain: that is present in the setting of exertion. Lasts ~20 minutes, radiates to left arm or jaw. Can be present with diaphoresis and SOB.
HOW DO WE CONFIRM A DIAGNOSIS?
EKG: ST depressions can be observed during a stress test (in vessel territories of subendocardial ischemia).

HOW DO WE RULE OTHER DIAGNOSES OUT?
A "normal" resting ECG and negative troponin I lab value can help rule out more serous cardiac disease/a heart attack.
HOW DO WE TREAT IT?
Rest should help resolve the chest pain (if the condition is indeed stable angina).
Nitrates (ex. nitroglycerin) should also help resolve the chest pain.
Beta-blockers can be used for initial therapy/relief of symptoms.
CCB (ex. Verapamil) can be used if beta-blockers are contraindicated.
HOW WELL DO THE PATIENTS DO?
This depends on a variety of factors. Patient lifestyle will have a large impact on prognosis.
WAS THERE A WAY TO PREVENT IT?
Preventing coronary artery disease/atherosclerosis is perhaps one of the best ways to prevent the development of stable angina.
WHAT ELSE ARE WE WORRIED ABOUT?
Complete occlusion of coronary arteries is a large concern for patients who have developed stable angina. Once these arteries are no long patent, a myocardial infarction is very likely.
OTHER HY FACTS?
To be symptomatic is is believed that coronary arteries must be at least 70% occluded. Patients with stable angina likely have this degree of occlusion in one or more coronary arteries.
FURTHER READING
Page Updated: 05.21.2016