WHAT IS IT?
Acute intermittent porphyria (AIP) is a rare autosomal dominant disorder of heme production. Individuals with AIP are deficient in porphobilinogen deaminase (or uroporphyrinogen synthase, an enzyme in the heme synthesis pathway), resulting in the accumulation of upstream intermediates inside the cytosol—namely, porphobilinogen (PBG) and δ-ALA.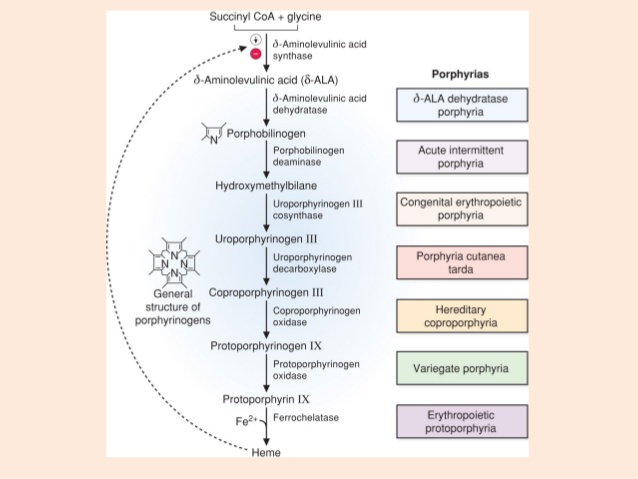 WHY IS IT A PROBLEM?
Buildup of these two intermediates is toxic to cells and can also cause degeneration of myelin.
WHAT MAKES US SUSPECT IT?
Risk factors:
The symptoms of AIP are variable, with severe poorly localized abdominal pain being the most common. The symptoms can be categorized by the 5 Ps of AIP:
Painful abdomen (often confused for acute abdomen, leading to a belly full of scars)
Port wine–colored urine (urine is colorless initially, but exposure to light causes PBG in urine to oxidize and gives urine its color).
Peripheral neuropathy (patchy numbness and paresthesias)
Psychological disturbances (anxiety, confusion, psychosis, dementia)
Precipitated by drugs (drugs that enhance cytochrome P-450 activity, sulfa drugs, barbiturates, some antipsychotics, alcohol)
*A feature that distinguishes AIP from other porphyrias is that it has no sun-induced blistering of the skin or rashes.
HOW DO WE CONFIRM A DIAGNOSIS?
Increased PBG presence in the urine
Genetic testing: to identify the causal mutation
Porphobilinogen deaminase activity test: less helpful in diagnosis, however the activity of this enzyme can be tested as well.
HOW DO WE TREAT IT?
Treatment is aimed at decreasing factors that precipitate attacks (discontinue any offending drugs) and at halting the endogenous heme production pathway
Endogenous heme production can be decreased by inhibiting ALA synthase (the rate-limiting step in heme synthesis). ALA synthase is inhibited by heme, the end product of heme synthesis (feedback inhibition) and by glucose. Patients should receive a high-carbohydrate (glucose) infusion during acute attacks and hematin or heme arginate to help resolve severe attacks (both are hemelike substances).
**Giving a dextrose infusion (carb loading) will address acute symptoms by inhibiting certain aspects of the heme synthesis pathway.
HOW WELL DO THE PATIENTS DO?
WAS THERE A WAY TO PREVENT IT?
WHAT ELSE ARE WE WORRIED ABOUT?
OTHER HY FACTS?
Updated 12.10.2015