WHAT IS IT?
Osteomyelitis is an infection of the bone/bone marrow. It can occur due to hematogenous spread, or a primary wound that has penetrated to the bone. Some common pathogens (and their associated causes) are listed below.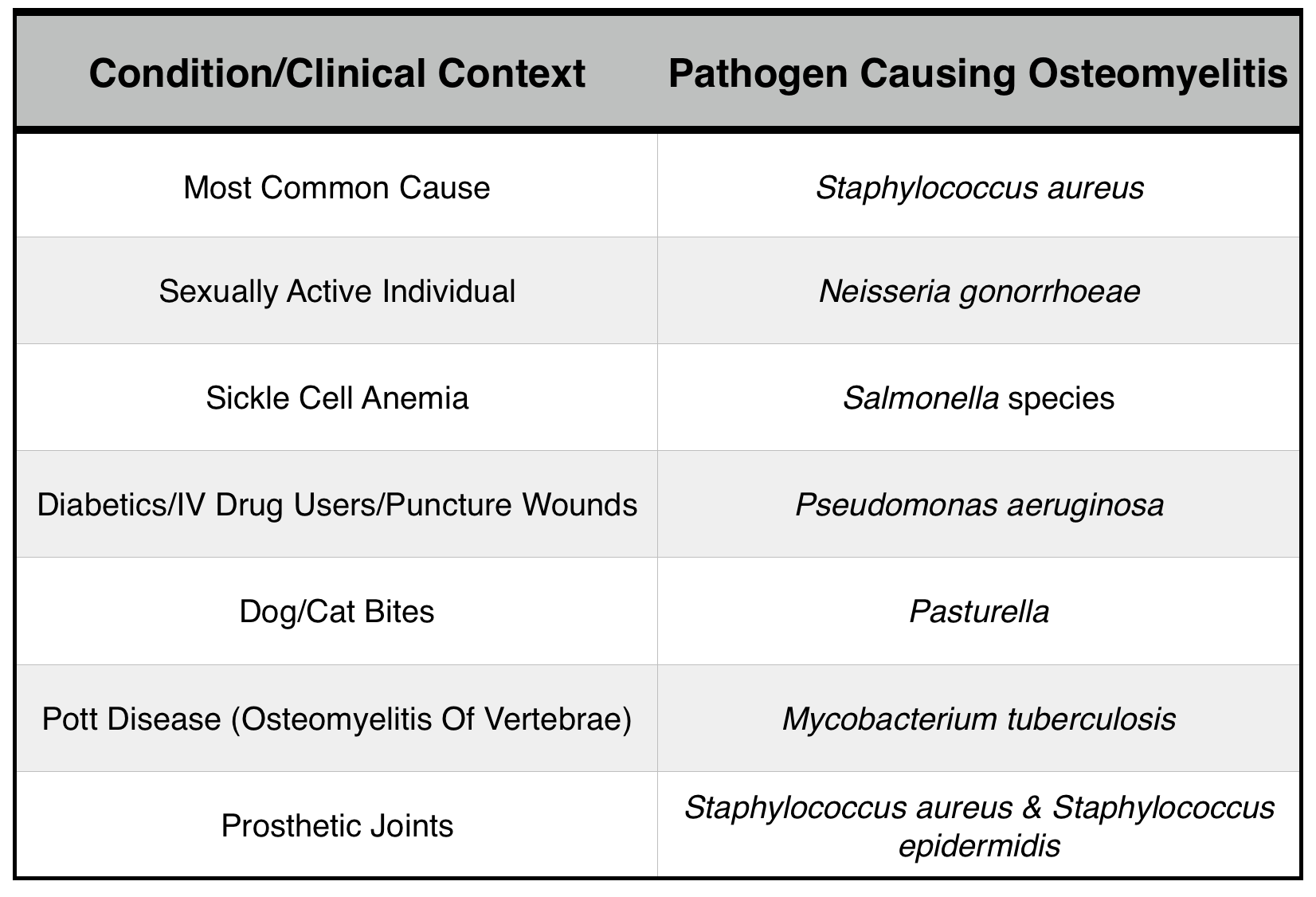 WHY IS IT A PROBLEM?
Infection of the bone is serious and can lead to many different medical complications.
WHAT MAKES US SUSPECT IT?
Risk factors: diabetes, peripheral vascular disease, prosthetic joint replacement, cellulitis, puncture wounds
Bone pain will be present given this is an infection of the bone.
General signs of infection such as fever, hypotension, increased respiration rate, and increased heart rate can all support the diagnosis of osteomyelitis.
Visible infection that has penetrated to the level of the bone! While many causes of osteomyelitis are from hematogenous spread, direct inoculation of the bone from a skin infection (i.e. cellulitis) is also possible. One can stick the tail of a cotton swab into the wound site to see if the depth of the wound is to the level of the bone (risk factor for osteomyelitis).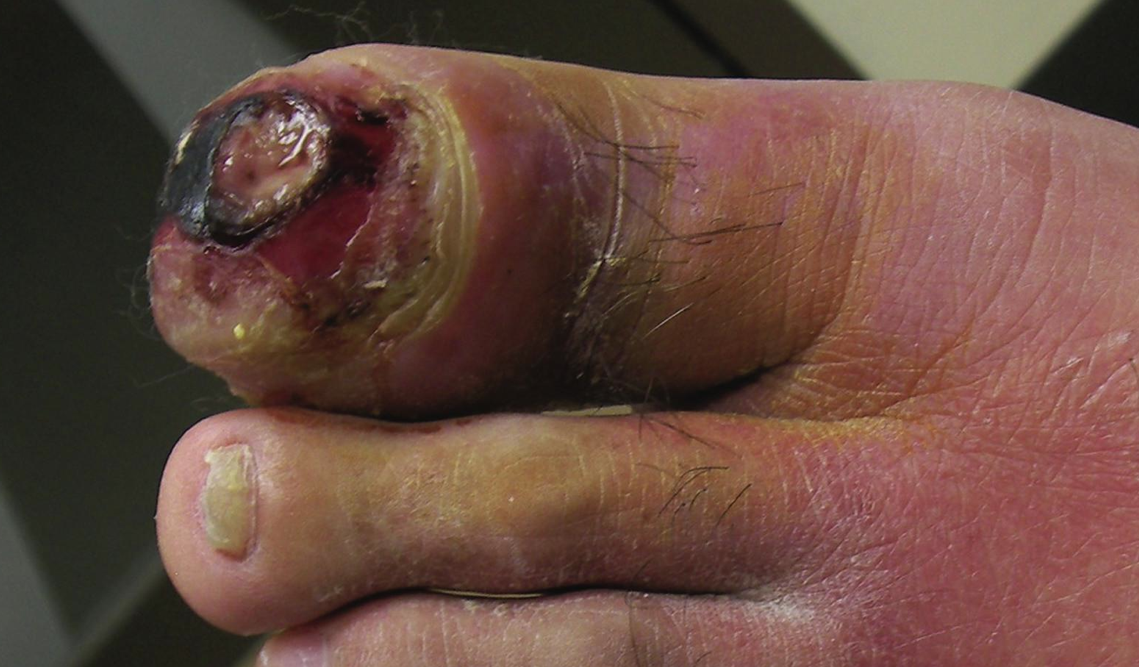 HOW DO WE CONFIRM A DIAGNOSIS?
*Elevated CRP and ESR expected but not specific findings: this is one of the few conditions that can raise the ESR above 100 mm/hr.
X-Ray is not able to detect osteomyelitis early on (only after at least 2 weeks of infection), but can be useful for those with chronic osteomyelitis. Can sometimes see the periostium raised from the bone on film. Lytic focus (abscess/sequestrum) that is surrounded by sclerosis (involucrum) of bone on x-ray is suggestive of osteomyelitis.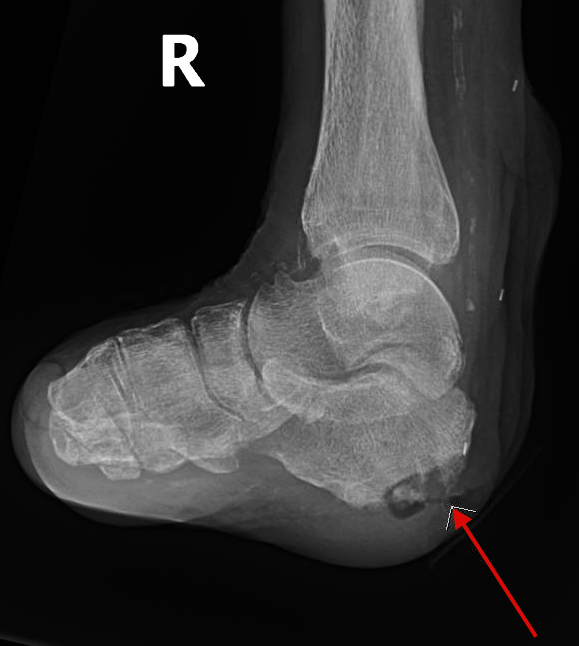 MRI is the best for early detection as well as for characterizing the extent of infection.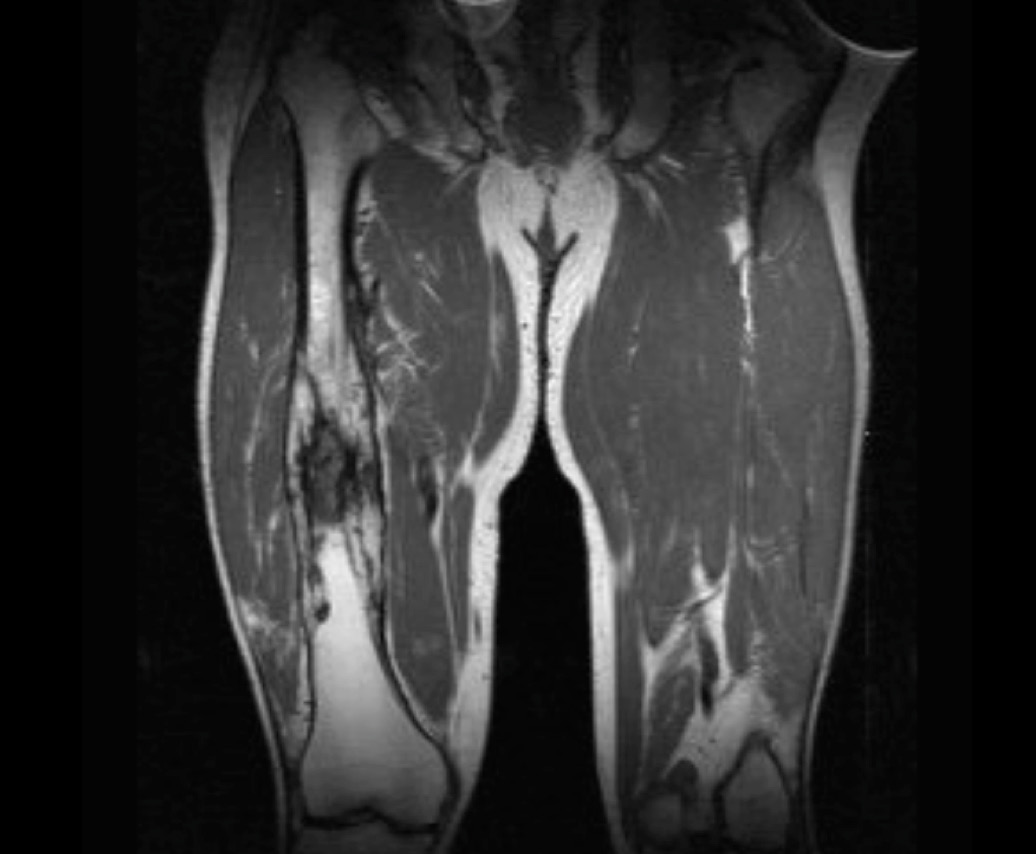 Blood cultures can be used to confirm sepsis/bacteremia.
HOW DO WE TREAT IT?
Antibiotic therapy specific for the causal pathogens is the mainstay of treatment.
Wound debridement of the affected area is often done as well.
Surgical intervention can be needed if not able to treat the infection medically.
HOW WELL DO THE PATIENTS DO?
This will depend on a number of factors including the age of the patient. Patients who have such an infection (and also poor blood flow to the area) will not have a good prognosis (and may require amputation).
WAS THERE A WAY TO PREVENT IT?
Controlling ones diabetes can prevent diabetic neuropathy/peripheral vascular disease
Controlling hyperlipidemia can prevent peripheral vascular disease
Avoiding IV drug use can prevent one source of infection
WHAT ELSE ARE WE WORRIED ABOUT?
Anemia of chronic disease can be caused by chronic osteomyelitis
OTHER HY FACTS?
Ewing sarcoma can be confused with osteomylitis on imaging.
ARCHIVE OF STANDARDIZED EXAM QUESTIONS
This archive compiles standardized exam questions that relate to this topic.
FURTHER READING
Page Updated: 05.13.2016