WHAT IS IT?
Hepatocellular carcinoma (HCC) is a type of liver cancer.
Causes/predisposing factors include: Liver cirrhosis (all causes including ethanol abuse), hepatitis B, hepatitis C, hemochromatosis, α1-antitrypsin deficiency, and Wilson disease.
WHY IS IT A PROBLEM?
Malignancy in any organ (in this case the liver) can compromise its ability to function, and can also spread in the body.
WHAT MAKES US SUSPECT IT?
Risk factors: hepatitis B/C, liver cirrhosis, ethanol abuse, hemochromatosis.
Chief complaints: can include anorexia, abdominal pain (RUQ), weight loss, malaise
Physical exam can reveal the following findings:
Jaundice
Hepatomegaly (that can be tender to the touch)
Ascites
CLINICAL WORKUP: SERUM STUDIES
CBC can sometimes show polycythemia (secondary to increased EPO production by the liver)
Increased AFP can be detected in patient serum.
CLINICAL WORKUP: IMAGING
For more information on the radiological appearance of HCC look here:
Ultrasound can visualize the malignancy that is present in this disease.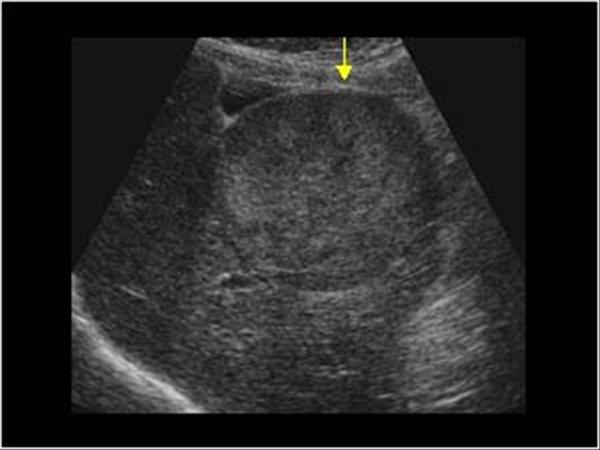 Contrast CT/MRI can help further support the diagnosis of HCC.Biopsy may not be required for diagnosis if certain imaging criteria are met.
CLINICAL WORKUP: PATHOLOGY
Biopsy of the lesion is ultimately diagnostic.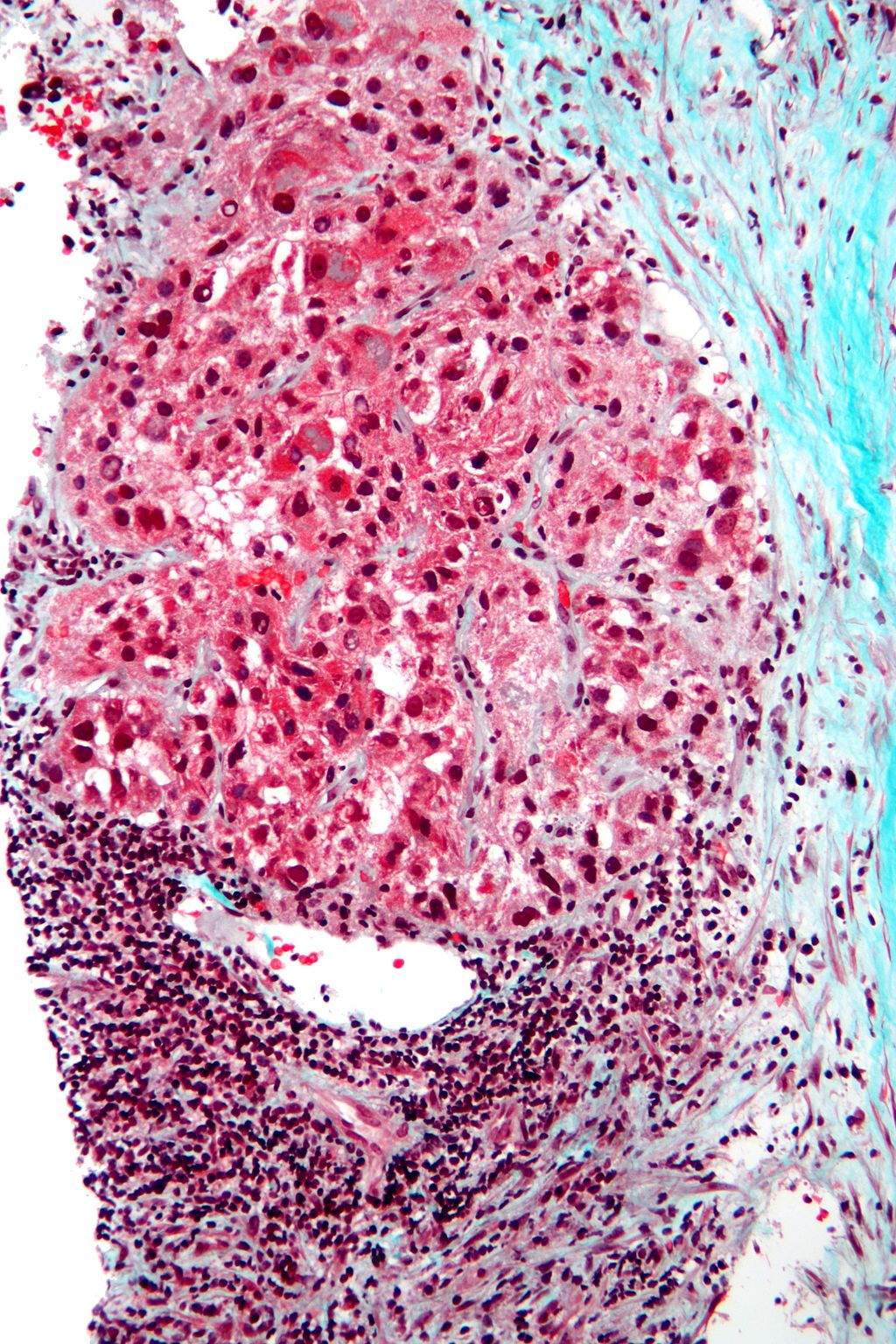 HOW DO WE RULE OTHER DIAGNOSES OUT?
Early on, ultrasound combined with elevated AFP levels can help rule out other possible diagnosis.
HOW DO WE TREAT IT?
Management of the condition depends on the extent of liver damage in the patient.
Liver resection is possible in certain circumstances when there is no/minimal liver cirrhosis.
Liver transplant can be required for patients who meet transplant criteria and have more extensive liver damage.
Systemic chemotherapy can still be used in practice, however has low response rates.
HOW WELL DO THE PATIENTS DO?
This will depend entirely on the extent of liver damage and the ability of the patient to have a liver transplant (should it be needed). If the tumor is not resectable and/or there is no liver transplant this condition is fatal.
WAS THERE A WAY TO PREVENT IT?
Many of the causes of HCC are environmental and can be avoided. These include:
Avoiding alcohol abuse to prevent liver cirrhosis
HBV vaccination to prevent hepatitis B infection
Use of barrier contraceptives to prevent spread of hepatitis B/C
Avoiding IV drug use to prevent spread of hepatitis B/C
Proper management of conditions like hemochromatosis and Wilson disease to prevent liver cirrhosis
WHAT ELSE ARE WE WORRIED ABOUT?
Metastasis: this condition can spread hematogenously throughout the body.
Budd–Chiari Syndrome may be caused by HCC.
OTHER HY FACTS?
Some species of Aspergillus produce aflatoxins which are associated with hepatocellular carcinoma (though to induce p53 mutations).
Erythropoietin can be secreted by tumors in HCC and as a result polycythemia can be present in patients.
Hepatocellualr adenomas may sometimes transform into HCC.
FURTHER READING
FLASH CARD SELF EVALUATION
[qdeck style="background: white;"]
[q] What are some of the major risk factors for developing HCC? What should you ask patients about when taking a history?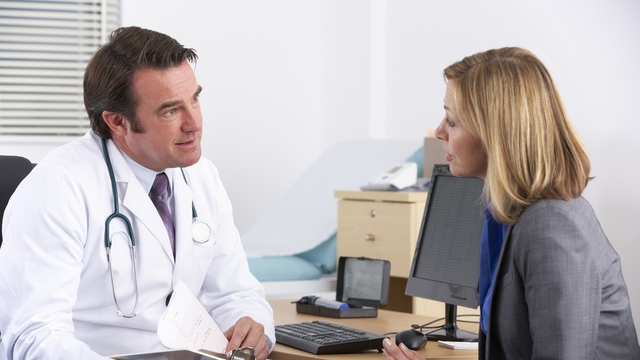 [a]  The major risk factors include:
Hepatitis B and C (ask about IV drug use)
Alcohol abuse
α1-antitrypsin deficiency
Liver cirrhosis (or any cause of liver cirrhosis)
Afalotoxin exposure (from the fungus Aspergillus
[q] What gene is commonly mutated in hemochromatosis? What is the result of this mutation?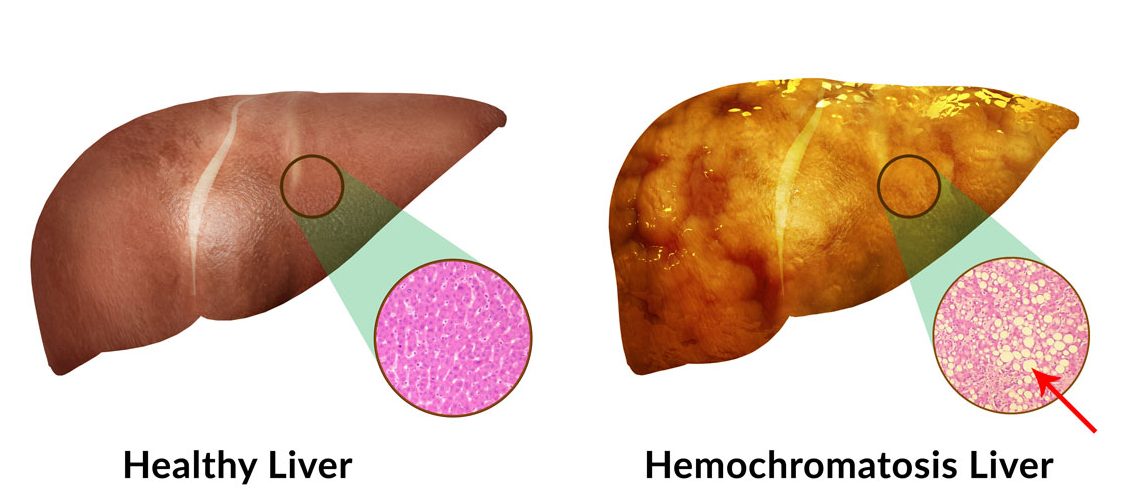 [a] The HFE gene is often the hereditary mutation that causes this condition, and it will lead to the dysfunction of hepcidin within the body.  Given the role of hepcidin in stopping transport of iron from the cells of the intestine into the serum, this will result in constitutive absorption of iron from the gut. Eventually this iron will be deported within cells/tissues of the body (such as the liver!) leading to damage (such as liver cirrhosis)!
[q] What gene is often mutated in Wilson disease? What is the consequence of this gene mutation?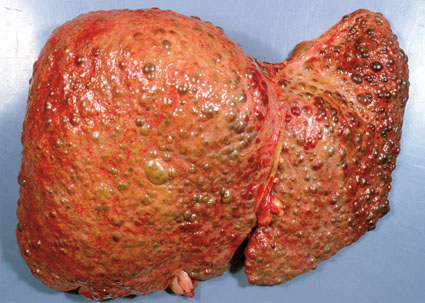 [a] Wilson disease is an autosomal recessive disease caused by mutations in the ATP7B gene. It is characterized by inadequate copper excretion within the body, and the failure of of copper to enter the circulation as ceruloplasmin (transport protein for copper). Copper normally is excreted by the liver into the bile using the copper transporting ATPase (ATP7B gene). Deficiency in these gene are what cause issues with copper excretion. The inability to excrete copper will can lead to copper accumulation initially in the liver hepatocytes, causing liver cirrhosis!
[q] What might be some of the common chief complaints for a patient with HCC upon presentation?
[a] Some common chief complaints for patients with HCC can include:
Anorexia
Abdominal pain (especially in RUQ)
Weight loss
Malaise
[q] What components of the physical exam are especially important in working up a patient for HCC? What findings would you expect?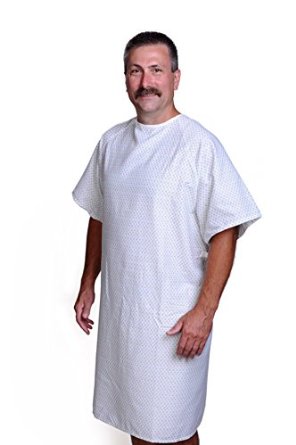 [a] The abdominal exam is especially important for patients with suspected HCC. One could expect to find jaundice, ascites, and abdominal tenderness. Jaundice may also be present (dermatological exam, and observing the eyes can be useful).
[q] Given a clinical suspicion of HCC from a history and physical, what types of lab tests are important to order?
[a] While these are not the only tests, it is important to order:
Hepatitis screening panel: patients should be screened for active hepatitis infections (especially if engaging in high risk behavior such as IV drug use).
AFP serum marker assay: this biomarker is elevated in HCC and can help aid in the diagnosis of the disease.
CBC: a complete blood count can be useful in giving more context on the patient (i.e. an elevated white blood cell count can indicate possible infection)
[q] A patient with suspected HCC has elevated AFP in their serum, and their CBC also reveals a hematocrit of 60%. What is happening pathophysiologically in the patient? Is it related to the suspected liver malignancy? What hormone might be elevated in the serum?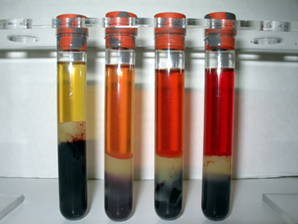 [a] Patients with HCC may develop polycythemia secondary to elevated EPO levels within their serum. The liver is responsible for making low levels of EPO in adults, however during HCC, malignant cells increase the production of this hormone (which leads to increased hematocrit levels!).
[q] What should be done next for the patient in the previous flash card (in order to diagnose HCC)?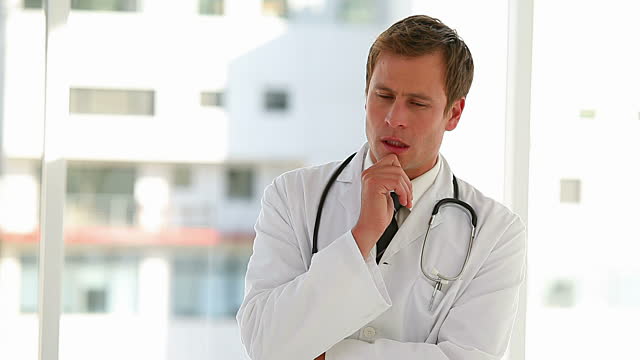 [a] While there is not just one one right answer to this question, it is important to realize that some sort of imaging should be obtained in order to help visualize the presence of the malignancy. Ultrasound, CT scan, and MRI may all be possible options. Depending on the results of the imaging, patients may or may not require a biopsy to confirm the diagnosis of HCC.
[q] What dictates the treatment path for a patient diagnosed with HCC? What are the major treatment options?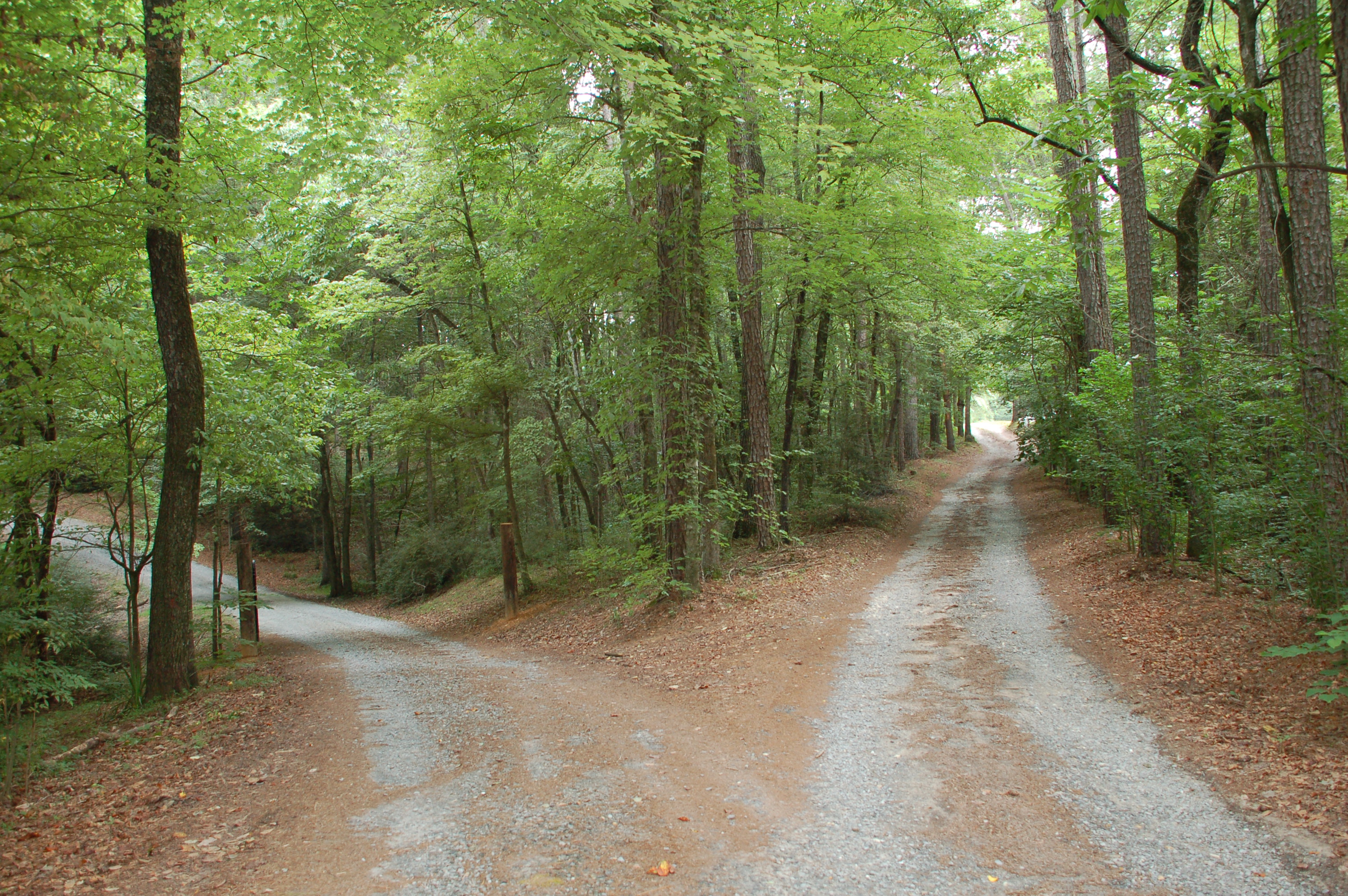 [a] Ultimately the decisions becomes somewhat binary. The large question that must be answered clinically is: "Can the tumor be resected?". If the liver is relatively healthy and the tumor has not spread from its primary location, surgical resection is the treatment of choice.
If on the other hand the liver has advanced cirrhosis and/or the malignancy has spread (and resection is not indicated) the patient will require a liver transplant.
[q] A patient with diagnosed HCC presents with worsening ascites, abdominal tenderness, and a larger/more palpable liver on abdominal exam. His abdomen is pictured below. What might have caused his current presentation? What is the pathophysiology behind this condition?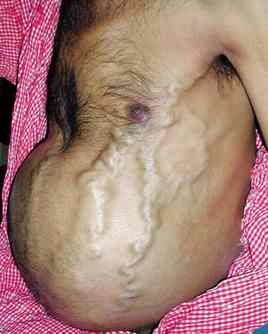 [a] It is possible the patient has Budd-Chiari syndrome. It is a condition caused by the of the hepatic veins that drain the liver. It has a classic presentation that includes: abdominal pain, ascities, and liver enlargement. Often times the formation of a blood clot will be the cause of this condition (that can be secondary to diseases such as HCC).
[/qdeck]
Page Updated: 05.06.2016