WHAT IS IT?
Clozapine (Clozaril) is a second generation/atypical antipsychoitc medication. The mechanism of action is not completely understood, however it is believed to have varied effects on the following receptors:
Serotonin (5-HT2)
Dopamine
Adrenergic (α)
Histamine (H1)
WHEN DO WE USE IT?
Treatment resistant schizophrenia: patients who has already failed multiple anti-psychotics are given this medication due to its efficacy.
Suicidality associated with schizophrenia: psychotic patients who are at high risk for self harm are given this medication due to its efficacy.
Psychosis in Parkinson disease: this medication is preferred for usage in patients with psychosis and Parkinson disease because it spares antagonizing the domaine signaling pathway. Furthermore, its anticholinergics effects can help with some of the Parkinson disease symptoms (such as the tremor).
WHEN DO WE AVOID USING IT?
As a first-line therapy for conditions like Schizophrenia. Clozapine has a serious side effect profile so other atypical antipsychotics should be used before turning to this medication.
Patients with uncontrolled seizures and granulocytopenia should avoid using this medication.
HOW IS IT ADMINISTERED?
This medication is given orally.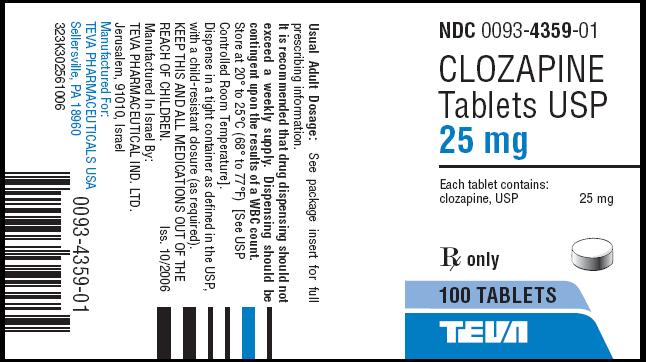 WHAT ARE THE SIDE EFFECTS/TOXICITY?
Agranulocytosis: patients on this mediation require weekly WBC monitoring.
Stop medication if WBC count drops below 3000
Stop medication if neutrophil count is below 1500
Seizures: this medication will lower the seizure threshold.
Myocarditis:
Metabolic syndrome: this medication is strongly associated with weight gain.
QT interval prolongation:
FURTHER READING
Page Updated: 05.04.2016