WHAT IS IT?
Staph aureus is a gram positive coccal bacterium. The bacterial spheres aggregate together (like a literal staff).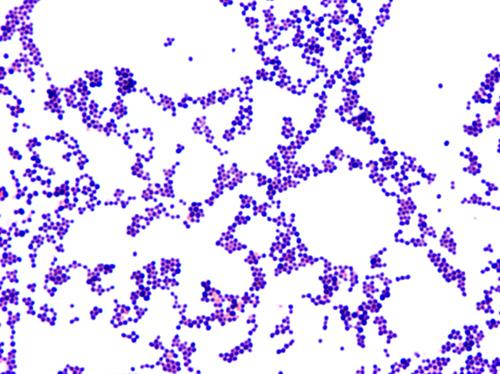 CULTURE CHARACTERISTICS
β-hemolytic bacteria: form clear area of hemolysis on blood agar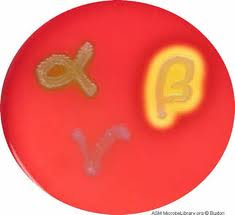 Catalase positive: bubbles observed when bacteria are added to hydrogen peroxide
Coagulase positive: this bacteria will cause plasma to coagulate/gel (in a tube) and will agglutinate/clump on a slide after citrated plasma is added.
MOLECULAR CHARACTERISTICS
Protein A (virulence factor): binds Fc-IgG, and inhibits both complement activation and phagocytosis.
Toxic shock syndrome toxin: this enterotoxin type B is found in S. aureus and is a superantigen that binds to MHC II and T-cell receptor (activating them), ultimately resulting in polyclonal T-cell activation on a very large scale.
Exfoliative toxin: these extremely specific serine proteases recognize and cleave desmosomal cadherins only in the superficial layers of the skin, which is directly responsible for the clinical manifestation of staphylococcal scalded skin syndrome (SSSS), source
Preformed enterotoxin: this pre-formed toxin produced by S. aureus can cause food poisoning
TRANSMISSION
S. aureus is normally found colonizing the nose and can be transmitted by contact/displacement with/of the local pathogen.
CONDITIONS CAUSED
Dermatological: mastitis, impetigo, cellulitis, MRSA, scalded skin syndrome, general skin infections
Musculoskeletal: osteomyelitis
Gastrointestinal: food poisoning
Pulmonary: pneumonia
Cardiological: endocarditis (can occur from tunneled catheter)
Rheumatological: infective arthritis
Multisystem: abscess, wound infection, toxic shock syndrome (TSST-1), lymphadenitis
TREATMENT
Cephalosporins used in general: Bactericidal β-lactam drugs that inhibit cell wall synthesis but are less susceptible to penicillinases.
Dicloxacillin, nafcillin, oxacillin: all used for non MRSA S. aureus treatment (MRSA has an altered penicillin-binding protein target site)
Cefazolin: prophylaxis for prevention of post surgical infections.
Daptomycin: Lipopeptide that disrupts cell membrane of gram-positive cocci. Used especially for MRSA.
Vancomycin: inhibits cell wall synthesis of gram positive bacteria. Used especially for MRSA.
Linezolid and ceftaroline also used for MRSA
OTHER HY FACTS
Commonly causes infection in chronic granulomatous disease
Most common cause of secondary pneumonia (bacterial pneumonia superimposed on a viral upper respiratory tract infection).
ARCHIVE OF STANDARDIZED EXAM QUESTIONS
This archive compiles standardized exam questions that relate to this topic.
Page Updated: 01.28.2016