WHAT IS IT?
Midazolam is a short acting benzodiazepine medication. It works by facilitating GABA-A action by increasing the frequency of Cl- channel opening.
WHEN DO WE USE IT?
Anxiety, spasticity, detoxification (alcohol withdrawals), general anesthetic, sedative for procedures like endoscopy.
WHEN DO WE AVOID USING IT?
Patients who are drinking alcohol during the time of dosage (these combine their CNS depressive effects).
HOW IS IT ADMINISTERED?
Can be administered orally, intramuscularly, or intravenously.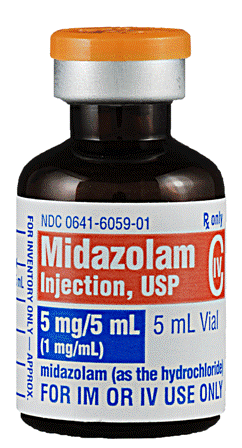 WHAT ARE THE SIDE EFFECTS/TOXICITY?
Dependence, postoperatieve respiratory depression, hypotension, anterograde amnesia, CNS depression
ANYTHING ELSE TO KEEP IN MIND?
This medication is given to patients who are going to be put under for operations, prior to the start of the surgery (to calm the nerves).
Overdose is treated with flumazenil (competitive antagonist at GABA benzodiazepine receptor)
FURTHER READING
Page Updated: 04.26.2016