WHAT IS IT?
Ischemic Colitis is the most common form of bowel ischemia. In the most simple terms, ischemic colitis is the reduction in blood flow to the colon that causes ischemia.
WHAT CAUSES IT?
This is most often caused by atherosclerosis of the superior mesenteric artery (SMA) however other causes for this condition also exist.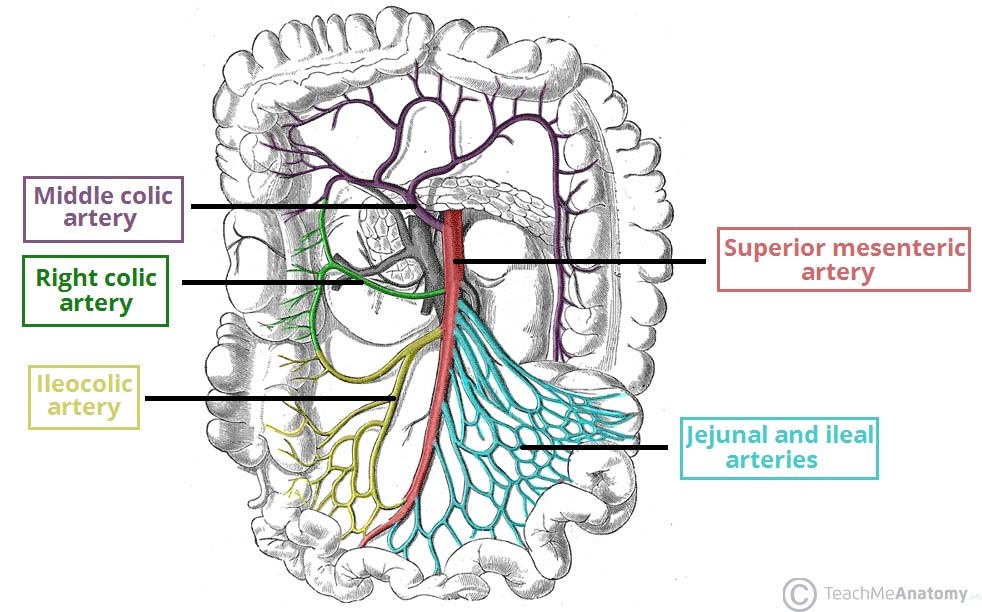 Other causes: thrombus formation, embolus, lack of bowel perfusion (ex. marathon runners can develop transient ischemic colitis due to shunting of blood away from he GI tract and to the muscles)
WHY IS IT A PROBLEM?
Decreased blood flow to any portion of the body (including the bowel) can lead to tissue death/necrosis. In the bowel this can lead to bloody diarrhea and infection (due to gut flora leaving the GI tract into other portions of the body).
WHAT MAKES US SUSPECT IT?
Risk factors:
Old age, COPD, recent exertion (i.e. running a marathon)
Chief Complaints can include:
Pain after eating can occur due to improper perfusion of the bowel (post-pradinal angina). This can lead to

weight loss

in patients.
Bloody diarrhea can be caused by this disease process.
Abdominal pain can be present as well
Anorexia/nausea/vomiting
History Of Present Illness:
Bloody stools: depending on the extent of the ischemia, patients may have blood stools.
Physical Exam:
Vitals may show:
Abdominal exam might reveal findings of:
Mild to severe tenderness

depending on the stage of the ischemia.

Rebound tenderness

can be present as well.
CLINICAL WORKUP
Lactate dehydrogenase (LDH): elevated LDH levels in the serum can suggest the presence of ischemia (although can not localize where the ischemia is).
Stool cultures/ova and parasite microscopy to assess for the possibility of infection (such as E. coli)
Plain X-ray/KUB may be ordered early on to out perforation or very obvious bowel obstruction
CT scan will likely be ordered in many patients with suspected bowel ischemia. It can demonstrate findings suggestive of bowel ischemia/necrosis.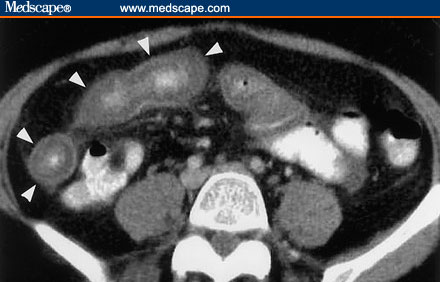 Colonoscopy is the gold standard for making the diagnosis of ischemic colitis. Ischemia and associated necrosis can be visualized.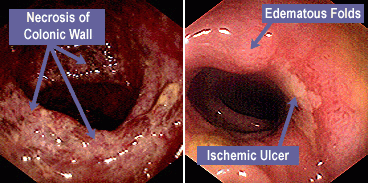 AT WHAT POINT ARE WE COMFORTABLE IN MAKIGN THE DIAGNOSIS?
While colonoscopy will most clearly visualize bowel ischemia/necrosis it is not always a practical option for patients. Among other considerations, we must keep in mind that the process of a colonoscopy can perforate the bowels (so not all patients with suspected bowel ischemia should get a colonoscopy). Even in the absence of a colonoscopy study, we may begin treating patients for ischemic colitis (hospital admission, bowel rest, fluid resuscitation) simply because these intervention can help prevent irreversible damage to the bowels (and in the grand scheme of things, are not dangerous to the patient). Some considerations to ponder when trying to make this decision are:
Does the clinical presentation support the diagnosis? Given the nature of the condition, severe abdominal pain combined with blood diarrhea requires serious attention.
Are there signs of ischemia? In combination with the history/physical, lab values (such as elevated LDH) that support the diagnosis of an ischemic process can further support calling the patient's condition ischemic colitis.
Is there another cause of the symptoms? Obviously if another cause of the presentation is identified then the diagnosis of ischemic colitis should be abandoned.
When do we pull the trigger for ordering the colonoscopy? This study should only really be reserved in situations where symptoms have not been able to be reversed with medical management (namely restoring perfusion to the bowels). The study can be used to distinguish between frank necrosis, transit ischemia, and even IBD (biopsy may be required).
HOW DO WE TREAT IT?
Treatments with a lower threshold for initiation: the following can be done in patients with suspected bowel ischemia
Remove cause of ischemia if known.
Bowel rest: patients admitted to the hospital must be made NPO
Fluid resuscitation with IV fluids necessary to restore blood pressure/maintain perfusion of bowel
In patients with suspected infection/high risk for infection broad spectrum antibiotics can be given.
In patients with necrotic regions of the bowel (colonoscopy confirmed) surgical bowel resection may be required to remove the affected areas.
HOW WELL DO THE PATIENTS DO?
Most cases of ischemic colitis are mild, however patient who have legitimate infarcts of their bowel will require surgical resection of the affected area. These severe cases have a risk of mortality.
WAS THERE A WAY TO PREVENT IT?
Preventing ischemic colitis is difficult to do simply because this disease is not easy to anticipate. Avoiding situations of overexertion or hypotension can in part help prevent certain causes of this condition.
WHAT ELSE ARE WE WORRIED ABOUT?
Transmural necrosis is the worst type of bowel ischemia in that it is an infarct and is not reversible.
Bowel perforation can occur in patients with this condition.
Infection secondary to transmural necrosis/bowel perforation is a significant risk in patients
Colonic ileus can occur as a result of this disease process.
OTHER HY FACTS?
This condition common occurs in watershed areas. These include:
The splenic flexure of the colon (watershed area of the SMA)
The distal colon (sigmoid colon)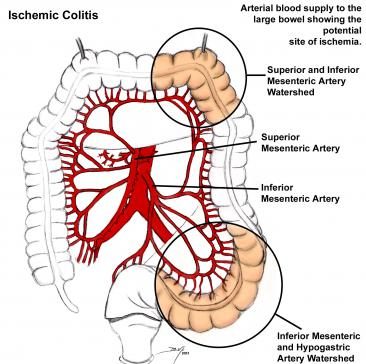 ARCHIVE OF STANDARDIZED EXAM QUESTIONS
This archive compiles standardized exam questions that relate to this topic.
FURTHER READING
Page Updated: 04.19.2016