WHAT IS IT?
Small Bowel Obstruction (SBO): just as the name sounds, is a process in which the small intestines are obstructed (it is as simple as that!).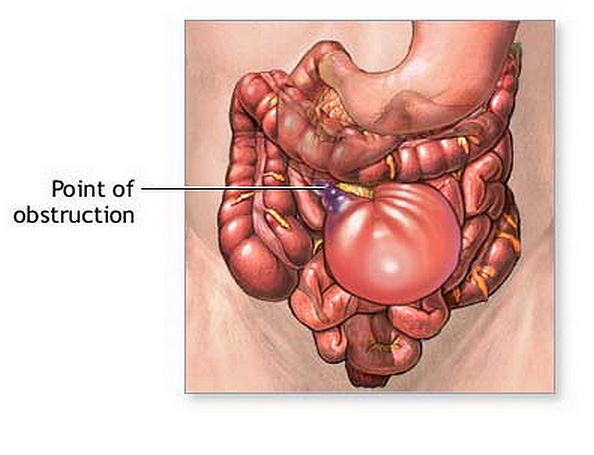 WHAT CAUSES IT?
There can be many causes for this condition however common ones include:
Adhesions in the abdomen/bowel lumen: these most commonly occur after abdominal surgery post surgery.
Hernias: herniated bowels can become obstructed.
Volvulus: this process will cause a mechanical obstruction.
Intussusception: this telescoping can cause the SBO as well.
Polyposis: polyps within the intestinal lumen can also cause mechanical obstruction.
Ovarian neoplasms (female patients): can compress the bowels.
Ascaris lumbricoides: this roundworm can sometimes be responsible for cause an SBO.
In the end remember anything that can cause a mechanical obstruction in the lumen of the small bowel can cause an SBO!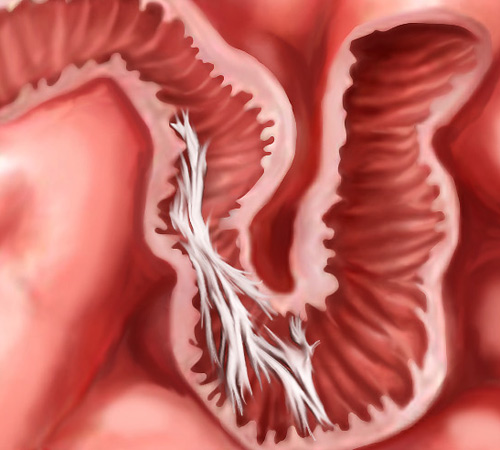 WHY IS IT A PROBLEM?
If the small bowel is obstructed this means that ingested food/liquids will not be able to pass by this obstruction. As a result, the patient have swelling of the bowels proximal to the obstruction and present with pain (and other symptoms that are explained more below).
WHAT MAKES US SUSPECT IT?
Risk factors:
History of abdominal surgery
Chief Complaints:
Abdominal pain
Obstipation
Nausea/vomiting
History Of Present Illness:
Deceased oral intake given that the patient will become nauseous/vomit if they continue to eat/drink. This is because the obstruction will cause a mechanical "back-up" of all ingested items (no place for it to go but back up!)
Nausea/vomiting especially with significant relief upon vomiting.
Decreased/lack of bowel movements or flatus: if the small bowel is persistently obstructed, then at a certain point the patient will no longer be able to pass gas/have bowel movements.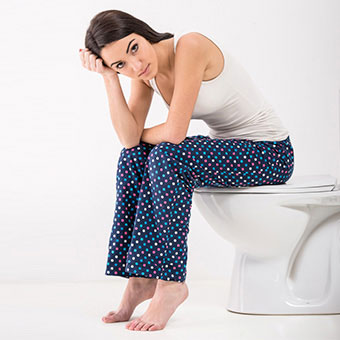 Physical exam:
Abdominal exam can reveal:
Abdominal distention
Abdominal tenderness
Hernias (vental/umbilical/other) may be present (and the cause of the SBO).
Genitourinary exam:
WHAT IS THE CLINICAL WORKUP?
Abdominal X-ray (KUB): this study is fairly routine and often is ordered due to its convenience. Possible findings that can support a diagnosis of a SBO include: dilated loops of bowel, often with multiple air fluid levels. See more examples of how a SBO will appear radiologically here. Ultimately a CT scan will provide more insight into the etiology/location of the obstruction.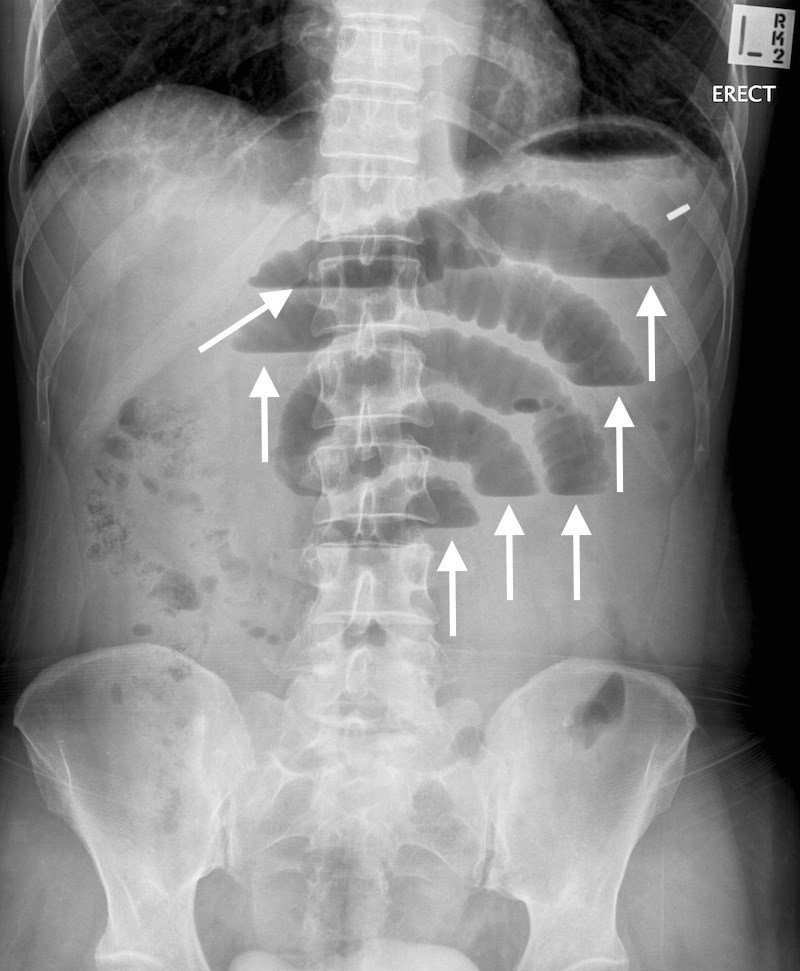 CT scan: further imaging can show a transition point at the site of the obstruction (the bowel will be dilated proximal to the obstruction, and compressed distal to the obstruction). The etiology of the SBO may also be discovered on the CT-scan. See more examples of how a SBO will appear radiologically here.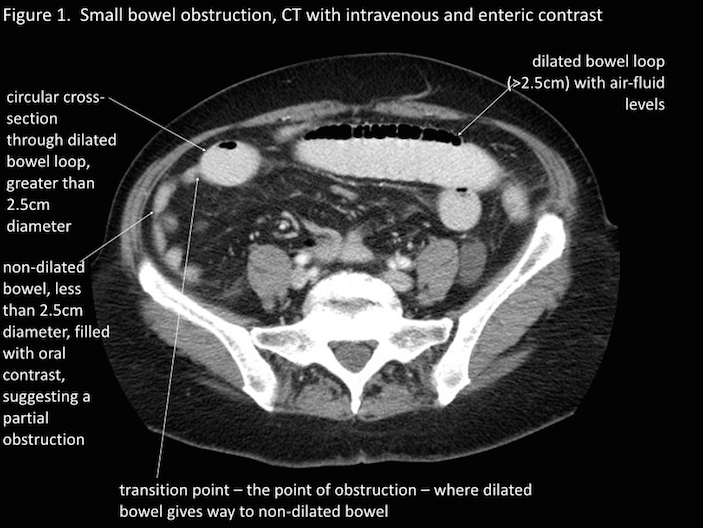 WHAT ELSE ARE WE WORRIED ABOUT?
Bowel necrosis/perforation: some etiologies of SBO can lead to ischemia of the mesentery/bowel. This can result in necrosis and bowel perforation which can be dangerous to the patient!
HOW DO WE TREAT IT?
The fundamental first line treatment for SBO is manage the symptoms of the patient while decompressing the mechanical obstruction present in the small bowel. This involves a few elements:
Oral intake is stopped (patient made NPO) to prevent further compression
IV fluids are started to keep patients hydrated
Antiemetics (i.e. Ondansetron) can be used to make patients more comfortable and address persistent nausea.
Insertion of nasogastric tube can be conducted to remove contents from the proximal GI tract and decompress the patient. This can sometimes resolve the obstruction on its own.
Surgery for this condition may also be required if the above patients fail to reverse patient symptoms/resolve the. Generally one will wait a few days and monitor the progression of symptoms before pursuing the surgical treatment option.
Severe symptoms/bowel perforation may expedite the decision to operate on patients.
HOW WELL DO THE PATIENTS DO?
In many cases patients with SBO resolve without surgical intervention.
WAS THERE A WAY TO PREVENT IT?
Fundamentally many of the causes of this condition are difficulty to anticipate/prevent. With this in mind, there is some evidence to suggest that laparoscopic surgery might be associated with lower risk for adhesive small bowel obstruction compared to laparotomy (source).
OTHER HY FACTS?
Gastric motility agents (such as Metoclopramide) should NOT be used in patients with SBO as they will worsen the condition of the patient (and might even cause bowel perforation).
ARCHIVE OF STANDARDIZED EXAM QUESTIONS
This archive compiles standardized exam questions that relate to this topic.
FURTHER READING
Page Updated: 04.17.2016