WHAT IS IT?
Pseudomembranous colitis is an infectious condition of the bowels caused by Clostridium difficile (C. diff). This condition is often caused secondary to antibiotic usage (espeicallyClindamycin, ampicillin, cephalosporins) because the disruption of the GI biome (growth advantage given to C. diff due to the killing of other gut bacteria)
WHY IS IT A PROBLEM?
Toxin B is a cytotoxin (produced by C. diff that will cause cytoskeletal disruption of cells (via actin depolymerization). This toxin is what causes the formation of a pseudomembrane on the bowel wall (and ultimately diarrhea).
WHAT MAKES US SUSPECT IT?
Risk factors: prior (~1 month ago) antibiotic usage (such as clindamycin or ampicillin), proton pump inhibitor (i.e. omeprazole) usage
Watery diarrhea is caused by this condition. Can be bloody on occasion.
Abdominal pain can also be present (such as abdominal cramps).
Fever can be present due to toxin release by bacteria
HOW DO WE CONFIRM A DIAGNOSIS?
Leukocytosis is the increased presence of white blood cells in the blood, and can be caused by this condition.
Endoscopy can reveal the presence of yellow pseudomembranes that are caused by toxin B of the bacteria.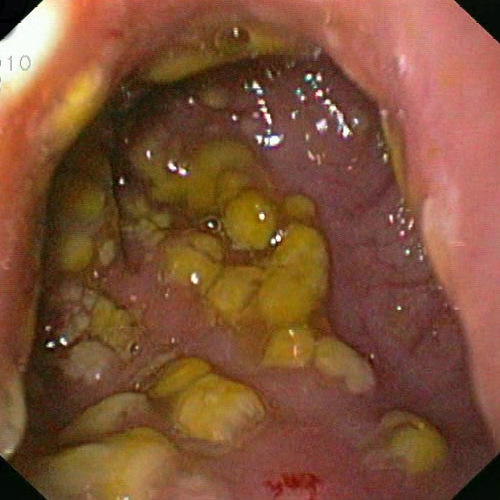 PCR of the stool sample is used to detect either toxin A or toxin B which is produced by C. diff
HOW DO WE TREAT IT?
*Make sure to avoid antimotility agents in all cases!
Metronidazole either oral or IV can be frontline.
Vancomycin can be used for cases refractory to metronidazole. Only the oral formulation should be used (IV is NOT effective for C. diff)
Fidaxomicin can be used for recurrent cases.
Fecal transplant can be a consideration for recurrent cases.
Surgery (colectomy)
HOW WELL DO THE PATIENTS DO?
Relapses are common for this conditon
WAS THERE A WAY TO PREVENT IT?
Limiting antibiotic usage: antibiotic usage can cause this condition, so under certain circumstances avoiding over treatment with antibiotics can reserve the gut flora and prevent the superinfection of C. diff.
Hand hygiene: using soap and water to clean one's hands is very important for preventing the spread of this bacterium. Alcohol based hand cleansers may not remove this pathogen from one's hands.
WHAT ELSE ARE WE WORRIED ABOUT?
Toxic megacolon can be caused by this condition which can be a serious complication.
OTHER HY FACTS?
This bacteria is spore forming and can survive on dry inanimate surfaces for up to 5 months (source)
ARCHIVE OF STANDARDIZED EXAM QUESTIONS
This archive compiles standardized exam questions that relate to this topic.
FURTHER READING
Page Updated: 03.10.2016