WHAT IS IT?
Vibrio cholerae is a gram negative comma shaped bacteria.
CULTURE CHARACTERISTICS
Grows in alkaline media such as Cary Blair media (ideal for transport) or selective thiosulfate–citrate–bile salts agar (TCBS) which is ideal for isolation/identification.
Oxidase positive: a redox indicator will be turned dark blue when oxidized indicating that the bacterium produces cytochrome c oxidases.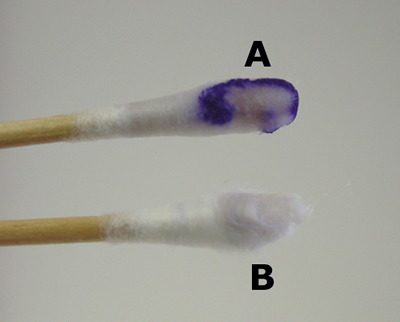 MOLECULAR CHARACTERISTICS
Cholera toxin overactives adenylate cyclase (increases cAMP) by permanently activating the Gs subunit of the enterocyte. This all leads to increased secretion of chlorine ions into the gut, which will promote water efflux (and subsequent secretory diarrhea). A significant amount of water can be lost through this route, that can lead to volume depletion/dehydration.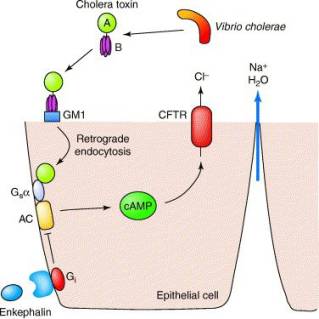 TRANSMISSION
Fecal-oral route: common sources of infection are seafood and water
CONDITIONS CAUSED
Cholera (think "rice water diarrhea")
TREATMENT
Oral rehydration that is prompt and aggressive.
Antibiotic therapy can be used for patients with very severe dehydration. Doxycycline, tetracycline, and erythromyociin
OTHER HY FACTS
Patients with achlorhydria are at increased risk of infection: if patients have issues with gastric acid production, these organisms require a lower amount to be inoculated to result in an infection.
ARCHIVE OF STANDARDIZED EXAM QUESTIONS
This archive compiles standardized exam questions that relate to this topic.
Page Updated: 03.10.15