WHAT IS IT?
Cholera is infectious disease of the bowels that is caused by the Vibrio cholerae bacteria that is transmitted via the fecal-oral route.
WHY IS IT A PROBLEM?
V. cholerae produces a toxin (cholera toxin) that overactives adenylate cyclase (increases cAMP) by permanently activating the Gs subunit of the enterocyte. This all leads to increased secretion of chlorine ions into the gut, which will promote water efflux (and subsequent secretory diarrhea). A significant amount of water can be lost through this route, that can lead to volume depletion/dehydration.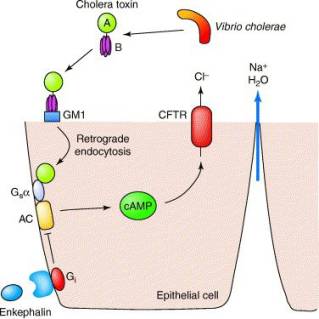 WHAT MAKES US SUSPECT IT?
Risk factors: travel to developing countries, ingestion of potentially contaminated seafood/water
Common manifestations include:
Diarrhea that is described as voluminous "rice-water" diarrhea (literally looks like rice water with a white color)
Nausea/vomiting
Muscle cramps (caused by dehydration/electrolyte loss)
*Signs of volume depletion will likely be present in patients (low blood pressure, dry mucous membranes, increased skin turgor, etc.)
HOW DO WE CONFIRM A DIAGNOSIS?
Stool culture on selective media needed for definitive diagnosis (however this may not be practical in resource poor areas). Selective thiosulfate–citrate–bile salts agar (TCBS) is used for isolation and identification.
Darkfield microscopy can be used to visualize the pathogens present in a stool sample
Immunoassays (dipstick test) can be used in resource limited areas.
HOW DO WE RULE OTHER DIAGNOSES OUT?
The cholera dipstick test can be a quick way to assess for likely cholera and rule out other diagnosis. In addition, sole infection with cholera does not usually result in a fever.
HOW DO WE TREAT IT?
Oral rehydration that is prompt and aggressive.
Antibiotic therapy can be used for patients with very severe dehydration. Doxycycline, tetracycline, and erythromyociin
HOW WELL DO THE PATIENTS DO?
If untreated, MOST patients who have cholera will usually die, however with treatment VERY FEW patients with the disease will die from it.
WAS THERE A WAY TO PREVENT IT?
Using safe food/drink: Infected seafood/water is often a common source of V. cholerae so avoiding such sources of the pathogen can help prevent disease.
Good hand hygiene can be very useful in preventing the spread of cholera
WHAT ELSE ARE WE WORRIED ABOUT?
Hypotensive shock that can be caused by severe dehydration an can lead to death.
OTHER HY FACTS?
Endemic to developing countries
Cholera toxin is encoded in a lysogenic phage (lysogenic virius that infects bacterium)
FURTHER READING
Page Updated: 03.10.2016