WHAT IS IT?
Scleroderma (systemic sclerosis) is a multisystem disease that usually involves the following processes (classic triad):
Autoimmunity
Non-inflammatory vasculopathy
Collagen deposition with fibrosis
There are 2 major types of scleroderma:
Diffuse scleroderma: which involves widespread skin involvement. Any organ system can be involved however the esophagus is common.
Limited scleroderma: which contains limited skin invovlment and contains

CREST involvement

(Calcinosis, Raynaud phenomenon, Esophageal dysmotility, Sclerodactyly, and Telangiectasia)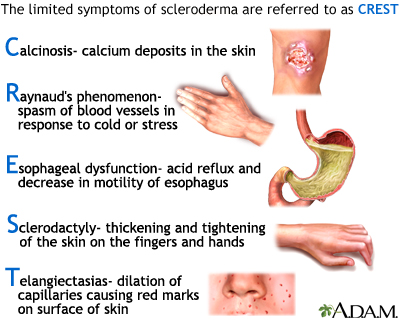 WHAT CASUES IT?
While the exact cause is not fully understood, it is believed that mutations in HLA genes seem to often play a crucial role in the pathogenesis in some forms of this condition (given this is an auto-immune disease). Furthermore, through some process, this condition is characterized but the increased synthesis of collagen (that leads to sclerosis, damage to small blood vessels, activation of T-cells, and altered connective tissues).
WHY IS IT A PROBLEM?
This process of systemic sclerosis can lead to various complications that can involve various organ systems (renal, pulmonary, cardiovascular, and GI) depending upon where exactly he collagen has been deposited.
WHAT MAKES US SUSPECT IT?
Risk Factors:
Female sex, family history (first degree relatives) of scleroderma
Chief Complaints:
Dysphagia can be a common complaint (due to the esophageal dysmotility).
Heartburn can be caused by acid reflux (an associated presenting symptom)
History Of Present Illness:
Dysphagia typically involves difficulty swallowing both solids and liquids.
Physical Exam:
Vital signs:
Hypertension

may be present in patients due to renal disease
Dermatological exam can show the following findings:
Puffy taut skin:

this is the classic appearance of scleroderma

Calcinosis

Raynaud phenomenon

Sclerodactyly

Digital pitting

Telangiectasias
CLINICAL WORKUP
X-ray studies (often of hands/feet) may be ordered to characterize physical exam findings (take a look at this page dedicated to the radiological findings of scleroderma). Common findings can include:
Malposition
Tissue calcifications
Articular erosions
Serological analysis: the presence of autoantibodies are not necessarily diagnostic, but can be associated with a diagnosis.
Anti-Scl-70 antibody presence in patients is associated with

diffuse scleroderma

. (This is an antibody against anti-DNA topoisomerase I).
Anti-centromere antibody is associated with

limited scleroderma

.
AT WHAT POINT ARE WE COMFORTABLE IN MAKING A DIAGNOSIS?
The American college of rheumatology/European league against rheumatism collaborative initiative has a very defined set of criteria that they use to diagnosis scleroderma (outlined here).
With this in mind, let us not forget that it truly is the clinical presentation that helps make the diagnosis of scleroderma.
HOW DO WE TREAT IT?
Treatment depends on specific clinical presentation:
Raynaud phenomenon is treated with calcium channel blockers
Digital pitting/ulcers are usually treated with IV prostanoids
Skin conditions: can be treated with imatinib, rituximab, or methotrexate
Pulmonary fibrosis can be treated with cyclophosphamide/corticosteroids
Hypertension (renal disease) can be treated with ace inhibitors (lisinopril)
HOW WELL DO THE PATIENTS DO?
The prognosis of the patient is variable based upon the clinical scenario, however patients with systemic sclerosis have an increased rate of mortality (source)
WAS THERE A WAY TO PREVENT IT?
N/A
WHAT ELSE ARE WE WORRIED ABOUT?
Pulmonary sclerosis can occur in some patients and is the leading cause of death in patients with scleroderma
Barrett esophagus can be caused due to acid reflux in patients with esophageal dysmotility/involvement.
Pulmonary Arterial Hypertension can be caused by scleroderma
ARCHIVE OF STANDARDIZED EXAM QUESTIONS
This archive compiles standardized exam questions that relate to this topic.
FURTHER READING
Page Updated: 03.10.2016