WHAT IS IT?
Klinefelter syndrome is a genetic chromosomal abnormality that is is characterized by a 47 XXY genotype. Patients are phenotypically male however have an inactivated X chromosome in each of their cells.
WHY IS IT A PROBLEM?
While all of the mechanisms are not clear individuals with an XXY genotype are infertile and possess other reproductive abnormalities (that can include dysgenesis of the seminiferous tubules) and decreased testosterone (due to abnormal Leydig cell function). Klinefelter syndrome is an example of primary hypogonadism.
WHAT MAKES US SUSPECT IT?
Risk factors: male disorder,
*A large proportion of patients are never diagnosed!
Infertility (hypogonadism) is a common chief complaint of patients with Klinefelter syndrome.
Developmental delay can also be part of the patient presentation.
Physical findings can include:
Eunuchoid body shape (void of typical sexual characteristics)
Testicular atrophy
Tall height
Long extremities
Gynecomastia (and breast development)
Female hair distribution.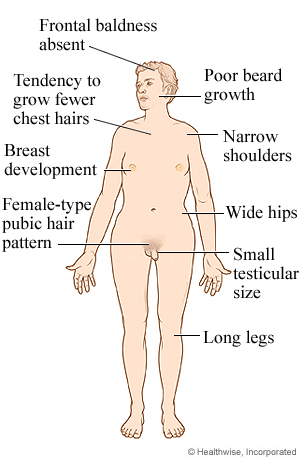 HOW DO WE CONFIRM A DIAGNOSIS?
Serological findings:
Decreased testosterone caused by abnormal Leydig cell function
Increased LH is caused by the decreased testosterone, which in turn.
Increased Estrogen is caused by the increased LH levels.
Increased FSH (dysgenesis of seminiferous tubules decreases inhibin which in turn allows FSH levels to rise)
Karyotype analysis will reveal the presence of an additional X chromosome.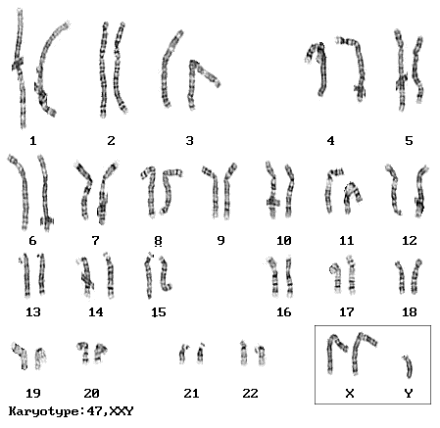 HOW DO WE TREAT IT?
Testosterone replacement therapy can be given to replace the hormone deficiency.
HOW WELL DO THE PATIENTS DO?
Patients with Klinefelter syndrome have a large increase (40-50%) in mortality (source) and fertility issues are likely lifelong.
WAS THERE A WAY TO PREVENT IT?
Pre-implantation genetics in embryos fertilized in vitro can help prevent the usage of an embryo with this chromosomal abnormality.
Routine amniocentesis may detect Klinefelter prenatally.
WHAT ELSE ARE WE WORRIED ABOUT?
Testicular germ cell tumors: Klinefelter syndrome is a risk factor for the development of testicular tumors.
Male breast cancer: is associated with Klinefelter syndrome
OTHER HY FACTS?
Patients with this condition will have inactivated X chormosmes present (Barr bodies).
ARCHIVE OF STANDARDIZED EXAM QUESTIONS
This archive compiles standardized exam questions that relate to this topic.
FURTHER READING
Page Updated: 03.03.2016