WHAT IS IT?
Cholelithiasis refers to the process of gall stone formation that can cause cholecystitis (inflammation of the gall bladder). There are 2 major types of stones that form:
Cholesterol stones: these make up the bulk of the stones, and are composed mostly of cholesterol.
Pigment stones: (brown/black) are composed of bilirubin (possibly from hemolysis) and calcium (found in the bile salts)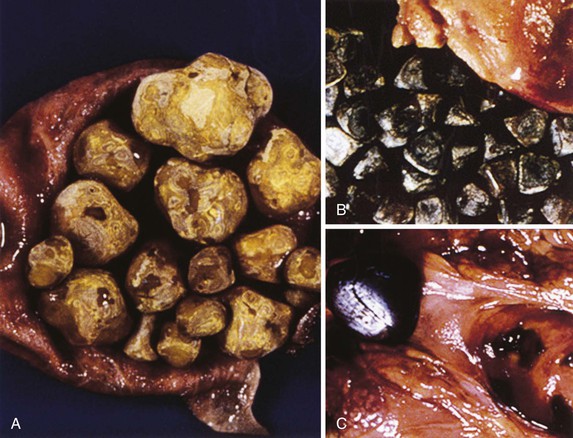 These are caused (intuitively) by conditions that result in supersaturation of cholesterol/bilirubin, decreased phospholipids (such as lecithin) or bile acids (that increase solubility), or stasis of the bile.
WHY IS IT A PROBLEM?
The formation of stones in the gall bladder not only can cause inflammation, but can also cause ascending cholangitis (infection of the billiary system), acute pancreatitis, and through occlusion can lead to bile stasis.
Cholecystitis itself can lead to blocking of the cystic duct.
WHAT MAKES US SUSPECT IT?
Risk factors (cholesterol stones): obesity, Crohn disease, older age, clofibrate, estrogen therapy, multiparity, rapid weight loss, Native American origin.
Risk factors (pigment stones): chronic hemolysis, alcoholic cirrhosis, older age, biliary infections, total parenteral nutrition (TPN).
**Most patients asymptomatic**
Common symptoms of cholelithiasis can include:
Colicky pain in upper abdomen (usually right side) that occurs usually after meals
Nausea and/or vomiting
Classic triad of cholangitis includes jaundice, fever, and right upper quadrant pain
Murphy sign can be present in patients with cholecystitis (not present in cholelithiasis alone): inspiratory arrest on right upper quadrant palpation due to pain
HOW DO WE CONFIRM A DIAGNOSIS?
Increased ALP can be present if bile duct is inflamed (such as in ascending cholangitis)
Ultrasound can reveal a distended gallbladder that contains gall stones.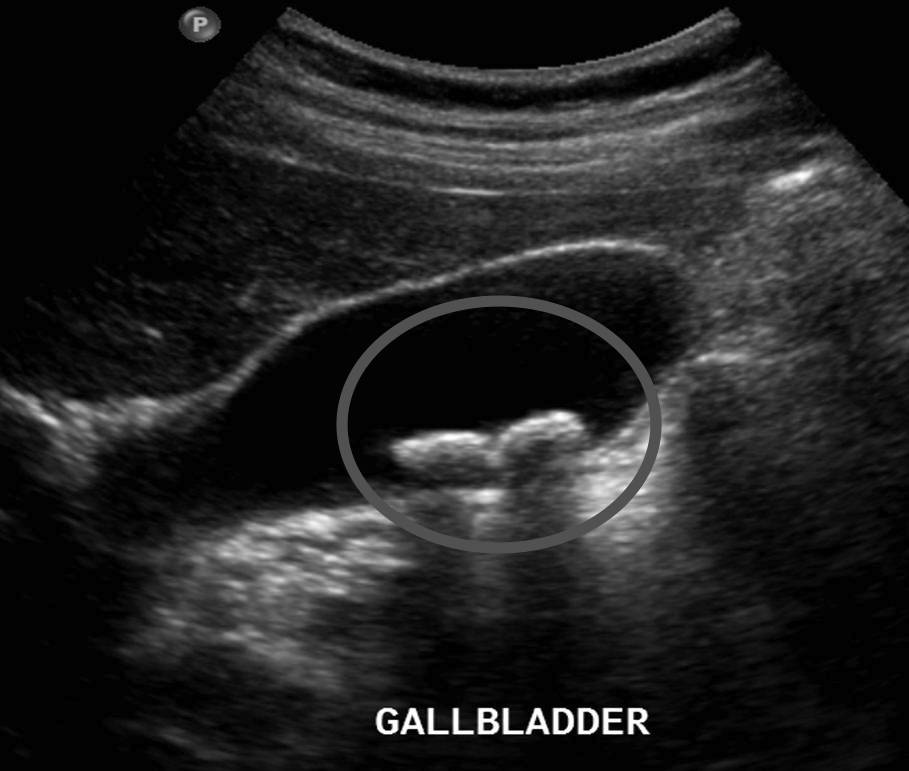 HOW DO WE RULE OTHER DIAGNOSES OUT?
HOW DO WE TREAT IT? 
Cholecystectomy can be performed in symptomatic patients
HOW WELL DO THE PATIENTS DO?
Most patients are asymptomatic, however those that require removal of the gall bladder will be cured of this condition.
WAS THERE A WAY TO PREVENT IT? 
Vitamin C consumption (source) and physical activity (source) has been associated with reduced risk of cholelithiasis
WHAT ELSE ARE WE WORRIED ABOUT? 
Biliary colic: contraction of the gall bladder (that can be caused by CCK after a fatty meal) can force a stone into the cystic duct which can lead to pain (especially with continued gall bladder contractions).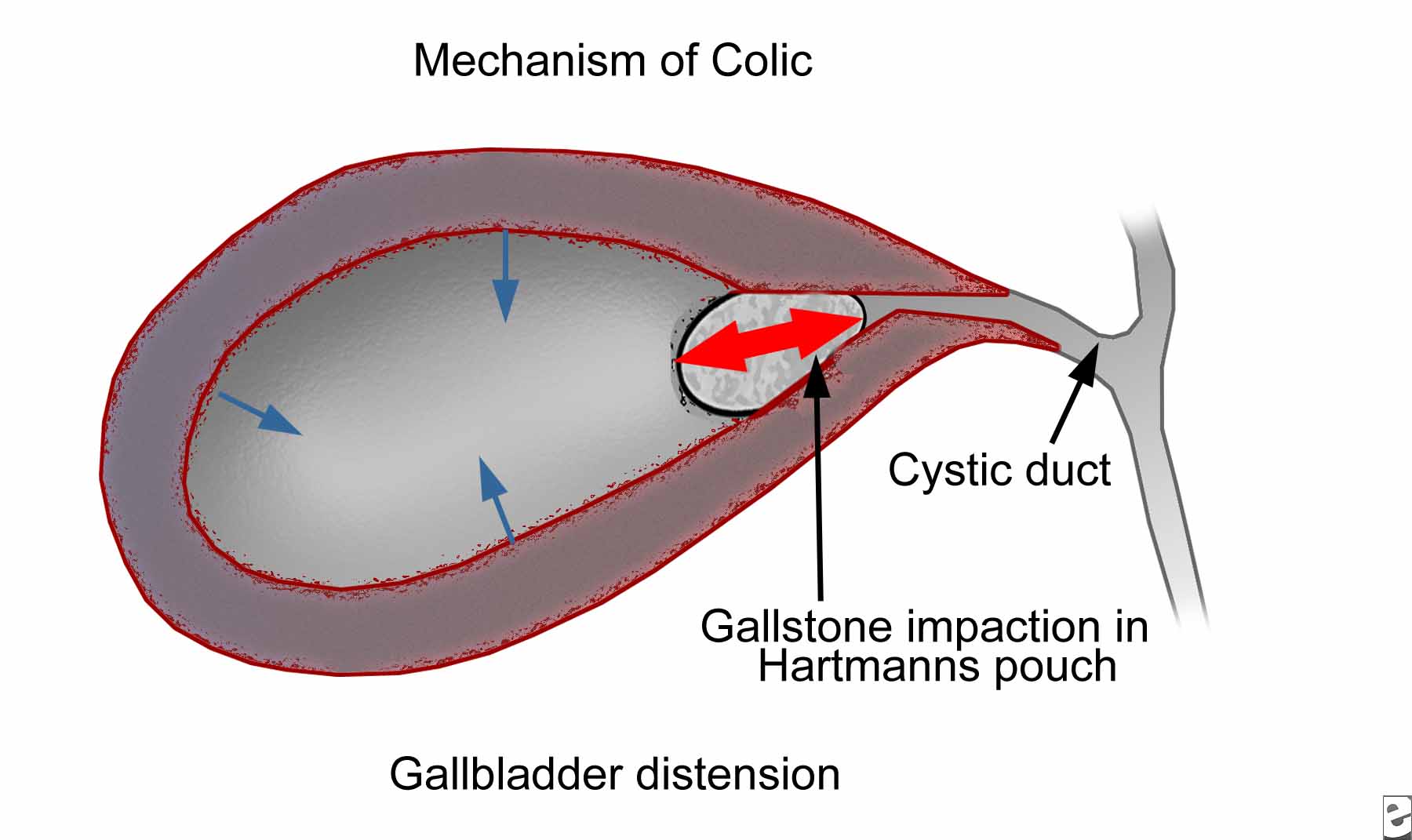 Fistula formation can occur between gallbladder and small intestine. This can lead to air in the billiary tree, and will also allow for gallstones to enter the intestinal tract. Ultimately these gallstones can obstruct the ileocecal valve (causing gallstone ileus)
Gall bladder cancer can be a complication of gallstone formation.
OTHER HY FACTS?
Non politically correct 4F's risk factors: Female, fat, fertile (pregnant), forty
Somatostatinomas present with cholelithiasis with steatorrhea (due to inhibition of cholecystokinin).
Cholesterol stones are usually radiolucent (some radiopaque due to calcium)
Bilirubin stones are usually radiopaque.
Brown stones typically arise secondary to bacterial (such as E. coli) or helminthic (such as Ascaris lumbricoides or Clonorchis sinesis) infections. This results in the release of beta-glucoronidase by injured hepatocytes/bacteria. This enzyme hydrolyzes bilirubin glucoronides and increases the amount of unconjugated bilirubin (contributing to stone formation).
Ascaris lumbricodes and Clonorchis sinesis are parasites that infect the billiary system and can lead to gall stone formation.
FURTHER READING
Page Updated: 03.02.2016