WHAT IS IT? 
Appendicitis refers to acute inflammation of the appendix (outpouching of the large intestine).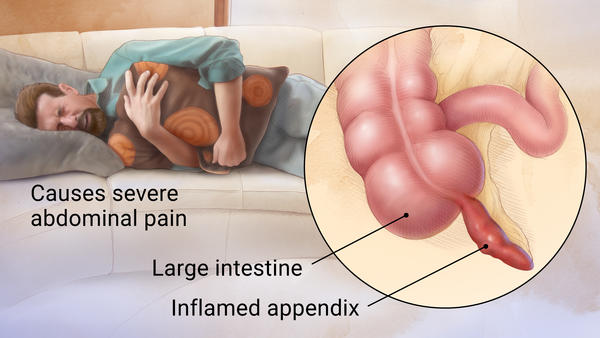 WHAT CAUSES IT?
This condition is thought to be caused by trapping of hardened feces (fecalith) or by lymphoid hyperplasia (typically seen in children).
WHY IS IT A PROBLEM?
Appendicitis can be very painful, and the appendix can become so enlarged and inflamed that it can rupture/perforate. This will cause inflammation/infection of the peritoneal cavity (peritonitis).
WHAT MAKES US SUSPECT IT?
Risk Factors:
Male sex, ages 10-20
Initial Presentation:
History Of Present Illness:
Location of abdominal pain: classically the abdominal pain begins in the periumbilical region and then over time migrates to the right lower quadrant.
Loss of appetite if often present in patients with appendicitis.
Vital Signs:
Fever may be present in patients with appendicitis (often low-grade).
Abdominal Exam:
Abdominal tenderness is often present and patient may demonstrate guarding. The following are findings/signs that may be noticed on the abdominal exam of a patient with appendicitis.
Referred pain to umbilicus (T10) can occur in early appendicitis.
Rovsing sign: severe RLQ pain with palpation of the LLQ.
McBurney sign: severe RLQ (at the McBurney point) with rebound tenderness.
Psoas sign: pain with hip flexion (can sometimes be involved)
Obturator sign: pain with internal rotation (can sometimes be involved)
CLINICAL WORKUP
Serum Studies:
Elevated white blood cells (CBC): while a non-specific finding, an elevated white blood cell count is consistent with the diagnosis of appendicitis.
Normal beta-hCG (female patients): any female patient (who has not undergone menopause) that presents with abdominal pain should have a pregnancy test (either urine or serum) to rule out the possibility of pregnancy/ectopic pregnancy.
Imaging: Read this page dedicated to the radiological appearance of appendicitis.
Abdominal ultrasound can be a good initial first step in narrowing the diagnosis for a patient who presents with abdominal pain. If the appendix is successfully visualized and shows signs of inflammation/appendicitis this can confirm the diagnosis. It is important to realize that often times the appendix may not be visualized, which will warrant further investigation (likely with CT imaging). Generally speaking ultrasound is useful in ruling in the diagnosis of appendicitis, but does not rule out the diagnosis.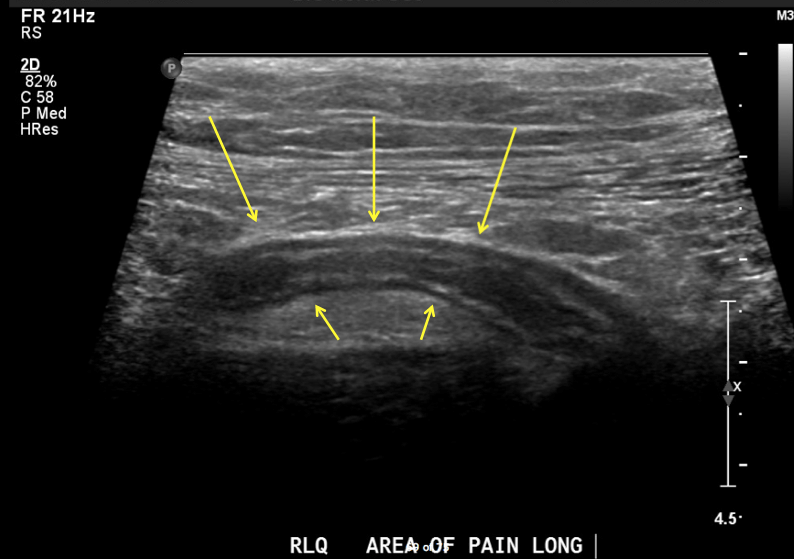 Abdominal/pelvic CT scan can be very useful in making the diagnosis (especially in cases where ultrasound is unable to visualize the appendix).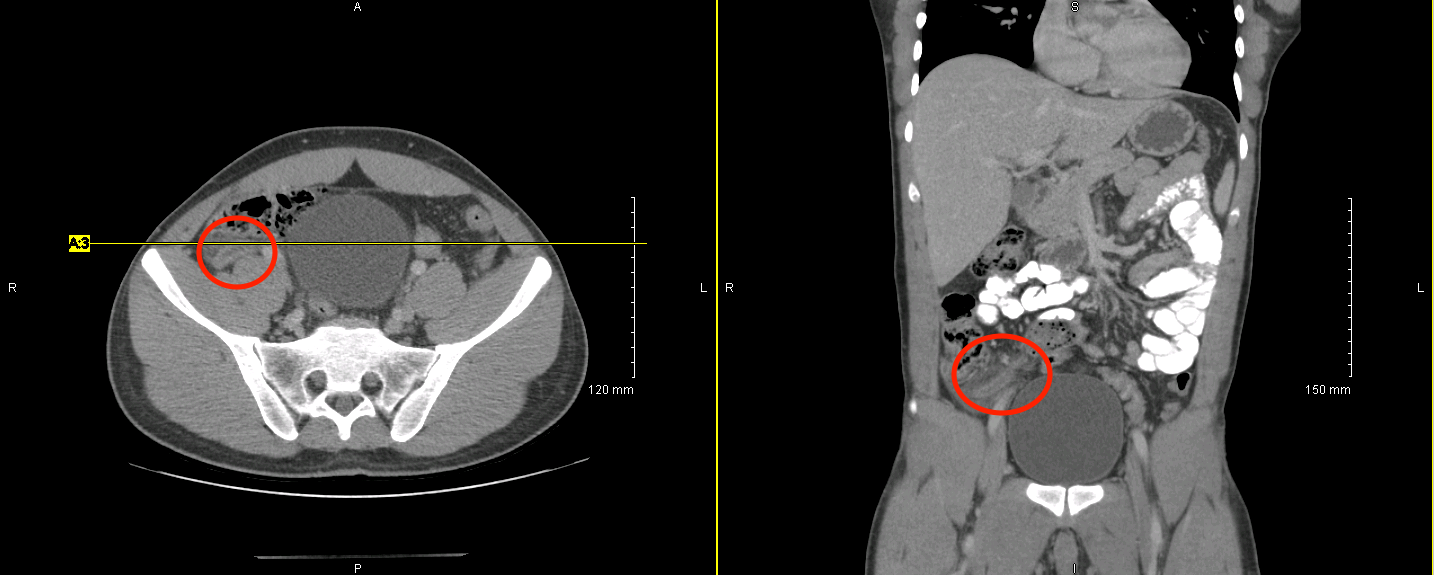 AT WHAT POINT ARE WE COMFORTABLE IN MAKING THE DIAGNOSIS?
In the presence of a symptomatic patient, and imaging that suggests appendicitis (either ultrasound or CT) the diagnosis of appendicitis will often be made.
HOW DO WE TREAT IT?
Appendectomy (can be done laparoscopically) is the usually treatment (and surgical removal of the appendix is curative).
Antibiotics can be given pre-operatively and if perforation/rupture has occurred.
HOW WELL DO THE PATIENTS DO?
This condition is curable with surgery. This is a very common procedure and patients often recover quickly (especially if the procedure was done laparoscopically).
WAS THERE A WAY TO PREVENT IT? 
Prophylactic appendectomy can be done in some cases, but is rarely indicated. Preventing appendicitis is not always
WHAT ELSE ARE WE WORRIED ABOUT? 
Rupture/perforation of the appendix can be a common progression for untreated patients
Periappendiceal abscesses can form in patients with appendicitis (and is a common complication following perforation). Bacteroides fragilis normally lives in the intestine and it can cause abdominal abscesses when the intestine ruptures.
OTHER HY FACTS?
Mittelschmerz is a mid cycle ovulatory pain that can mimic appendicitis.
Yersinia enterocolitica can cause pseudoappendicits
Diverticulitis (such as Meckel diverticulum) can mimic appendicitis
ARCHIVE OF STANDARDIZED EXAM QUESTIONS 
This archive compiles standardized exam questions that relate to this topic.
FURTHER READING
Page Updated: 11.28.2016