WHAT IS IT?
Peptic Ulcer: these are ulcerations (erosions) in the stomach and small intestine that are usually caused by the bacteria Helicobacter pylori.
Other causes: prednisone/glucocorticoid toxicity, cholinomimetic agent usage, Zollinger-Ellison syndrome, chronic NSAID use, primary hyperparathyroidism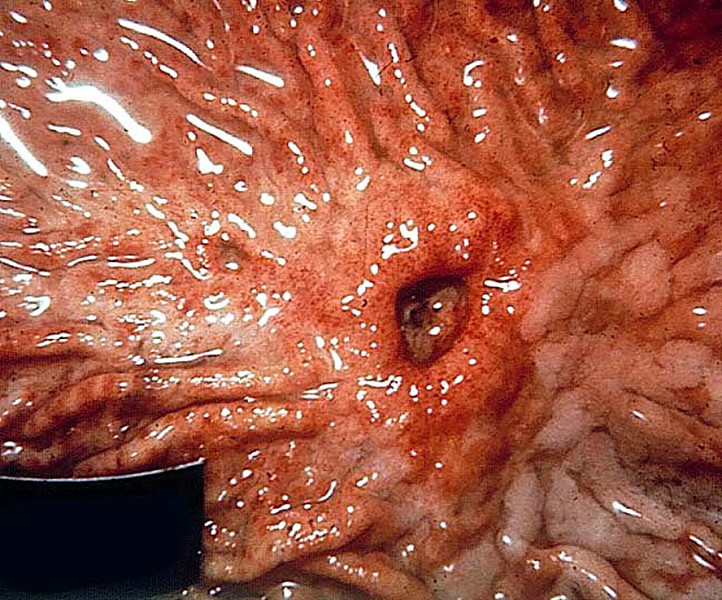 WHY IS IT A PROBLEM?
In thinking about H. pylori infection (the most common cause of peptic ulcers), this pathogen releases ureases which produce ammonia (that raise the gastric pH later causing proton hypersecrtion) and proteases that cause inflammation and weaken mucosal defenses. This sensitizes the stomach and duodenum to ulcer formation (proton hypersecrtion and damage from pathogen work together to form ulcers). These ulcers are problematic because they are painful, can bleed, and also can increase the risk for gastric cancer.
WHAT MAKES US SUSPECT IT?
Risk factors: H. pylori infection, chronic NSAID usage
Epigastric pain is a common presentation for peptic ulcers ("gnawing pain"):
Duodenal ulcer pain improves when meals are eaten
Gastric ulcer pain generally worsens when meals are eaten
*Nature of pain may be variable, some may have generalized abdominal pain
Other symptoms can include:
bloating
nausea
vomiting (can include blood)
Loss of appetite/increased satiety
heartburn
back pain
*Blood can be present in stool
HOW DO WE CONFIRM A DIAGNOSIS?
Guaiac positive stool can be present in patients who have bleeding.
Urease breath test: This is conducted by having the patient consume radiolabeled urea, and in the presence of H.pylori infection this urea will be broken down into C02 and ammonia (by the pathogen's urease). This radiolabeled C02 can be detected on exhalation. Ammonia is basic in nature and
Positive stool antigen for H. pylori will be present during current H. pylori infection
Endoscopy is the gold standard for definitive diagnosis of a peptic ulcer and can be used to visualize it directly.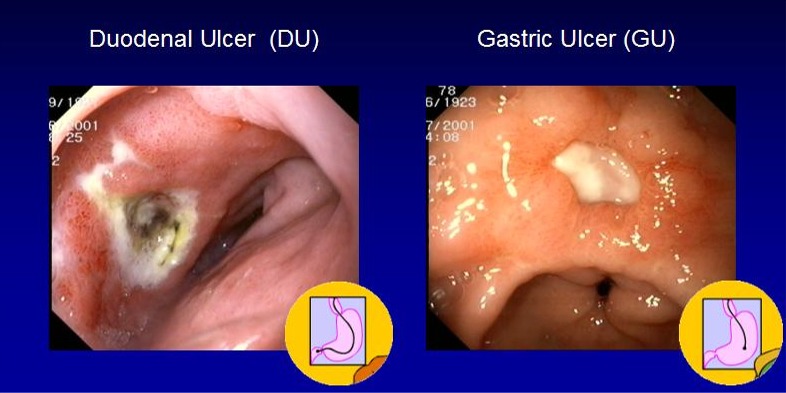 HOW DO WE TREAT IT?
*Discontinue currently used NSAIDs!
Triple therapy (for H. pylori infection + ulcers) is a common treatment regimen that includes
Proton pump inhibitor: this medication irreversitbly inhibits the H+/K+ ATPase pump in stomach parietal cells, reducing the pH in the stomach.
Clarithromycin
Amoxicillin: (metronidazole can be used if penicillin allergy)
*Can use proton pump inhibitors without antibiotics for non H. pylori infected patients
H2 blockers are less effective then proton pump inhibitors, however they work to block histamine H2 receptors which in turn also will decreased the amount of H+ ions secreted by parietal cells into the stomach.
Glycopyrrolate is a muscarinic antagonist that targets the GI and respiratory system.
Surgery is needed for ulcers that have ruptured/perforated
HOW WELL DO THE PATIENTS DO?
Eradication of the H. pylori infection is associated with reduction in the recurrence of duodenal ulcers.
WAS THERE A WAY TO PREVENT IT?
Misoprostol is a prostaglandin (PGE1) analog that increases the production/secretion of the gastric mucous barrier and decreases acid production. This can help prevent NSAID induced peptic ulcers (because NSAIDs block PGE1 production).
WHAT ELSE ARE WE WORRIED ABOUT?
Rupture is an important complication of peptic ulcers to always consider.
Duodenal ulcers are found either in the anterior portion (rupture = risk of bleeding form the gastroduodenal artery) or posterior (rupture can cause acute pancreatitis)
Gastric ulcers are usually located on the lesser curvature of the antrum, and rupture carries the risk of bleeding from the left gastric artery
*Iron deficiency anemia can be caused by chronic blood loss from ulcers
Gastric cancer: gastric ulcers are associated with an increased risk of carcinoma
Perforation of the stomach or intestine can also occur leading to the presence of free air with in the peritoneum.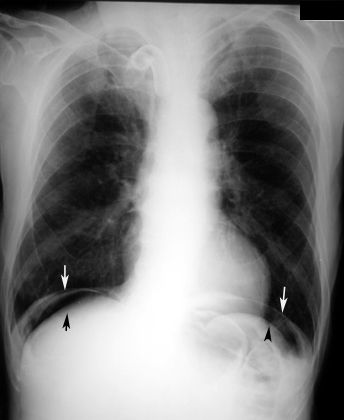 Zollinger-Ellison syndrome can be the underlying cause of duodenal peptic ulcers (rare). This is a gastrin secreting tumor (gastronome ) of the pancreas or duodenum that causes acid hypersecretion => ulcer formation in the duodenum/jejunum)
OTHER HY FACTS?
Decreased mucosal protection causes both gastric and duodenal ulcers, while increased gastric acid secretion usually only causes duodenal ulcers
NSAIDs cause ulcers by inhibiting the production of protective prostaglandins (NSAIDs inhibit upstream COX-1 which is responsible for PGE synthesis)
Selective COX-2 inhibitors (celecoxib) are thought to have fewer GI side effects because they do not antagonize COX-1. Unfortunately, selective inhibition of COX-2 promotes a generalized prothrombotic state, which can increase the risk of stroke and myocardial infarction.
ARCHIVE OF STANDARDIZED EXAM QUESTIONS
This archive compiles standardized exam questions that relate to this topic.
FURTHER READING
Page Updated: 02.27.2016