WHAT IS IT?
Barrett esophagus is a condition that demonstrates metaplasia (the replacement of one cell type by another). In this condition, the nonkeratinized stratified squamous epithelium of the esophagus are replaced nonaffiliated columnar epithelia with goblet cells (intestinal epithelium). Barrett esophagus is caused by chronic acid reflux (GERD), and scleroderma esophageal dysmotility can also be involved as well.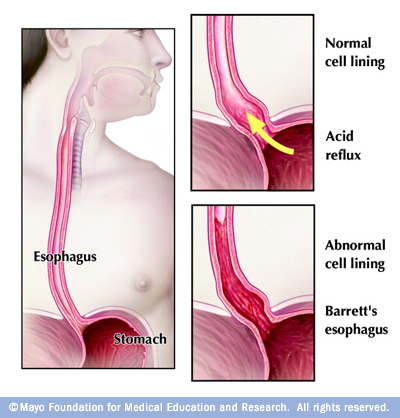 WHY IS IT A PROBLEM?
This condition is a precursor for esophageal adenocarcinoma, predisposing patients to malignancy. It is also associated with inflammation of the esophagus and esophageal ulcers (due to underlying pathophysiology of the condition).
WHAT MAKES US SUSPECT IT?
Risk factors: GERD, old, caucasian, obese, male, family history
*May be asymptomatic
Chronic reflux symptoms may be present (as seen GERD) that can include heartburn and regurgitation.
HOW DO WE CONFIRM A DIAGNOSIS?
Endoscopy can reveal macroscopic changes: namely the presence of intestinal mucosa present above the gastroesophageal junction
Biopsy of the esophagus can histologically confirm the diagnosis.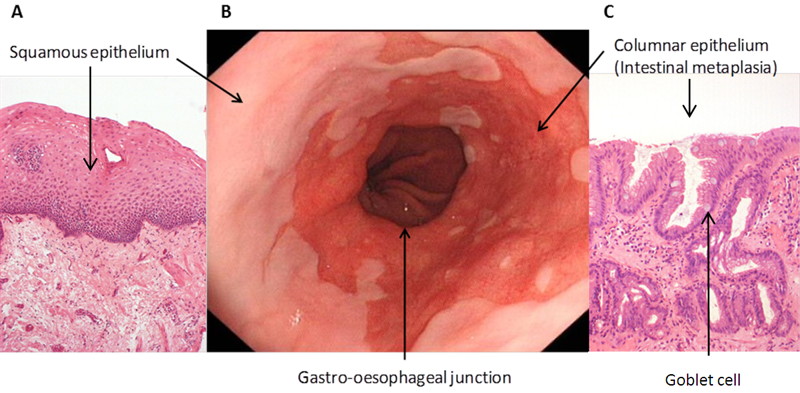 HOW DO WE RULE OTHER DIAGNOSES OUT?
HOW DO WE TREAT IT?
Treatment of the underlying GERD may sometimes reverse the metaplasia (i.e. usage of proton pump inhibitors).
HOW WELL DO THE PATIENTS DO?
For most patients with this condition there is no convincing evidence that any long-term medical therapy or antireflux surgery produces total regression or reduces risk of carcinoma (source)
WAS THERE A WAY TO PREVENT IT?
Preventing/managing the underlying GERD can prevent this metaplastic condition from occurring
WHAT ELSE ARE WE WORRIED ABOUT?
Esophageal adenocarcinoma: Barrett esophagus is a precursor to malignancy.
OTHER HY FACTS?
Seen in about 10% of patients who have GERD
ARCHIVE OF STANDARDIZED EXAM QUESTIONS
This archive compiles standardized exam questions that relate to this topic.
FURTHER READING
Page Updated: 02.27.2016