WHAT IS IT?
Zenker's diverticulum (esophageal diverticula) is an esophageal out-pouching (diverticulum) that involves the pharyngeal mucosa. It is caused by an acquired defect in the muscular wall. Also called pharyngoesophageal diverticula because it arises above the upper esophageal sphincter at the junction of the esophagus and pharynx.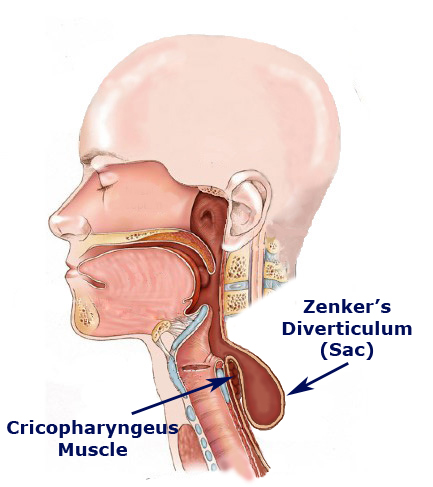 WHY IS IT A PROBLEM?
This outputting of pharyngeal mucosa can lead to food trapping, regurgitation, and difficult swallowing.
WHAT MAKES US SUSPECT IT?
Risk factors: elderly males
*Most are asymptomatic!
Signs/symptoms of Zenker diverticulum include:
Dysphagia
Regurgitation
Halitosis (from trapped rotting food)
HOW DO WE CONFIRM A DIAGNOSIS?
Barium swallow will show a contrast filling diverticulum seen on the posterior aspect of the esophagus.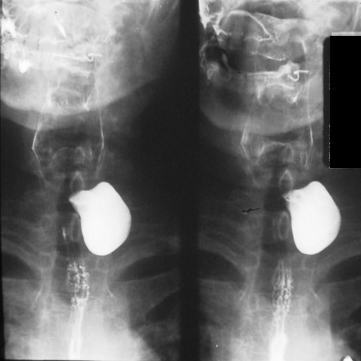 HOW DO WE TREAT IT?
Surgery is the only treatment for Zenker's diverticula (which usually includes endoscopic treatment).
HOW WELL DO THE PATIENTS DO?
In untreated Zenker diverticula may progress in size and demonstrate increased symptoms in the patient.
WAS THERE A WAY TO PREVENT IT?
N/A
WHAT ELSE ARE WE WORRIED ABOUT?
Esophageal squamous cell cancer risk is increased by the presence of Zenker diverticula
OTHER HY FACTS?
This is a false diverticulum (does not include all tissue layers of the esophagus).
ARCHIVE OF STANDARDIZED EXAM QUESTIONS
This archive compiles standardized exam questions that relate to this topic.
FURTHER READING
Page Updated: 02.27.2016