WHAT IS IT?
Achalasia is a condition that is defined as failure of the lower esophageal sphincter (LES) to relax (achalasia literally means the absence of relaxation). It is important to note that this condition is also characterized by the loss of peristaltic contractions. This is due to the loss of the myenteric (Auerbach) plexus and loss of nitrous oxide section. Many specific causes of this condition are idiopathic.
2° achalasia may be caused from Chagas disease (T. cruzi infection) or from malignancies (mass effect or paraneoplastic).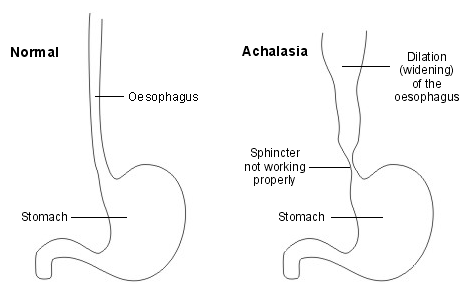 WHY IS IT A PROBLEM?
The ganglion cells in the myenteric plexus are responsible for high pressure in the LES will cause difficulty swallowing both solids and liquids (compared to an obstruction that would only lead to difficulty swallowing solids).
WHAT MAKES US SUSPECT IT?
Risk factors: Chagas disease
Dysphagia is a common chief complaint (for both solids and liquids).
Putrid breath/halitosis can also be present due to the trapping of food in the esophagus.
Other common symptoms can include:
regurgitation
chest pain
weight loss
heartburn
nighttime cough
HOW DO WE CONFIRM A DIAGNOSIS?
Barium swallow (X-ray) will show a characteristic "Bird's beak" appearance that demonstrates a dilated esophagus with an area of distal stenosis.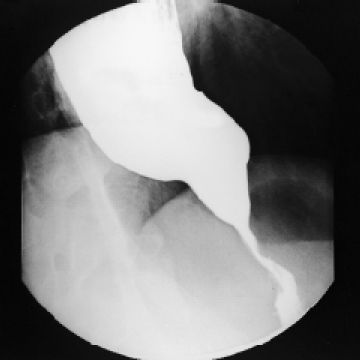 Esophageal manometry will demonstrate increased LES pressures and the absence of peristaltic contractions.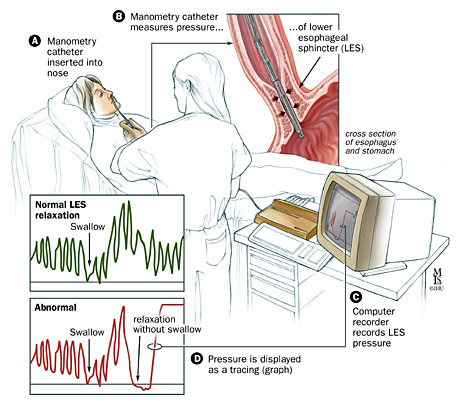 HOW DO WE RULE OTHER DIAGNOSES OUT?
Difficulty swallowing both solids and liquids can help lower the likelihood of a simple obstruction (because this will mostly cause difficulty swallowing only solids).
HOW DO WE TREAT IT?
Laparoscopic myotomy (Heller myotomy): this is a surgical procedure where the muscles of the LES are cut.
Endoscopic pneumatic dilation of the LES is a common treatment for achalasia that uses a balloon to stretch the muscles of the LES.
Botulinum toxin can also be injected into the LES to induce relaxation.
HOW WELL DO THE PATIENTS DO?
Many patients can experience symptom relief with proper treatment (ex. 80%-85% at 10 years with Heller myotomy, source).
There is no difference in life expectancy in comparing patients with achalasia vs. the general population (source).
WAS THERE A WAY TO PREVENT IT?
Many cases of achalasia are idiopathic and do not have clear means of prevention.
WHAT ELSE ARE WE WORRIED ABOUT?
Esophageal squamous cell carcinoma is a condition that is predisposed by achalasia.
OTHER HY FACTS?
The usage of bisphosphonates (like Alendronate) should be avoided in patients with achalasia due to their abrasive effects on the esophagus.
ARCHIVE OF STANDARDIZED EXAM QUESTIONS
This archive compiles standardized exam questions that relate to this topic.
FURTHER READING
Page Updated: 02.27.16