WHAT IS IT?
Diabetic hyperosmolar coma (called many other names including hyperosmolar hyperglycemic nonketotic state/hyperglycemic hyperosmotic state/HHS) is a state of health (in a patient with type 2 diabetes) that is characterized by the presence of:
Severe hyperglycemia
A lack of ketones
Neurological impairment
WHY IS IT A PROBLEM?
High levels of serum glucose (possibly due to mismanagement of the underlying diabetes and stress that can lead to an increase of counter-regulatory hormones) leads to a sub-acute presentation of life threatening osmotic diuresis leading to hypotension and coma. No ketones are present due to low levels of circulating insulin that are usually present in the patient (which will inhibit lipolysis/ketone generation). High levels of serum glucose can also cause a shift of water from inside cells to the extracellular space, resulting in cellular shrinking (including cells of the brain). This can cause neurological effects, and also can induce a hyperosmotic hyponatremia (because serum sodium will be diluted).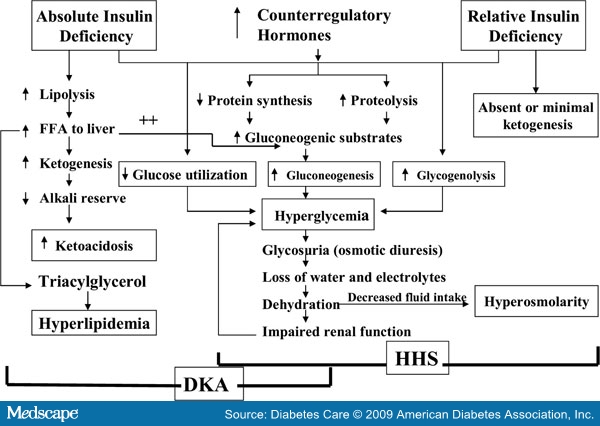 WHAT MAKES US SUSPECT IT?
Risk factors: Type 2 diabetes mellitus
**Similar to diabetic ketoacidosis (DKA), but slower onset (weeks to months)
Polyuria

Polydipsia

Weight loss

Weakness

Mental status changes
Signs of severe dehydration: skin turgor, dry mucous membranes, low blood pressure, elevated HR
HOW DO WE CONFIRM A DIAGNOSIS?
American Diabetes Association (ADA) criteria for diagnosis (source):
Plasma glucose: > 600 mg/dL
Arterial pH: > 7.3
Serum bicarbonate: > 18 mEq/L
Urine/serum ketones: trace/undetectable
Effective serum osmolality: > 320 mOsm/kg
Anion gap: can be variable
Mental status: stupor/coma
Severe dehydration
HOW DO WE RULE OTHER DIAGNOSES OUT?
Absence of ketones will help rule out the possibility of diabetic ketoacidosis
HOW DO WE TREAT IT?
IV fluids (normal saline initially) are given to correct the dehydration.
Potassium should be given before insulin (to prevent insulin induced hypokalemia)
Insulin should be administered once potassium levels have been corrected (in order to address the sever hyperglycemia)
**Reassessment of patient's long term diabetes management should be conducted once the patient is stabilized.
HOW WELL DO THE PATIENTS DO?
~5-20% mortality rate reported (source)
WAS THERE A WAY TO PREVENT IT?
Close monitoring of blood sugar can help alert patients about rising glucose levels. Proper management of blood glucose will prevent this condition from occurring.
WHAT ELSE ARE WE WORRIED ABOUT?
Death: this condition can be fatal (especially if not treated properly).
OTHER HY FACTS?
Higher mortality rate then DKA
ARCHIVE OF STANDARDIZED EXAM QUESTIONS
This archive compiles standardized exam questions that relate to this topic.
FURTHER READING
Page Updated: 02.25.2016