WHAT IS IT? 
Fibroadenoma refers to a benign breast tumor that is not a precursor to breast cancer.
WHY IS IT A PROBLEM?
Fibroadenomas increase their size and tenderness as estrogen levels increase (such as during pregnancy). While the tumor itself is not malignant, its presence can cause patients a scare (who fear they have a more serious form of a breast tumor).
WHAT MAKES US SUSPECT IT?
Risk Factors:

Initial Presentation:
History Of Present Illness:
Tenderness during high estrogen periods (such as pregnancy/menstruation).
Clinical Breast Exam:
On breast exam a fibroadenoma will often feel like a small, movie, firm mass with sharp edges is felt. Has been described as a "marble-like" mass.
HOW DO WE CONFIRM A DIAGNOSIS?
Histology (fine needle aspirate) can demonstrate a tumor that is composed of fibrous tissue and glands.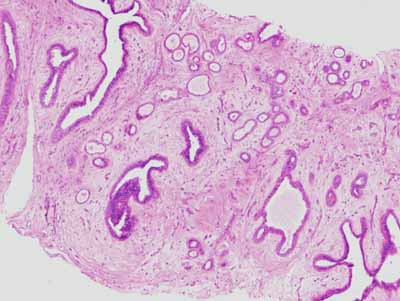 HOW DO WE RULE OTHER DIAGNOSES OUT?
The biopsy
HOW DO WE TREAT IT? 
This does not require treatment.
HOW WELL DO THE PATIENTS DO?
Very well! Benign and not cancerous.
WAS THERE A WAY TO PREVENT IT? 
Prevention methods for fibroadenoma are not established.
WHAT ELSE ARE WE WORRIED ABOUT? 
Not much! There is no evidence of increased risk of carcinoma in patients who have fibroadenoma.
OTHER HY FACTS?
This is the most common benign breast neoplasm of the breast (often detected in pre-menopausal women).
ARCHIVE OF STANDARDIZED EXAM QUESTIONS 
This archive compiles standardized exam questions that relate to this topic.
Page Updated: 02.22.2016