OVERVIEW
A very critical peri-procedural task is consenting the patient for their upcoming procedure. This is not specific to the field of interventional radiology, however it is a very important component of being an interventional radiologists. This page aims to provide some general information about how to properly and effectively consent patients (in the context of interventional radiology procedures).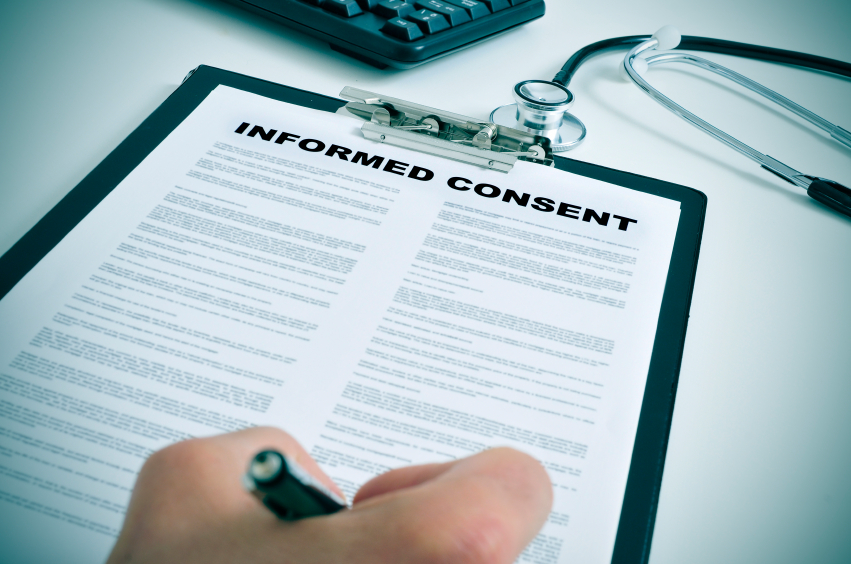 WHAT PROCEDURE IS PLANNED?
The specific procedure (and possible components of the procedure) should be written out on the consent document (and explained to the patient). It is important to appreciate that acronyms/shorthand phrases are generally not allowed on consent documents due to their ambiguous nature. 
It is also generally required that the planned sedation for a procedure be listed on the document as well (i.e. "X procedure with local anesthesia only/moderate sedation/general anesthesia/etc"). 
If it is unclear if something like moderate sedation will be used, the patient can be consented for sedation in case it is needed.
WHO IS GOING TO BE CONDUCTING THE PROCEDURE?
The full names of the providers that could be involved in the procedure generally will be listed on a consent form.
It is acceptable to list the most likely provider and include "and associates" in certain cases.
WHY IS THIS PROCEDURE BEING CONDUCTED?
OHTER POSSIBLE OPTIONS INSTEAD OF THE PROPOSED PROCEDURE AND THEIR CONSEQUENCES
RISKS OF THE PROCEDURE 
Generally we talk about the three major risks that relate to any procedure:
Bleeding
Infection
Damage to surrounding structures 
CONSENT FOR COLLECTED SAMPLES/TISSUE TO BE USED IN RESEARCH
CONSENT FOR BLOOD PRODUCTS
Page Updated: 04.15.19