WHAT IS IT? 
Secondary Adrenal Insufficiency (Addison's syndrome): is a type of adrenal insufficiency that is not caused directly by the adrenal gland (such as in Addison disease), but rather is caused by inadequate adrenal stimulation due to insufficient adrenocorticotropin hormone (ACTH) and/or corticotropin-releasing hormone secretion (CRH) from the hypothalamus and pituitary gland.
Tertiary (sometimes called secondary) adrenal insufficiency can also be caused by the abrupt withdrawal of exogenous steroid usage (that has suppressed ACTH signaling).
WHY IS IT A PROBLEM?
In secondary adrenal insufficiency low levels of ACTH lead to decreased cortisol production. This can lead to hypoglycemia and hypotension give cortisol's normal role in these processes.
WHAT MAKES US SUSPECT IT?
Risk factors: female
Chief complaint: symptoms of hypotension:
lightheadedness, 

weakness/fatigue

cognitive impairment

blurred vision
HOW DO WE CONFIRM A DIAGNOSIS?
Decreased serum cortisol: adrenal insufficiency likely if (source):
basal cortisol (usually taken early morning, 6 AM-9 AM) < 80 nmol/L (3 mcg/dL)

post ACTH stimulation cortisol < 415-500 nmol/L (15-18 mcg/dL) 30-60 minutes after ACTH administration (demonstrating that the adrenal gland is not able to appropriately respond to ACTH administration)
Increased ACTH levels: the loss of cortisol will cause decreased negative feedback on ACTH production (leading to increased levels of ACTH in the serum). Waking plasma ACTH may differentiate between primary and secondary adrenal insufficiency (source):
ACTH > 22 pmol/L (100 pg/mL) suggests 1° adrenal insufficiency 

ACTH < 11 pmol/L (50 pg/mL) suggests 2° adrenal insufficiency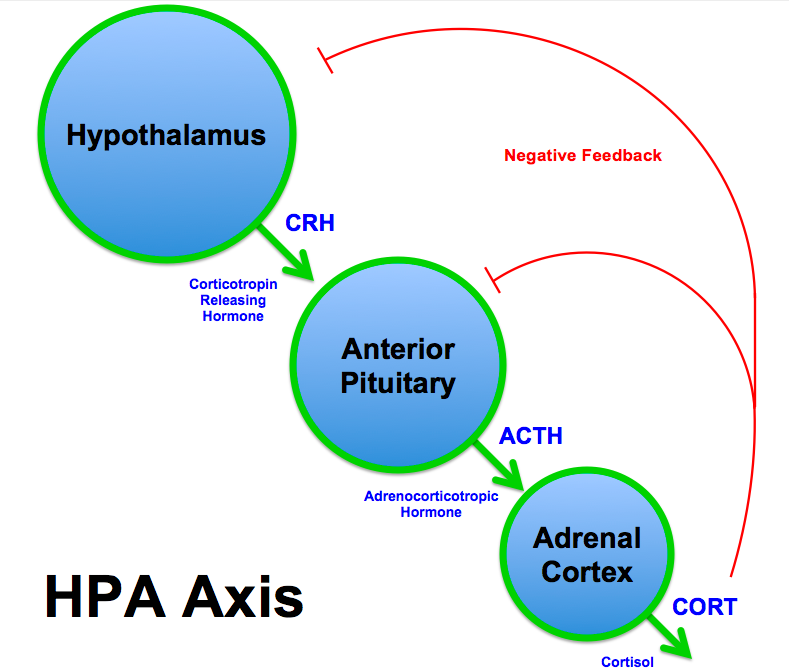 Eosinophilia: while not diagnostic on its own, patients with Addison disease have increased amounts of eosinophils given the loss of cortisol's role in promoting apoptosis of eosinophils.
HOW DO WE RULE OTHER DIAGNOSES OUT?
Primary vs. secondary adrenal insufficiency are important to distinguish between one another. In secondary adrenal insufficiency, aldosterone signaling is usually preserved (no hypokalemia), ACTH levels are LOW (no hyperpigmentation seen like in Addison disease)
HOW DO WE TREAT IT? 
Hormone replacement therapy: exogenous hormones are given to the patient to replace the missing adrenal hormones. For maintenance of the condition hydrocortisone or prednisone (glucocorticoid replacement) can be taken daily.
HOW WELL DO THE PATIENTS DO?
If left untreated Addison disease can be fatal, however with proper hormone replacement this disease can be well managed.
WAS THERE A WAY TO PREVENT IT? 
If the cause of secondary/tertiary adrenal insufficiency is the usage of exogenous steroids (iatrogenic), then this could have been prevented by proper tapering of the medications (allowing for ACTH signaling to be restored endogenously).
WHAT ELSE ARE WE WORRIED ABOUT?
Improper medical management: patients who are cycled abruptly off of steroid hormones are being medically mismanaged (or are non-compliant with pharmacological regiments).
OTHER HY FACTS?
Aldosterone signaling is typically preserved in secondary adrenal insufficiency.
FURTHER READING
Page Updated: 02.21.2016