OVERVIEW
This page focuses on the hormonal pathways that controls the production of prolactin. Prolactin is a hormone that is responsible for promoting milk production so a mother will be able to nurse her child.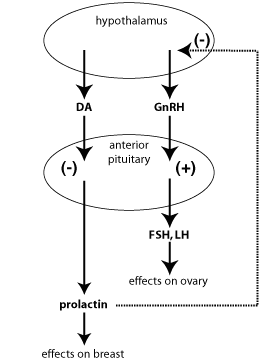 ANTERIOR PITUITARY
The anterior pituitary is the site of prolactin production and release. Once released prolactin will exercise its activity on breast tissue.
Factors that increase prolactin secretion include the following:
TRH (primary/secondary hypothyroidism can increase prolactin levels)
Factors that decrease prolactin secretion include the following:
WHAT DOES PROLACTIN DO?
Prolactin has the following physiological roles:
Stimulate breast development and milk production
Inhibit GnRH synthesis: this will inhibit ovulation in females and spermatogenesis in males (decreases FSH/LH as a response)
Increase dopamine secretion: this in turn acts and negative feedback on the prolactin pathway.
Page Updated: 02.21.2016