OVERVIEW
This page covers some of the finer points of how to "scrub into" cases for interventional radiology procedures. The important thing to realize is that unlike surgical specialties, often times for IR procedures the person scrubbing will be responsible for putting on their own gown and gloves (i.e. will scrub themselves into the case).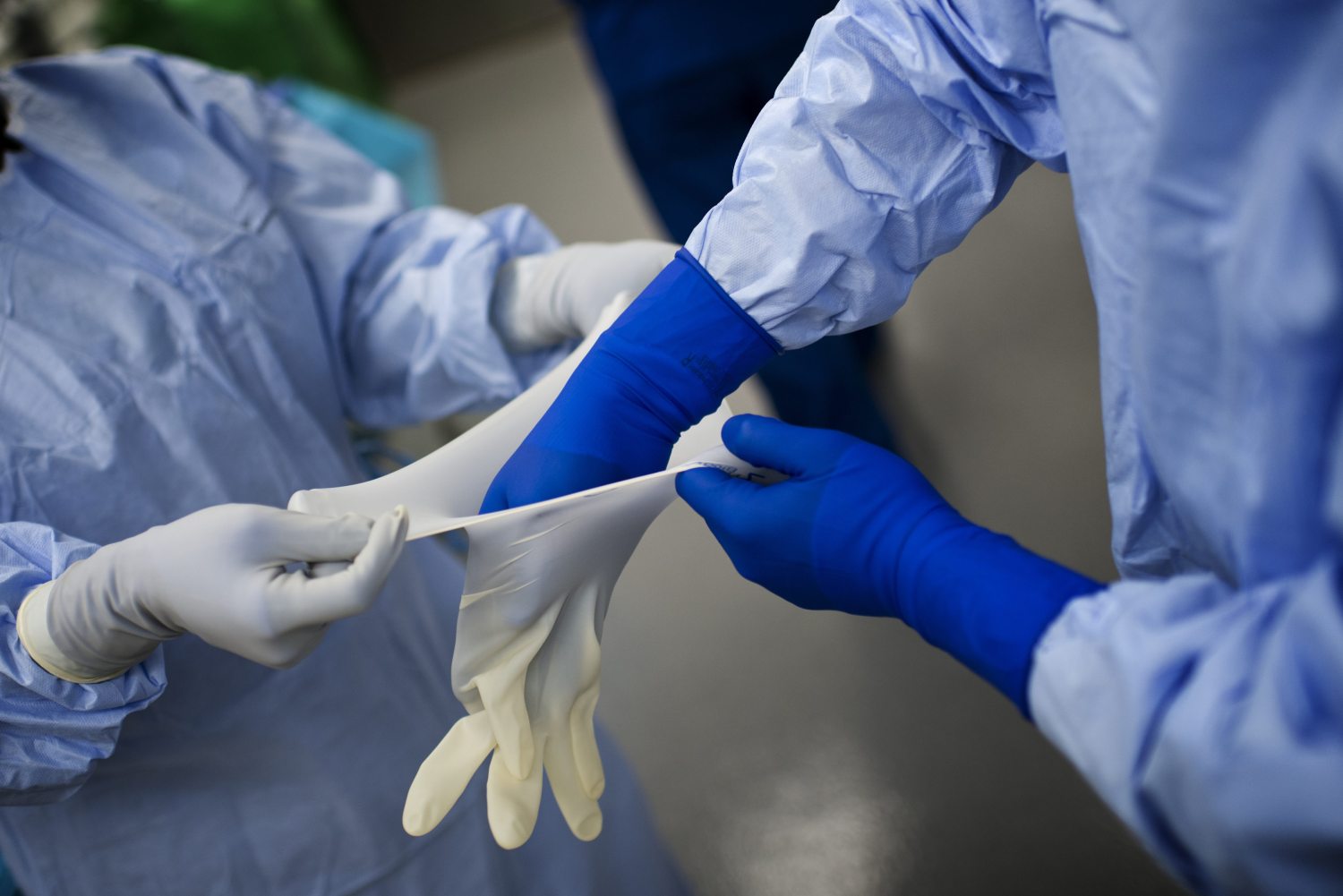 ACQUIRING YOUR STERILE EQUIPMENT (GLOVES/GOWN)
Perhaps the first step in this process will be identifying where the sterile gowns/gloves are kept, and then physically acquiring the materials you will need for the procedure. Sometimes only gloves are required, sometimes both a gown and glove, sometimes two pairs of gloves etc. It is also important to know/discover your glove size(s) prior to this process. Make sure that you acquire your sterile equipment in a timely fashion so that you can open them and begin the scrubbing in process early enough so that you do not delay your involvement in the case.
PUTTING ON STERILE GLOVES IN ISOLATION (WITHOUT A GOWN)
Sometimes a situation will call for putting on sterile gloves without a sterile gown. This situation is not specific to the realm of IR however is used for some procedures/tasks and is an important skill for trainees to posses. See the video below for more information on this topic.
OPENING YORU GOWN AND GLOVES ON THE STERILE FIELD
Sometimes when you are scrubbing into a case you will have to open up your gown and gloves and place them on a sterile field. How exactly this is done is important because you will want to keep your gloves/gown sterile while also making sure that you do not contaminate the sterile filed. The video below shows how this is done.
OPENING YORU GOWN AND GLOVES ON A NON-STERILE FIELD
Sometimes when you are scrubbing into a case you will have to open up your gown and gloves and place them on a non-sterile field. Sometimes it simply is not practical to occupy space on the sterile field either because it is inaccessible or may interrupt the workflow of the case. In these instances your gown and glove will have to be opened on a non-sterile service. While similar in some ways to the prior videos, this requires special consideration to avoid contaminating the gown and gloves given that the field is not sterile. Observe the video below to learn how to perform this task.
PUTTING ON YOUR GOWN AND GLOVES IN A STERILE FASHION
Once you have prepared your materials on your field, and have cleaned/scrubbed your hands, it is time to put on your gown and gloves in a sterile fashion. The gown is put on first, and then the gloves are worn after. The video below shows how to do this process and demonstrates working on. sterile surface.
The technique can be applied in a similar fashion even if you are not working on a sterile service, the main difference that you will not have to open up your gloves through your gown (they will already be opened prior to putting on your gown..
Page Updated: 03.03.2019