WHAT IS IT?
Parkinson disease (PD) is a degenerative disorder of the central nervous system (CNS) that is characterized by the classic findings of bradykinesia, resting tremors, muscle rigidity, and postural instability.
WHAT CAUSES IT?
This condition is thought to be caused by the loss of dopaminergic neurons of the substantia nigra, and the levels of acetylcholine are also decreased in patients with PD. The specific reason for the loss of neurons in the substantia nigra is not clear.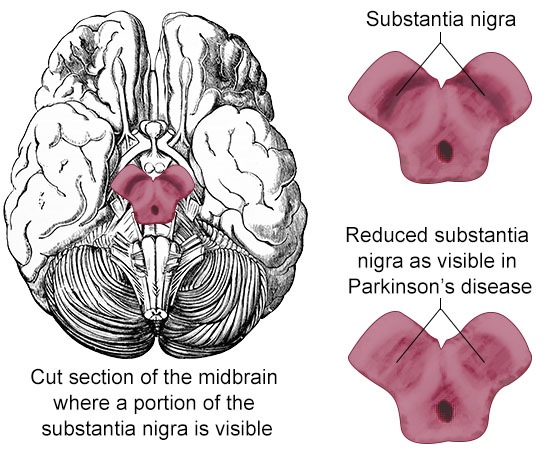 WHY IS IT A PROBLEM?
Dopamine is a very important neurotransmitter for the basal ganglia circuit (which is responsible for initiating voluntary movement). Without proper levels of dopamine signaling, patents are unable to initiate certain movements (leading to akinesia/bradykinesia).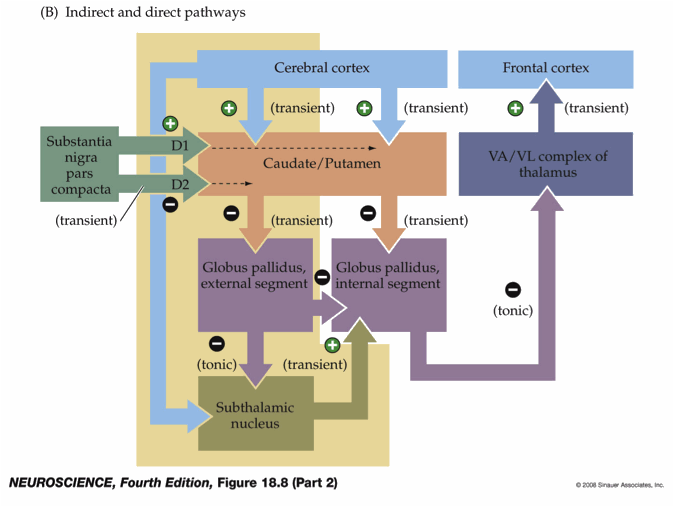 WHAT MAKES US SUSPECT IT?
Risk factors:
Illicit street drug use (MPTP risk)
Chief complaints:
Tremor
Slow movement
Stiffness/pain (i.e. of shoulder)
Fear of falling/imbalance
History Of Present Illness:
Age of onset: often is ~60 years of age.
Tremor often called a "pill-rolling" tremor can be seen that is worse at rest (resting tremor). The tremor can involve the limbs and the lower face. Paradoxically the resting tremor ceases when patient sleep. This tremor is made worse when performing mental tasks.
Akinesia or bradykinesia is a common chief complaint of patients. This is either the the loss/or slowing of voluntary movements. Patients may have difficulty with activities of daily living (dressing,
Small, cramped handwriting patients can notice that their handwriting has changed over time.

Physical Exam:
General observation: patients may have soft speech
HEENT:
Loss of smell

can be one of the first signs of PD

Lack of facial expressions

can be an obvious finding
Motor exam:
Lead pipe rigidity

can be felt on the exam.

Cogwheel rigidity

can be detected on exam.
Finger tapping exam can show decreased amplitude and speed. There will not be decreased coordination.
Gait exam can reveal a slow shuffling gait as well as postural instability (patients might have the fear of falling during the exam).
CLINICAL WORKUP
Levodopa challenge: patients are given levodopa and observed to see if their symptoms (such as the tremor) improve. Those who do improve on the mediation are believed to have Parkinson disease (because restoring dopamine signaling is beneficial).
Histology: Lewy bodies, cellular aggregates of α-synuclein (intracellular) eosinophilic inclusion, can be seen.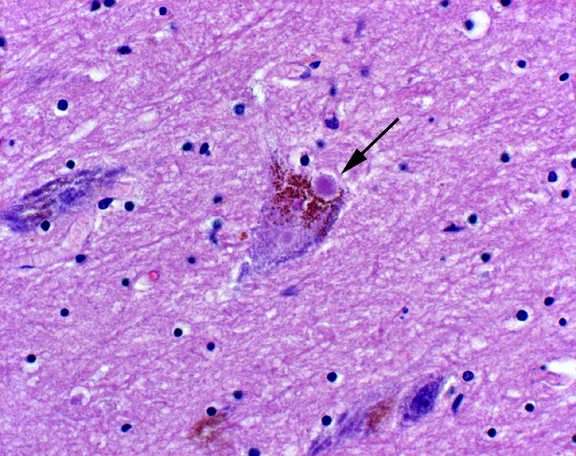 WHEN DO WE FEEL COMFORTABLE IN MAKING THE DIAGNOSIS?
PD can often not be easy to diagnose accurately: there can be many considerations that need to be made when trying to diagnose a patient with PD accurately. This paper here provides a good background on the Queen Square Brain Bank (QSBB) diagnostic criteria (which is too extensive to cover here, but can be worth reviewing).
Response to dopamine: fundamentally patients who have the characteristic clinical symptoms/history (outlined above) who also have symptom improvement with Levodopa, typically will get the diagnosis of PD. Even patients who have an asymptomatic presentation of PD, who respond to dopamine therapy, will often be diagnosed with PD.
Post-mortem histology: Lewy bodies, cellular aggregates of α-synuclein (intracellular) eosinophilic inclusion, can be seen when analyzing the histology of the substantia nigra. This can help validate the initial clinical diagnosis.
HOW DO WE TREAT IT?
General pharmacological management: the base concept with these treatment options is to try and restore dopamine signaling in the patient.
Levodopa/Carbidopa: this is the gold standard treatment option. This drug combination provides the patient with an exogenous dopamine pre-cursor (L-Dopa) while also blocking the peripheral conversion of L-Dopa to dopamine (action of carbidopa). These both work together to elevate levels of dopamine within the central nervous system.
Dopamine agonists (bromocriptine): are used to restore dopamine signaling to the patient.
Entacapone, tolcapone: these prevent peripheral l-dopa degradation to 3-O-methyldopa (3-OMD) by inhibiting catechol-O-methyltransferase (COMT).
Amantadine: this medication increases dopamine release and decreases dopamine repute.
Selegiline: selectively inhibits MAO-B which preferentially metabolizes dopamine over norepinephrine and serotonin (this increase the amount of available dopamine)
Pharmacological management of tremors involves anticholinergic medications.
Benztropine is an antimuscarinic that antagonizes acetylcholine signaling in order to improve tremor and rigidity.
Non-pharicological management:
Deep brain stimulation can be used if the patient is not responding to pharmacological treatments. Stimulation of the subthalamic nucleus or globus pallidus has been shown to benefit some patients.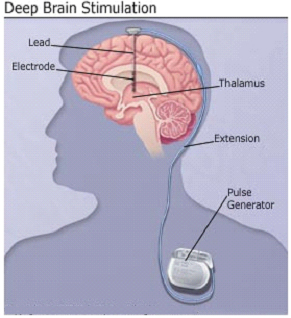 HOW WELL DO THE PATIENTS DO?
Parkinson disease is a significant one that is neurodegenerative, progressive, incurable, and associated with significant mortality.
WAS THERE A WAY TO PREVENT IT?
No clear means of preventing this condition exist as of now.
WHAT ELSE ARE WE WORRIED ABOUT?
Dementia is a common feature of this disease (especially later on in progression).
REM sleep behavior disorder: patients yell out, move around during sleep.
OTHER HY FACTS?
Historically, some cases of Parkinson was related to MPTP exposure (this was a contaminant of illicit drugs such as heroin)
Most tremors/movement disorders caused by disease of the caudate, putamen, and globes pallidus (i.e. basal ganglia) remit during sleep.
This disease is NOT characterized by weakness
ARCHIVE OF STANDARDIZED EXAM QUESTIONS
This archive compiles standardized exam questions that relate to this topic.
FURTHER READING
Page Updated: 02.20.2016