WHAT IS IT?
Toxic megacolon is a potentially lethal complication of IBD (inflammatory bowel disease) or infectious colitis (Clostridium difficile) that is characterized by the acute dilation of the large intestine. The exact cause is not entirely clear, however inflammatory mechanisms might lead to the direct dilation of the colon (by reducing tone/motility via vasodilators).
WHY IS IT A PROBLEM?
This process of colon dilation occurs with infection (hence the "toxic" moniker) that can lead to sepsis (if the colon is perforated) and life threatening complications.
WHAT MAKES US SUSPECT IT?
Risk factors: Ulcerative colitis
Presentation can include:
Abdominal pain
Abdominal distention/bloating
Fever
Tachycardia
Signs of septic shock
HOW DO WE CONFIRM A DIAGNOSIS?
Radiographic evidence of colonic distension can aid in the diagnosis of this condition. Plain abdominal x-ray films are often used.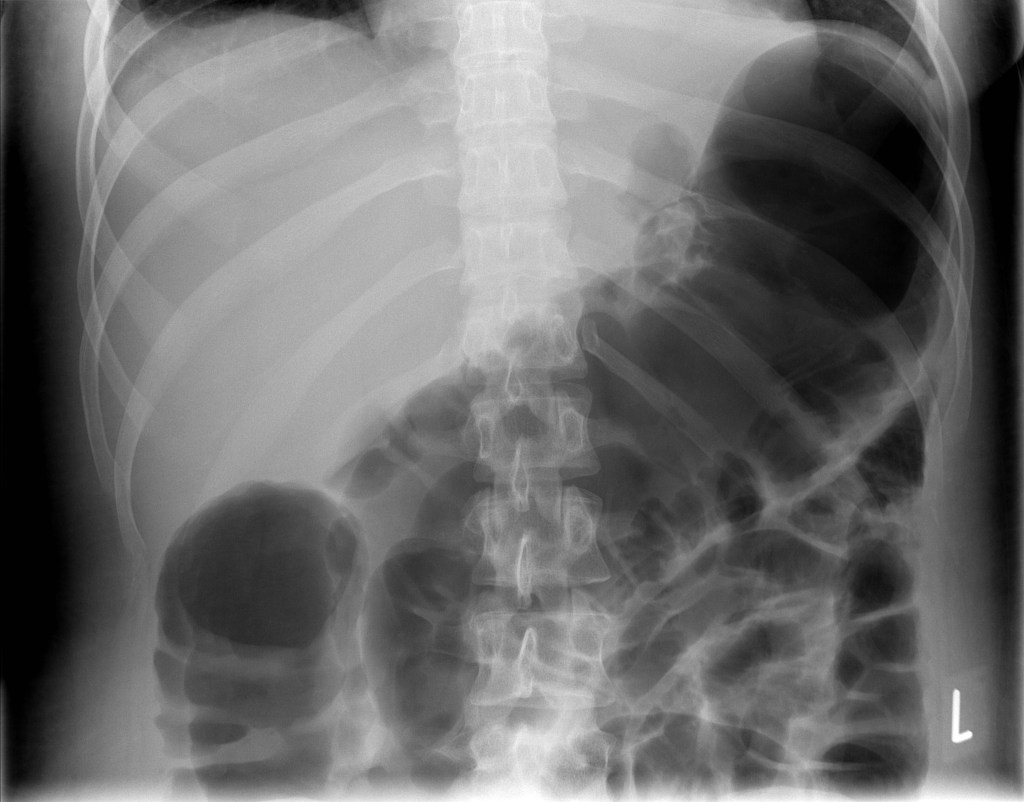 PLUS at least three of the following:
Fever >38ºC
Heart rate >120 beats/min
Neutrophilic leukocytosis >10,500/microL
Anemia
PLUS at least one of the following:
Dehydration
Altered sensorium
Electrolyte disturbances
Hypotension
HOW DO WE TREAT IT?
**Treatment goal: restore colon motility and tone while avoiding perforation (which can lead to sepsis)
Corticosteroids can be used in the setting of IBD/ulcerative colitis, but should be avoided if C. diff is the cause.
Other immunosuppressives (cyclosporine and infliximab) can also be used in steroid refractory cases.
Broad spectrum antibiotics can be administered as prophylaxis for bacterial sepsis
Surgery can be implicated if medical treatment is not sufficient to restore tone to the colon (or if perforation/extensive damage has occurred). Subtotal colectomy with end-ileostomy is the surgery of choice in most emergent situations.
HOW WELL DO THE PATIENTS DO?
The prognosis for this condition has improved over the years as medical therapy has become more well understood. Often times most patients will not need surgery for this condition.
WAS THERE A WAY TO PREVENT IT?
While it can be difficult to anticipate the development of toxic megacolon, proper managment of IBD and colitis can in part prevent this condition.
WHAT ELSE ARE WE WORRIED ABOUT?
Ulcerative colitis is an inflammatory bowel condition that can cause toxic megacolon.
OTHER HY FACTS?
A colonoscopy is extremely risky in patients with toxic megacolon because it can cause colonic perforation.
ARCHIVE OF STANDARDIZED EXAM QUESTIONS
This archive compiles standardized exam questions that relate to this topic.
FURTHER READING
Page Updated: 02.18.2016