WHAT IS IT? 
Ulcerative colitis is a form of inflammatory bowel disease (IBD) that is characterized by chronic auto-immune inflammation. Colitis literally refers to colon inflammation, and the lesions present are continuous and always involve the rectum. Specific cause is unknown and might be multifactorial.
WHY IS IT A PROBLEM?
This chronic inflammatory process will lead to the formation of ulcers (that often bleed) leading to abdominal pain, cramping, and bloody diarrhea. This conditions is also associated with numerous extraintestinal immune manifestations also make the life of the patient more difficult.
WHAT MAKES US SUSPECT IT?
Risk factors: HLA-B27, family history of IBD
Clinical presentation can include relapsing episodes of:
Bloody diarrhea (blood very often present if diarrhea is observed)
Abdominal pain in the left lower quadrant
Cramping 
Mucous covered stools
Pain during defecation
Polyarthritis can sometimes be present in patients
Uveitis: a form of eye inflammation. It affects the middle layer of tissue in the eye wall (uvea).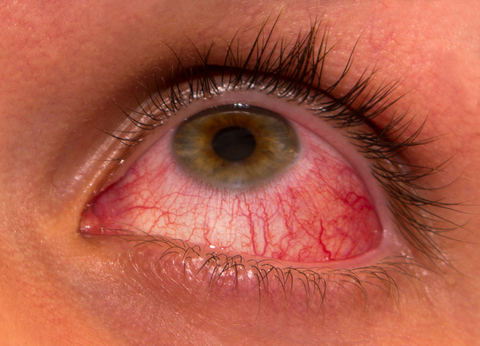 Possible dermatological fidings: 
Erythema nodosum are these tender bumps (nodules) that are under the skin (painful inflammatory lesions of subcutaneous fat).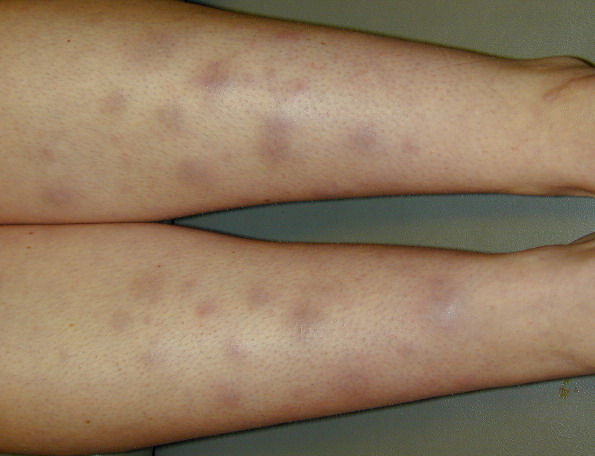 Pyoderma gangrenosum is a ulcerative cutaneous condition (characterized by the presence of necrotic tissue) that can be seen in Crohn disease.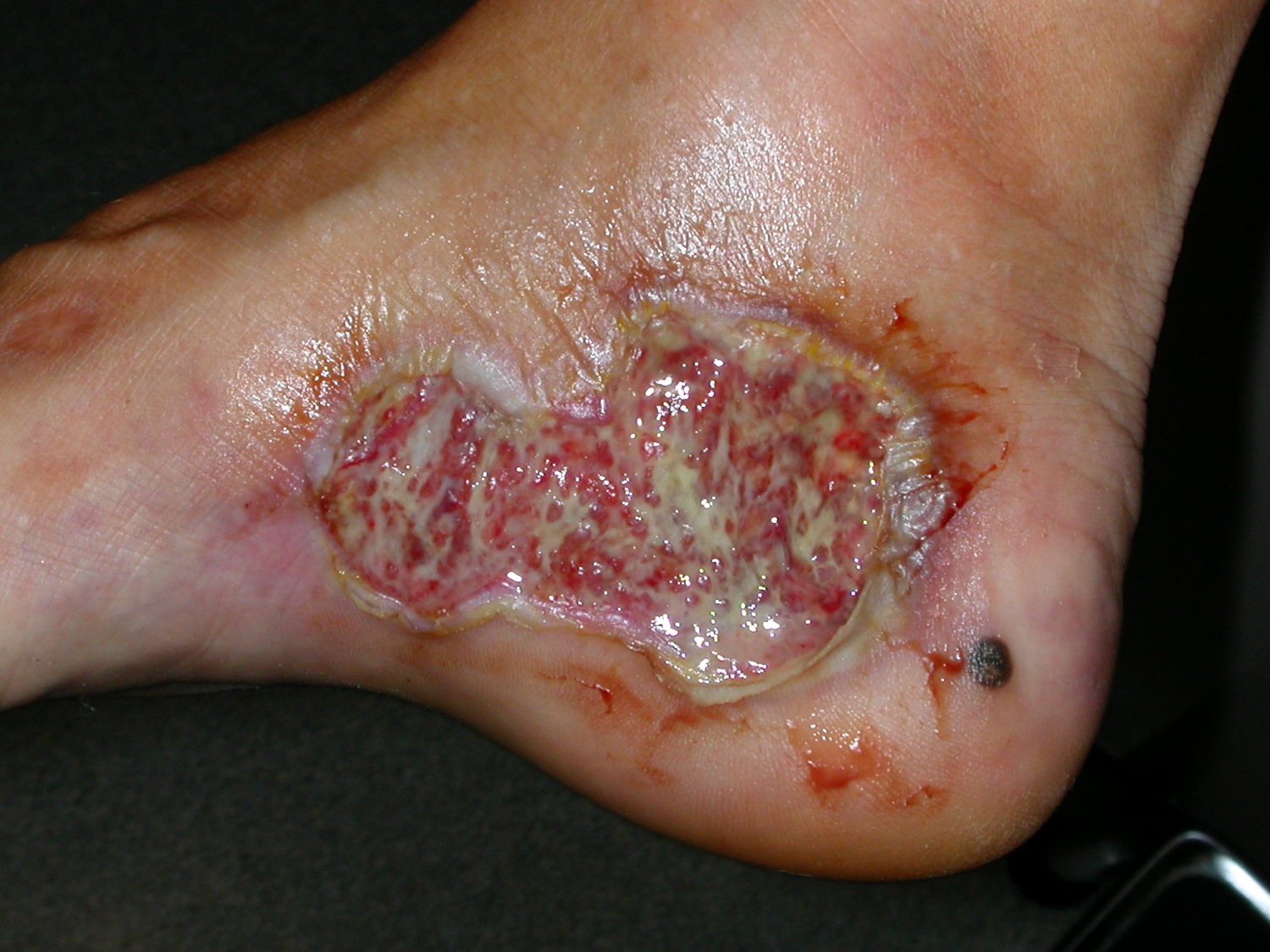 HOW DO WE CONFIRM A DIAGNOSIS?
Barium enema will reveal the loss of normal markings of the colon (haustral markings) which is referred to as a "lead pipe sign". This is because the colon is featureless and smooth in appearance like a lead pipe.
Gross pathology (some seen with endoscopy) will reveal:
Mucosal/submucosal inflammation only
Friable (easily crumbled) mucosal pseudopolyps
Freely hanging mesentery (not observable on endoscopy, but a gross pathological finding)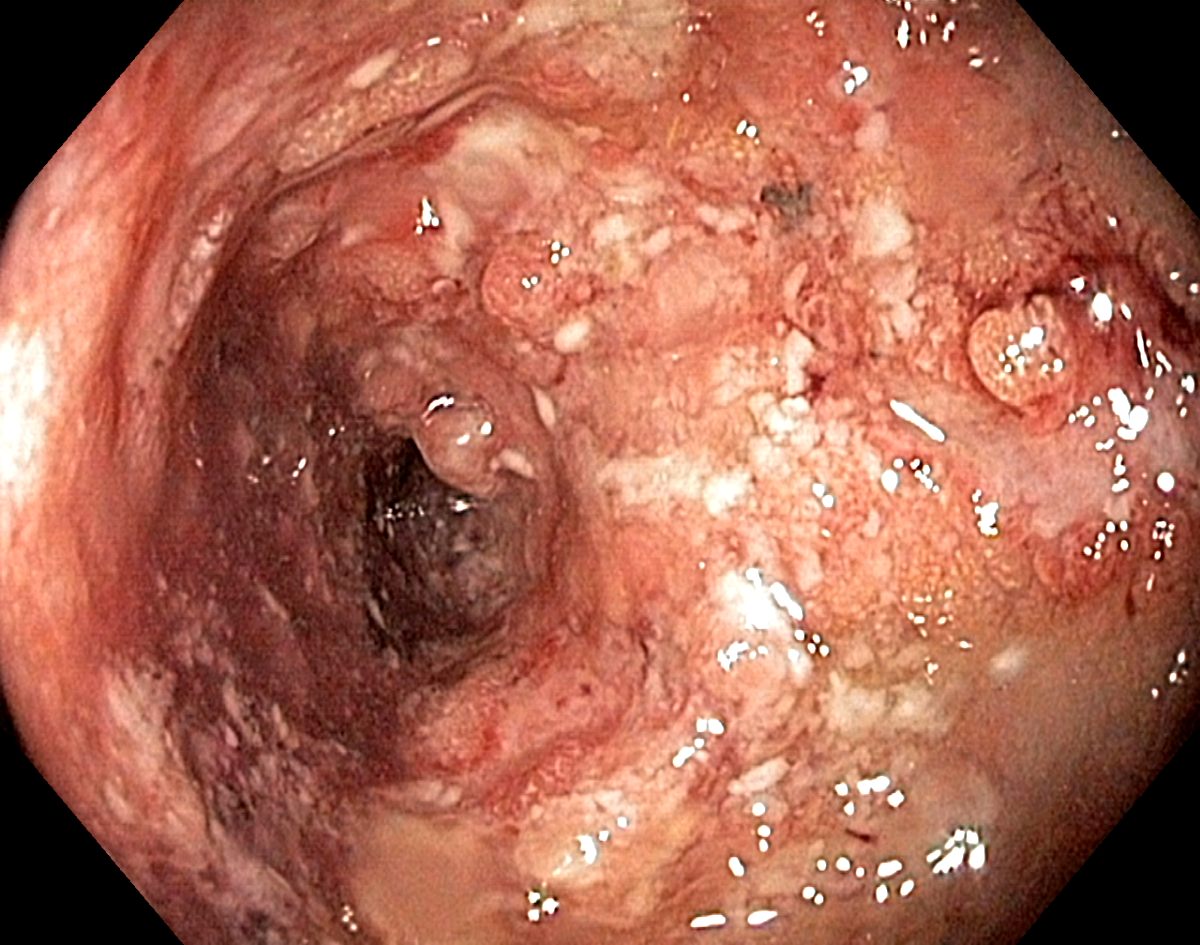 Histology will reveal the presence of only mucosal/submucosal inflammation. Crypt abscesses, ulcers, and bleeding can be present with NO granulomas (this is a Th2 mediated process).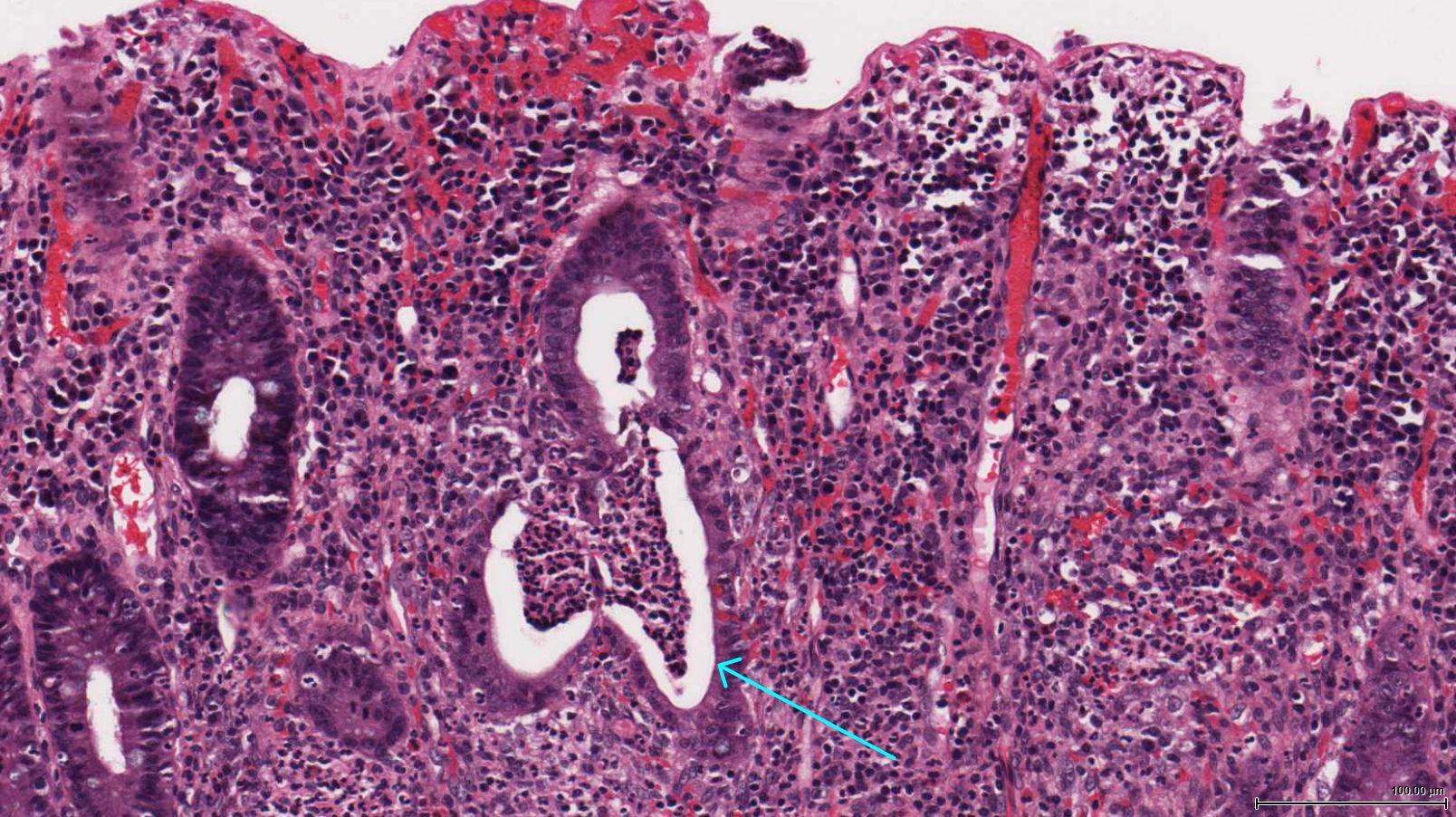 HOW DO WE RULE OTHER DIAGNOSES OUT?
*Distinguishing between ulcerative colitis and Crohn disease is important when putting together a differential diagnosis!
Symptoms of diarrhea: ulcerative colitis ususlly causes bloody diarrhea while Crohn disease only will present with bloody diarrhea part of the time.
Distribution of inflammation: there are clear differences in the patter of inflammation seen in Crohn disease vs. ulcerative colitis.
Crohn disease involves any portion of the GI tract, the lesions are not continuous (skip lesions) and the rectum is spared.  Transmural inflammation present.
Ulcerative colitis refers to inflammation that is in the terminal GI tract (colon), the lesions are continuous, and it always involves the rectum. Mucosal/submucosal inflammation only.
Histological analysis can be very useful in informing the diagnosis between Crohn disease and ulcerative colitis. Crohn disease is characterized by the presence of non-caseating granulomas, while ulcerative colitis will possess crypt abscesses.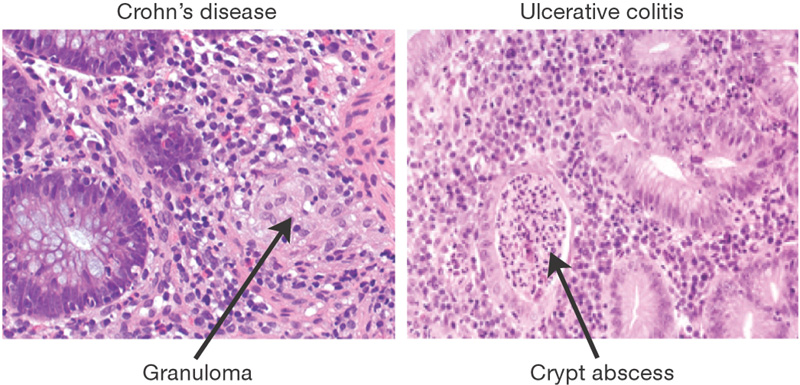 HOW DO WE TREAT IT? 
5-aminosalicylic preparations (e.g., mesalamine), 6-mercaptopurine, infliximab, colectomy.
Tumor necrosis factor inhibitors/anti-TNF (infliximab): this medciation is an antibody that binds and antagonize TNF-alpha.
Sulfasalazine: this is a combination of sulfapyridine (antibacterial) and 5-aminosalicylic acid (anti-inflammatory) that is selectively activated by bacteria in the colon.
6-mercaptopurine: immunosuppressive medication that works by antagonizing DNA synthesis.
Colectomy with ileoanal anastomosis will usually curative for colitis.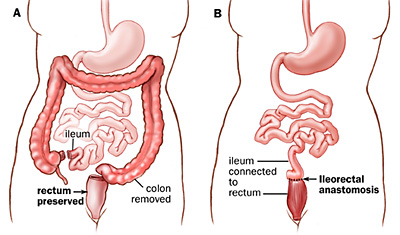 HOW WELL DO THE PATIENTS DO?
Patients who receive a colectomy will not suffer from intestinal complications (surgery is usually curative) however they will still have extra intestinal manifestations of the disease.
WAS THERE A WAY TO PREVENT IT? 
There are no clear ways of preventing this disorder
WHAT ELSE ARE WE WORRIED ABOUT? 
Primary sclerosing cholangitis is characterized by the formation of scar tissue in the bile ducts that leads to hardening/narrowing of these ducts. This can eventually progress to liver failure.
Ankylosing spondylitis: a form of spinal arthritis that is characterized by the fusion of these joints together.
Colon cancer: ulcerative colitis predisoposes patients to colon adenocarcinoma. Screening for colon cancer should begin 8-10 after initial diagnosis.
Toxic megacolon is a serious complication that can be caused by ulcerative colitis and is characterized by the abrupt dilation of the colon.
OTHER HY FACTS?
Ulcerative colitis begins in the rectum and can extend proximally (continuously) all the way to the cecum.
ARCHIVE OF STANDARDIZED EXAM QUESTIONS 
This archive compiles standardized exam questions that relate to this topic.
FURTHER READING
Page Updated: 02.18.2016