WHAT IS IT? 
Hyperthyroidism refers to the inappropriately high synthesis/secretion of thyroid hormones.
Thyrotoxicosis specifically describes a clinical state that is caused by inappropriately high thyroid hormone activity.
Causes of hyperthyroidism can be variable (although Graves disease is the most common cause)
WHY IS IT A PROBLEM?
The thyroid hormones T3/T4 are important for a wide variety of biological processes systemically (including temperature regulation, metabolism, growth) so their increased activity in hyperthyroidism will impair multiple normal physiological processes within the patient.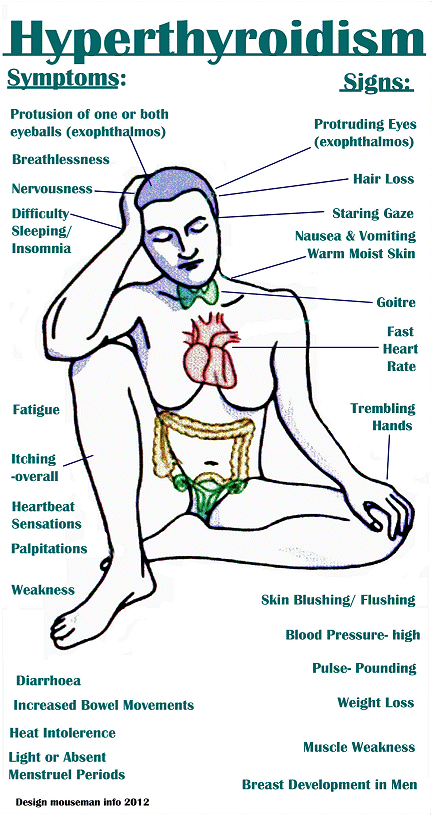 WHAT MAKES US SUSPECT IT?
Risk factors:
Clinical presentation of hyperthyroidism can include:
Heat intolerance (increased heat production)
Weight loss
Increased appetite
Hyperactivity
Diarrhea
Dermatological findings Skin is typically warm and moist. Hair can become thinner/finer. Findings also can include pretibial myxedema swelling of the skin and the tissues underneath giving a waxy appearance (localized over the tibia in patients). This is essentially cutaneous/dermal edema that is caused by connective tissue deposition.. Periorbital edema may also be present.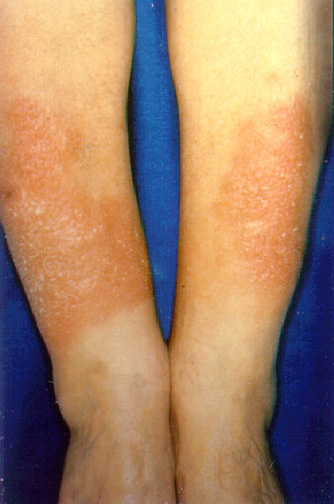 Cardiac exam can reveal chest pain, palpatations, and arrhythmias. This can be caused by the increase in the number and sensitivity of β-adrenergic receptors
Neurological findings: increased reflexes, lid lag (when patients look down, upper eyelid does not move downward quickly) because
HOW DO WE CONFIRM A DIAGNOSIS?
Serum analysis will reveal the following results:
Increased free/total T3 and T4
Decreased TSH (if primary hyperthyroidism)
Hypocholesterolemia can be seen (due to increased LDL receptor expression)
Further testing is needed to identify the underlying cause of the hyperthyroidism (such as in a specific diagnosis of Graves disease)
HOW DO WE TREAT IT? 
*Treatment should be tailored for the underlying cause of the condition. 
Propylthiouracil, methimazole are medications that block thyroid peroxidase, which ultimately inhibit synthesis of thyroid hormone synthesis. Propylthiouracil also blocks the peripheral conversion of T4 to T3.
Thyroidectomy is a possible option for certain types of hyperthyroidism.
Beta blockers can be useful for patients who have symptomatic hyperthyroidism.
HOW WELL DO THE PATIENTS DO?
The prognosis of the patient will depend on the underlying cause of the hyperthyroidism.
WAS THERE A WAY TO PREVENT IT? 
Some forms of hyperthyroidism (such as exogenous thyroid hormone intake to lose weight) are preventible.
WHAT ELSE ARE WE WORRIED ABOUT? 
Atrial fibrillation is associated with hyperthyroidism.
Hydatidifrom mole is cystic swelling of the chorionic villi that is associated with hyperthyroidism.
Graves disease may be the underlying cause of the hyperthyroidism (it is the most common cause)
Hashimoto thyroiditis initially presents as hyperthyroidism before progressing to hypothyrodism
Mature cystic teratoma (dermoid cyst) is a germ cell tumor commonly found in ovarian tissues, that can actually contain thyroid tissue and present as hyperthyroidism.
Choriocarcinoma is a malignancy of the uterus that can produce symptoms of hyperthyroidism because it overproduces hCG (which is structurally similar to TSH).
OTHER HY FACTS?
Amiodarone (potassium channel blocker) is a medication that contains a significant amount of iodine by weight. Its usage can cause hyperthyroidism.
Excessive thyroid hormone cues increased bone turnover in the body
Iodine 123 is used for diagnostic and scanning purposes of the thyroid (not toxic to thyroid)
Iodine 133 is used as therapy for hyperthyroidism because it will destroy the thyroid tissue.
Ectopic thyroids (which are developmental failures of decent of the thyroid tissue) are still subject to thyroid pathology (including hyperthyroidism)
FURTHER READING
Page Updated: 02.14.2016