WHAT IS IT?
Congenital adrenal hyperplasia (CAH) referes to hyperplastic growth of both adrenal glands in response to the excess of sex steroids. An inherited 21-hydroxylase deficiency is the most common cause (inherited in an autosomal recessive manner).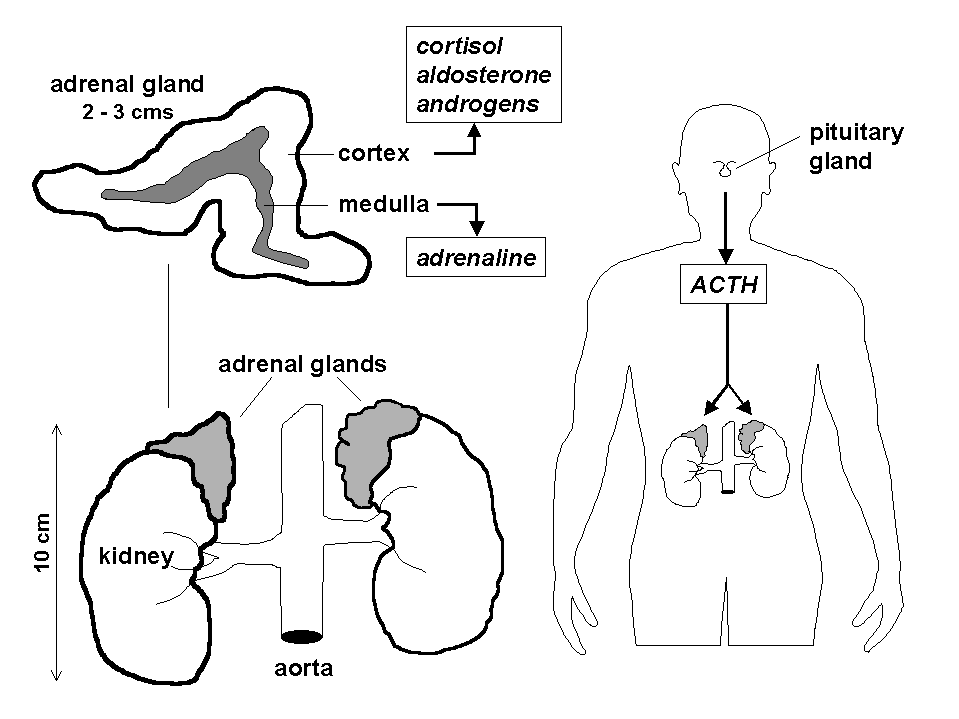 WHY IS IT A PROBLEM?
21-hydroxylase is a hormone that is required for the production of both aldosterone and corticosteroids. When this enzyme is deficient, steroid hormone/androgen synthesis moves towards overproduction of sex hormones (which do NOT require this enzyme for production).
This combined with the lack of cortisol (which normally negatively regulates ACTH) leads to increased ACTH recreation and eventual hyperplasia of the adrenal glands.
The lack of aldosterone production leads to hyponatremia, hyperkalemia, and hypovolemia
The lack of cortisol can cause life threatening hypotension.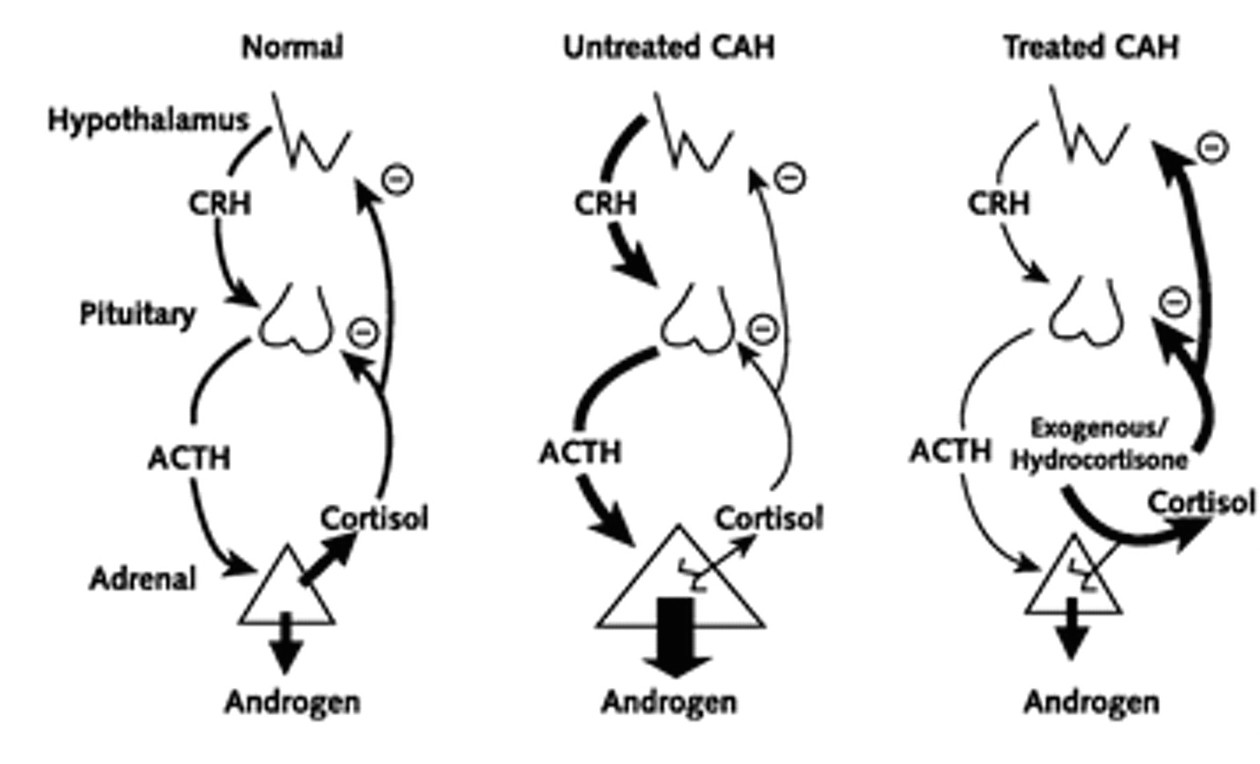 WHAT MAKES US SUSPECT IT?
Risk Factors:
Family history of CAH
Initial Presentation:
Physical Exam:
Vital signs: Hypotension due to loss of both aldosterone/cortisol activity
Clitoral enlargement/ambiguous genitalia can be seen in females due to increased sex hormone activity

CLINICAL WORKUP
Serum electrolytes can demonstrate hyponatremia and hyperkalemia due to loss of aldosterone signaling.
Serum hormone levels: often the following patterns will be found in patients:
Increased 17-hydroxyprogesterone
Genetic screening can identify the causal mutation.
HOW DO WE TREAT IT?
Initially fluid restriction with IV saline (0.9%) can be given to restore serum sodium levels.
Glucocorticoids (hydrocortisone IV) can be given to suppress ACTH and restore blood pressure
Mineralocorticoids can be given to replace aldosterone deficiency.
HOW WELL DO THE PATIENTS DO?
CAH is associated with decreased height, increased obesity, and poorer health-related quality of life (source)
WAS THERE A WAY TO PREVENT IT?
While this genetic condition is not preventible, patients with a the condition/family history can benefit form genetic counseling
WHAT ELSE ARE WE WORRIED ABOUT?
Female pseudohermaphrodites (XX) will have normal internal genitalia and virilzied/ambiguous external gentialia due to exposure of androgens. CAH is a common cause. This can be corrected with surgical intervention.
OTHER HY FACTS?
Other mutations (not just the common 21-hydroxylase deficiency) can cause CAH
ARCHIVE OF STANDARDIZED EXAM QUESTIONS
This archive compiles standardized exam questions on this topic.
FURTHER READING
Page Updated: 02.13.2016