WHAT IS IT? 
Growth Hormone Deficiency (GHD) refers to any situation in which there is impaired production of growth hormone (GH) in a patient. The cause can be variable (and can be congenital or acquired).
WHY IS IT A PROBLEM?
The lack of GH signaling will lead to poor growth and delayed puberty.
WHAT MAKES US SUSPECT IT?
Risk factors: family history of short stature, CNS radiation therapy
Common presentation may be of a child who has short stature and delayed puberty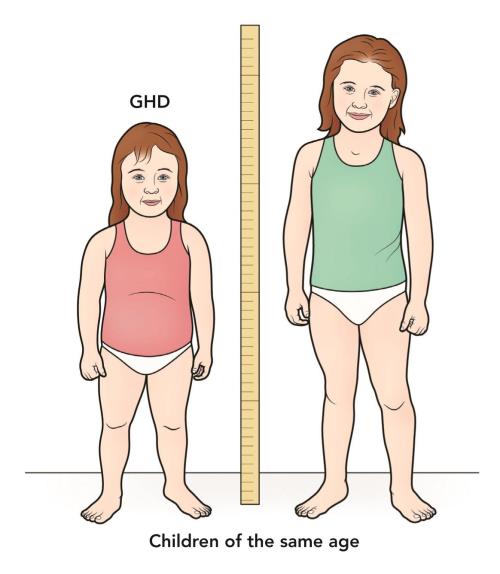 HOW DO WE CONFIRM A DIAGNOSIS?
Serum analysis for the following markers can be useful:
IGF-1 and IGFBP-3 (can be involved in certain forms of GHD) and IGF-1 is typically decreased in patients with GHD.
GH levels can be measured before and after stimulation (with either insulin or arginine) to assess if there are proper levels of GH present).
Genetic testing for GH-1 and GHRHR mutations can be diagnostic.
HOW DO WE TREAT IT?
Growth hormone replacement using a recombinant growth hormone is the standard of care.
HOW WELL DO THE PATIENTS DO?
Even with treatment, patients may have smaller stature compared to their age matched averages.
WAS THERE A WAY TO PREVENT IT? 
Some cases of GHD (such as damage to the CNS from radiation) are technically preventable but may be unavoidable or difficult to anticipate.
WHAT ELSE ARE WE WORRIED ABOUT? 
Reduced muscle mass may also be a consequence of decreased GH signaling.
OTHER HY FACTS?
Variable causes: hypothalamus failing to secrete growth hormone releasing hormone (GHRH), damage of the CNS by radiation therapy, failure of liver to produce IGF-1
FURTHER READING
Page Updated: 02.13.2016