OVERVIEW
This page is dedicated to covering how the condition developmental venous anomaly will appear on different types of imaging studies.
BASIC CHARACTERISTICS
Fundamentally, a developmental venous abnormality refers to a congenital abnormality of the veins that drain the brain.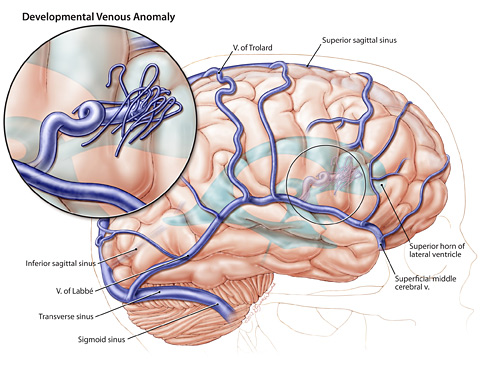 Here are some general features of this condition that might be appreciated across modalities:
Caput medusa sign: can also look like a "palm tree". Characterized by veins draining into a single larger collecting vein, which in turn drains into a dural sinus or into a deep ependymal vein.
X-RAY
Key features of the appearance of this condition on this imaging modality are:
COMPUTERIZED TOMOGRAPHY (CT-SCAN)
Key features of the appearance of this condition on this imaging modality are:
MAGNETIC RESONANCE IMAGING (MRI)
Key features of the appearance of this condition on this imaging modality are:
Page Updated: 08.09.2017