WHAT IS IT?
MEN1 refers to a autosomal dominant condition that is characterized by (as the name suggests) multiple different endocrine neoplasms. It is associated with a mutation of the MEN1 gene (codes for renin, a tumor suppressor). This is a rare condition.
WHY IS IT A PROBLEM?
This mutation in the MEN1 gene leads to its dysfunction, resulting in the formation of tumors involving the 3 Ps: parathyroid, pituitary (prolactin/GH specifically), and pancreatic endocrine tumors (islet cells commonly). Other sites of tumor formation include the adrenal gland and neuroendocrine system of stomach, duodenum, bronchus, and thymus (common).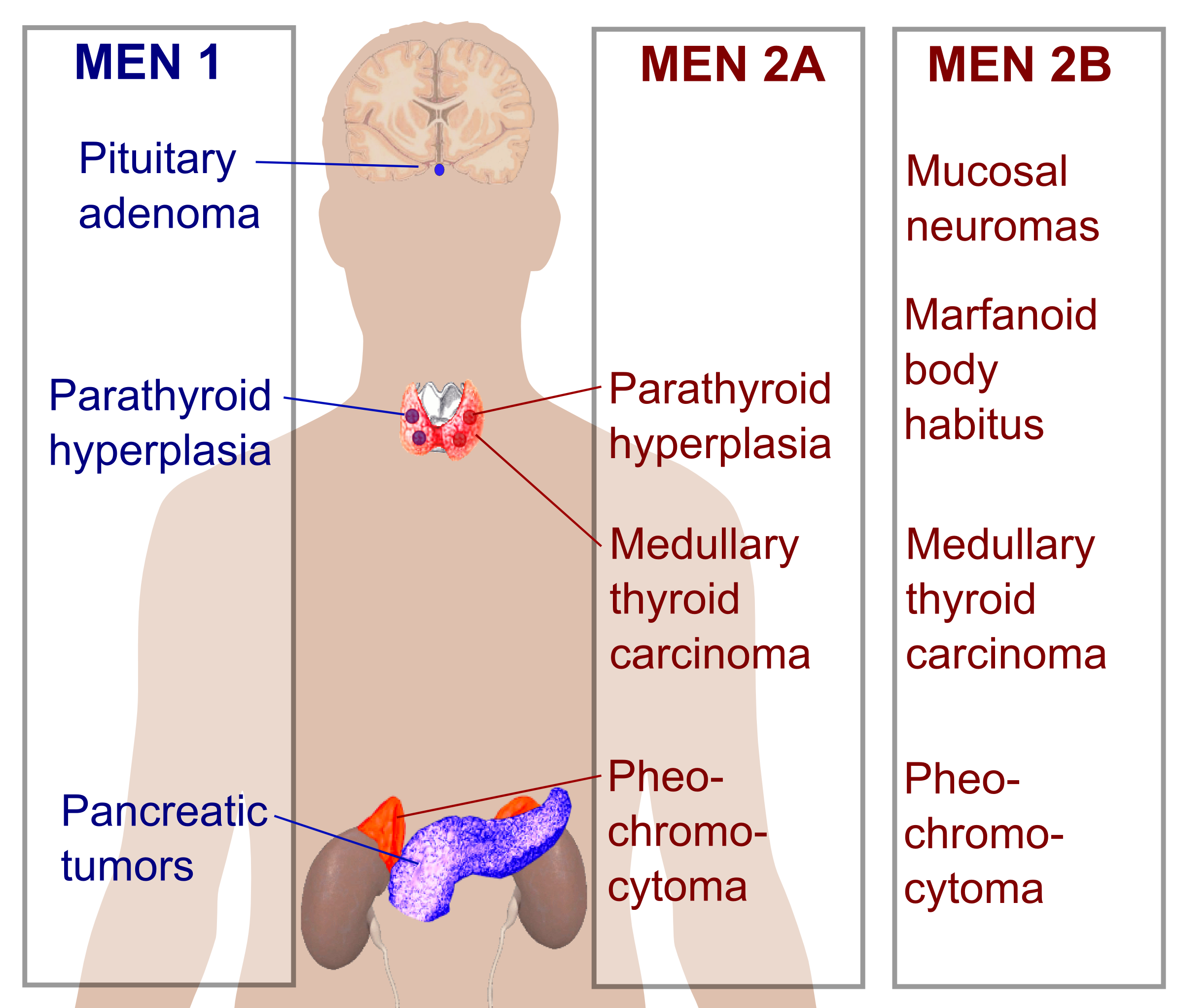 WHAT MAKES US SUSPECT IT?
Risk factors: family history, smoking (thymus tumors)
*Many patients are asymptomatic and are identified through genetic testing/screening.
**Symptoms (when present) are very variable depending on the underlying endocrine tumors present!
Symptoms of primary hyperparathyroidism/hypercalcemia are often some of the first signs of the disease.
Anterior pituitary tumor symptoms: can include a wide variety of presentations
Visual field defects/headaches due to enlargement of the pituitary gland
Symptoms of acromegaly/gigantism (somatotropinoma)
Symptoms of Cushing disease (corticotropinoma)
Symptoms of hyperthyroidism (such as weight loss, hyperactivity, increased appetite)
HOW DO WE CONFIRM A DIAGNOSIS?
Serum analysis can be used to detect elevated levels of related hormones (such as PTH, GH, thyroid hormones, etc)
Genetic testing can identify the casual mutation on the MEN1 gene.
HOW DO WE TREAT IT?
Treatment is specific to each tumor type present
HOW WELL DO THE PATIENTS DO?
MEN1 is associated with increased rate of premature death, however the specific prognosis of a patient depends entirely on their clinical context.
WAS THERE A WAY TO PREVENT IT?
This genetic condition is not preventable, however genetic counseling can inform patients on their risk of passing along the MEN1 condition.
WHAT ELSE ARE WE WORRIED ABOUT?
*The pancreatic tumors in MEN1 include
Zollinger-Ellison syndrome (gastrinoma): this is a gastrin secreting tumor of the pancreas (can also be in the duodenum). It results in acid hyper-secretion that causes recurrent ulcers in the duodenum and jejunum and also diarrhea (due to malabsorption).
Insulinomas
VIPomas
Glucagonomas (rare)
OTHER HY FACTS?
Most patients with thymus tumors with MEN1 are smokers.
ARCHIVE OF STANDARDIZED EXAM QUESTIONS
This archive compiles standardized exam questions that relate to this topic.
FURTHER READING
Page Updated: 02.10.2016