WHAT IS IT? 
Hydronephrosis literally means "water in the kidney" and is characterized by the presence of increased filtrate within the renal system. This can be caused by a variety of things including: kidney stones, ureter impingement, benign prostatic hyperplasia (BPH), cervical cancer, and vesicoureteral reflux.
WHY IS IT A PROBLEM?
Proximal to the site of the impingement/blockage/pathology dilation of the urinary structures will occur (often the renal pelvis/calyces will become distended). This ultimately can lead to compression and possible atrophy of the renal parenchyma.
WHAT MAKES US SUSPECT IT?
Risk factors: BPH, cervical cancer, kidney stones, vesicoureteral reflux
HOW DO WE CONFIRM A DIAGNOSIS?
Serum creatinine becomes elevated usually only if the obstruction is bilateral (or the patient only had one kidney to begin with)
Renal ultrasound can be used to visualize the hydronephrosis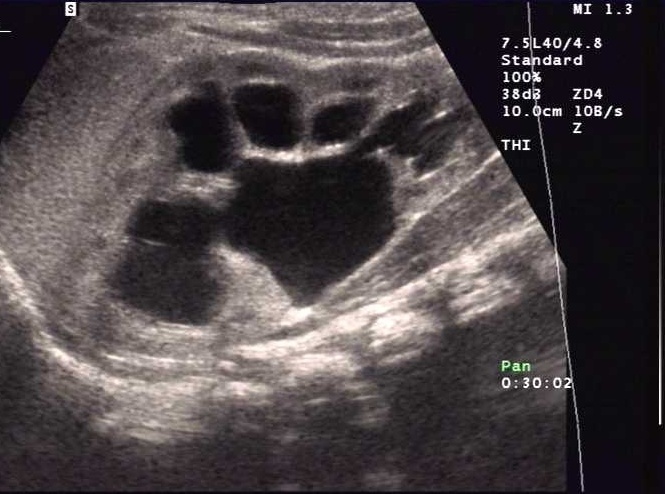 HOW DO WE TREAT IT? 
Treat the underlying cause of the hydronephrosis!
HOW WELL DO THE PATIENTS DO?
This depends on the underlying cause.
WAS THERE A WAY TO PREVENT IT? 
This depends on if the underlying cause of the hydronephrosis is preventable (often the events that precipitate hydronephrosis are difficult to anticipate)
WHAT ELSE ARE WE WORRIED ABOUT? 
Horseshoe kidney is associated with hydronephrosis.
Inappropriate absolute polycythemia (ectopic EPO expression) is associated with hydronephrosis
Benign prostatic hyperplasia can be associated with/cause bilateral hydronephrosis by compressing the urethra.
Cervical carcinoma: advanced tumors can invade though the anterior uterine wall (into the bladder) blocking the ureters. This can lead to hydronephrosis, postern failure, and subsequently, even death.
OTHER HY FACTS?
The ureteropelvic junction is the most common site of obstruction in the fetus (and can lead to hydronephrosis)
Certain drugs (such as ergotamines) can cause retroperitoneal fibrosis (which can lead to hydronephrosis)
FURTHER READING
Page Updated: 02.10.2016