WHAT IS IT?
Hyperparathyroidism refers to a condition where there is excessive activity of the parathyroid (increased parathyroid hormone/PTH signaling). There are various classes of hyperparathyroidism (each with different causes):
Primary: this is usually caused by a parathyroid adenoma/hyperplasia (directly secretes more PTH)
Secondary: this is typically reactive hyperplasia (usually in response to chronic renal disease) caused by decreased calcium resorption (loss of active vitamin D) or increases phosphate (impaired phosphate clearance results in increased binding of free calcium => hypocalcemia).
Tertiary: refractory hyperparathyroidism from long term secondary hyperparathyroidism.
WHY IS IT A PROBLEM?
Increased levels of PTH (and often associated hypercalcemia) can cause a variety of of physiological consequences which include:
Calcium oxalate stone formation
Metastatic calcification of renal tubules (which can lead to renal insufficiency)
CNS disturbances (depression/seizures possible)
GI complications: constipation, peptic ulcer disease, and acute pancreatitis
Bone resorption that can lead to fibrosis and cyst formation.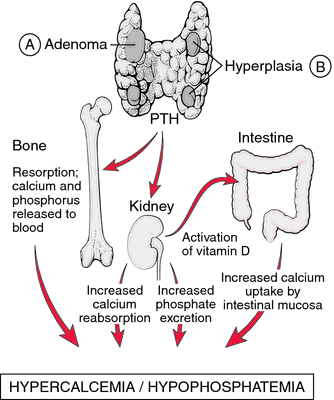 WHAT MAKES US SUSPECT IT?
Risk factors: african ancestry, female, ~50 years of age
Presentation: weakness and constipation. abdominal/flank pain (kidney stones, acute pancreatitis)
HOW DO WE CONFIRM A DIAGNOSIS?
Lab markers:
All types of hyperparathyroidism will have elevated ALP and PTH
Primary will have elevated serum calcium, and decreased serum phosphate
Secondary will have decreased serum calcium, and increased serum phosphate
Tertiary will have increased serum calcium and very high PTH (long term PTH response will eventually elevate calcium levels).
Imaging (primary): technetium-99m-sestamibi radionuclide scan of the parathyroids can demonstrate presence of adenoma.

HOW DO WE RULE OTHER DIAGNOSES OUT?
Analyzing the urinary calcium can help rule out a different cause of hypercalcemia: familial hypocalciuric hypercalcemia (FHH). In hyperparathyroidism urinary calcium will be more elevated then in FHH.
Calcium to creatinine ratio can be used to differentiate between these two: a ratio < 0.01 is the suggested cutoff (below this value suggests FHH)
HOW DO WE TREAT IT?
Surgery is curative for primary hyperparathyroidism
Cinacalcet: this medication sensitizes the calcium sensing receptor (CaSR) in the parathyroid gland to circulating calcium (which in turn decreases parathyroid release). Useful for secondary hyperparathyroidism.
Treating the underlying cause is important in settings such as chronic kidney disease.
HOW WELL DO THE PATIENTS DO?
If untreated this condition can range from being asymptomatic to being life threatening.
WAS THERE A WAY TO PREVENT IT?
Preventing the underlying cause of certain forms of hyperparathyroidism (such as preventing kidney damage) can help in avoiding this condition.
WHAT ELSE ARE WE WORRIED ABOUT?
Metastatic calcification: this is a process by which calcium is deposited in normal tissues secondary to hypercalcemia (can by caused by hyperparathyroidism)
Depression: can sometimes be the presentation of primary hyperparathyroidism.
Osteitis fibrosa cystica cystic bone spaces that are filled with fibrous brown tissues ("brown tumor")
Renal osteodystrophy: these are bone lesions due to secondary/tertiary hyperparathyroidism (ultimately caused by renal disease).
Pseudogout is associated with hyperparathyroidism.
OTHER HY FACTS?
FURTHER READING
Page Updated: 02.09.2016