WHAT IS IT?
Primary hyperaldosteronism (Conn Syndrome) refers to group of disorders that are characterized by elevated aldosterone levels. These conditions typically are independent of the renin-angiotensis system. A very common cause of this condition is an adrenal cortex adenoma (in the zone glomerulosa of the adrenal gland) that secretes aldosterone. A second common cause is bilateral adrenal hyperplasia.
WHY IS IT A PROBLEM?
In the setting of excessive aldosterone, there will be increased sodium retention, potassium wasting, hydrogen secreation, and bicarbonate production in the distal nephron. This ultimately manifests as hypertension, hypernatremia, hypokalemia, and metabolic acidosis.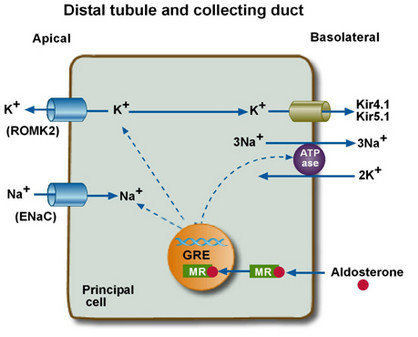 WHAT MAKES US SUSPECT IT?
Risk factors: hypertension
Hypertension: patients will often present with many of the physical findings of hypertension (elevated JVP etc)
Weakness as a result of hypokalemia
Decreased deep tendon reflexes can be observed due to hypokalemia
Irregular heart rate can be appreciated on physical exam due to
Tetany: the increase of serum pH allows for more calcium to bind albumin (due to the loss of hydrogen binding the negatively charged blood protein). This decreases the amount of free calcium available in the serum.
HOW DO WE CONFIRM A DIAGNOSIS?
Serum electrolytes: hypokalemia, metabolic alkalosis
Blood gasses: pC02 above 40 mmHg (generally) due to respitory compensation of alkalosis
Serum hormones: High aldosterone, low renin (high BP down-regulates renin expression)
Saline suppression test: if aldosterone is high (and renin is low) conduct this test so you can measure aldosterone levels in a setting where aldosterone normally would be off.
Measure plasma aldosterone administering 2 liters of 0.9% saline IV over 4 hours

Result ≥ 10 ng/dL confirms primary aldosteronism
Adrenal villous sampling: is the test of choice to narrow down the cause of the hyperaldosteronism (unilateral tumor vs. bilateral hyperplasia
HOW DO WE RULE OTHER DIAGNOSES OUT?
CT scans of the adrenals can sometimes rule out other diseases (such as ACTH secreating tumors of the adrenal gland). With this in mind, CT scans will miss smaller lesions and are not 100% sensitive.
HOW DO WE TREAT IT?
**Potassium sparing diuretics: used for maintaining blood pressure without losing more potassium.
Spironolactone: is a potassium sparing diuretic that is a competitive aldosterone receptor antagonist in the cortical collecting tubule.
Amiloride: is a different type of potassium sparing diuretic
Potassium supplements are used to correct the hypokalemia
Surgery: laparoscopic adrenalectomy (useful in patients with unilateral adrenal disease)
HOW WELL DO THE PATIENTS DO?
Once properly treated, patients seem to do quite well.
WAS THERE A WAY TO PREVENT IT?
While no clear means of preventing this disease, screening at risk patients (such as those with elevated blood pressure) for elevated aldosterone + low renin can improve detection.
WHAT ELSE ARE WE WORRIED ABOUT?
Cushing syndrome: some forms (specifically adrenal tumors) can present with pseudohyperaldosteronism (because cortisol can act on the aldosterone receptor)
OTHER HY FACTS?
17α-Hydroxylase deficiency can also cause hyperaldosteronism. 17α-Hydroxylase is required to make anything other than aldosterone in the adrenal. Therefore, with this deficiency, only aldosterone can be made. This leads to classic results of hyperaldosteronism: hypokalemic metabolic alkalosis, hypertension, and decreased androgens and cortisol.
ARCHIVE OF STANDARDIZED EXAM QUESTIONS
This archive compiles standardized exam questions that relate to this topic.
FURTHER READING
Page Updated: 02.09.2016