WHAT IS IT? 
Diabetic Nephropathy is a secondary nephrotic syndrome that is caused by microvascular damage to renal structures (specifically the glomeruli) due to diabetes (increased blood glucose concentrations).
WHY IS IT A PROBLEM?
High levels of blood sugar can cause a variety of systemic issues. Specific to the kidney, these high levels of blood sugar will cause non enzymatic glycosylation of both the glomerular basement membrane (GBM) and efferent arterioles.
Glycosylation of GBM will lead to increased permeability (nephrotic syndrome) as well as thickening of the GBM
Glycosylation of efferent arterioles will cause increased GFR and mesangial expansion.
WHAT MAKES US SUSPECT IT?
Risk factors: diabetes (especially poorly controlled disease), hypertension
Often asymptomatic and identified upon screening for diabetes.
Blurry/decreased vision (as a result of diabetic rietinaopahy) is associated with glomerular nephritis.
Edema can pre present in patients who have nephrotic syndrome.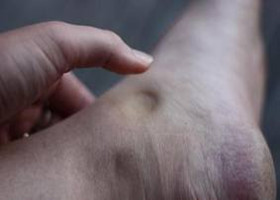 HOW DO WE CONFIRM A DIAGNOSIS?
Albuminuria small-large amounts (micro-macroalbuminuria) of albumin will leak into the urine early on during the course of this disease. This in the setting of diabetes can help narrow the likely diagnosis.
Light microscopy (renal biopsy) will show the following findings:
Mesangial expansion: 
GBM thickening: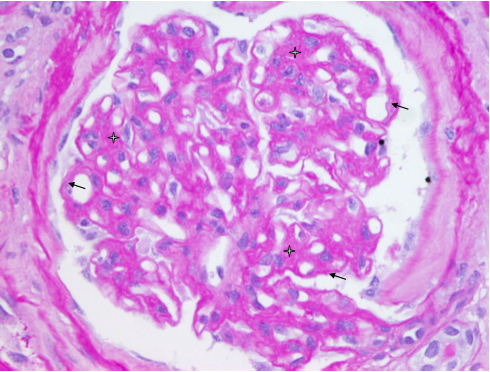 Eosinophilic nodular glomerulosclerosis there are also called Kimmelstiel-Wilson leisions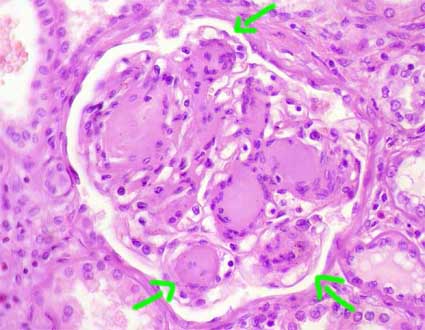 HOW DO WE TREAT IT? 
*Manage the underlying diabetes! 
ACE inhibitors (such as lisinopril and captopril): these decrease intraglomerular pressure, slowing the GB thickening in diabetic nephropathy.
Angiotensin II receptor blockers (such as losartan): those who have intolerance to ACE inhibitors can use these (for the same reason above)
HOW WELL DO THE PATIENTS DO?
This is variable: the extent of kidney's involvement will alter the prognosis of the patient.
WAS THERE A WAY TO PREVENT IT? 
Proper maangment of diabetes (and blood sugar) can prevent this from occurring
WHAT ELSE ARE WE WORRIED ABOUT? 
Diabetic retinopathy (often also present in patients)
Kidney failure if patients are not treated before further progression of the disease.
OTHER HY FACTS?
Many individuals with diabetes will unfortunately develop diabetic neuropathy (make sure to assess kidney function of patients with known diabetes).
FURTHER READING
Page Updated: 02.07.2016