WHAT IS IT?
Wiskott-Aldrich syndrome is a rare X-linked condition where a deficiency in the WAS gene (cytoskeletal glycoprotein) that leads to progressive loss of B cells, T cells, and platelets.
WHY IS IT A PROBLEM?
Patients will be immune compromised and susceptible to repeat infections.
WHAT MAKES US SUSPECT IT?
Risk factors: family history of disease
Three cardinal findings: eczema, recurrent infections, thrombocytopenia (can see petechiae/bruises)
Eczema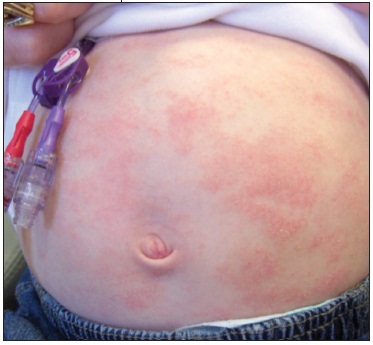 HOW DO WE CONFIRM A DIAGNOSIS?
Blood serology: will demonstrate low platelet counts and low lymphocytes.
Decreased/normal IgG/IgM
Increased IgE and IgA
Genetic testing: can demonstrate causal mutation.
HOW DO WE TREAT IT?
Hematopoietic cell transplant: is at present the only curative treatment, with excellent results for patients with human leukocyte antigen (HLA)-matched family or unrelated donors (URDs) or partially matched cord-blood donors.
IVIG: can be used for temporary treatment.
Antibiotics used for current infections.
HOW WELL DO THE PATIENTS DO?
Life expectancy of patients with classic WAS is reduced, with premature death resulting from infections, hemorrhage, autoimmune disease, and malignancies. Bleeding is the main cause of death. Malignancies in patients with classic WAS are often fatal
WAS THERE A WAY TO PREVENT IT?
No, this genetic condition is not preventable.
WHAT ELSE ARE WE WORRIED ABOUT?
Opportunistic infections/chronic infections.
Pateints are at higher risk for autoimmune disease and malignancy.
OTHER HY FACTS?
Platelets are not only fewer, but smaller as well
FURTHER READING
Page Updated: 02.04.2016