WHAT IS IT? 
Portal hypertension is defined as a pressure gradient greater than 10 mm Hg between the portal vein (entering the liver) and hepatic veins (leaving the liver). The hypertension is usually intrahepatic (sinusoidal) secondary to cirrhosis. Rarely, however, it may be posthepatic secondary to hepatic vein thrombosis (Budd-Chiari syndrome) or prehepatic secondary to portal vein thrombosis. The sequelae of portal hypertension are outlined here.
WHY IS IT A PROBLEM?
Increased pressure in the portal system causes swelling of vessels that are connected to the portal system which can cause a myriad of problems that are outlined below.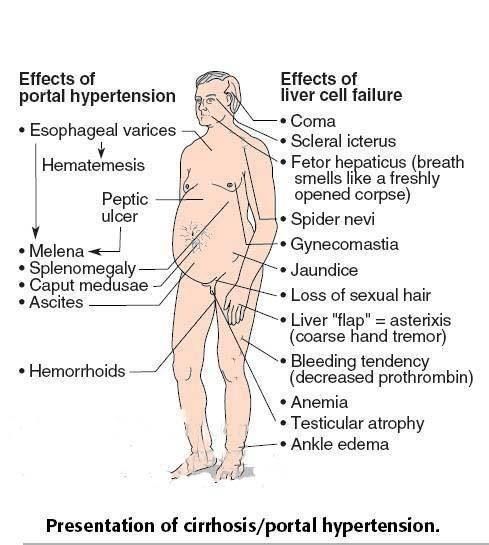 WHAT MAKES US SUSPECT IT?
Risk factors: cirrhosis, excessive alcohol abuse, hepatitis B and C
Chief concern (CC): may be asymptomatic, but also can present with
variceal hemorrhage (must be urgently excluded in any patient with suspected liver disease presenting with significant gastrointestinal hemorrhage)
splenomegaly
ascites (fluid wave test positive/ultrasound showing ascites)
abdominal pain (may be present in extrahepatic portal vein obstruction)
hemorrhoids are also sometimes found. These are external anorectal varices (not internal hemorrhoids)
Esophageal varices: veins within the esophagus can become engorged due to portal hypertension. These varies can hemorrhage and bleed.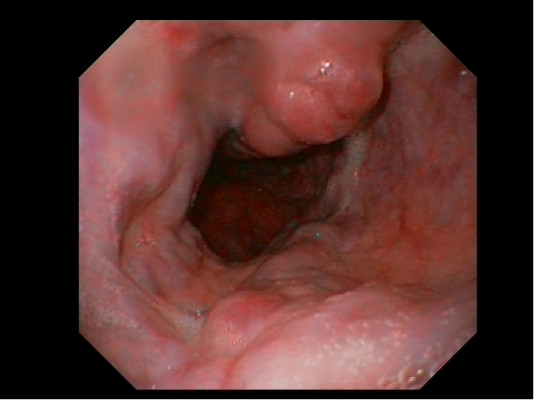 Caput Medusae: periumbilical veins themselves can become engorged as well.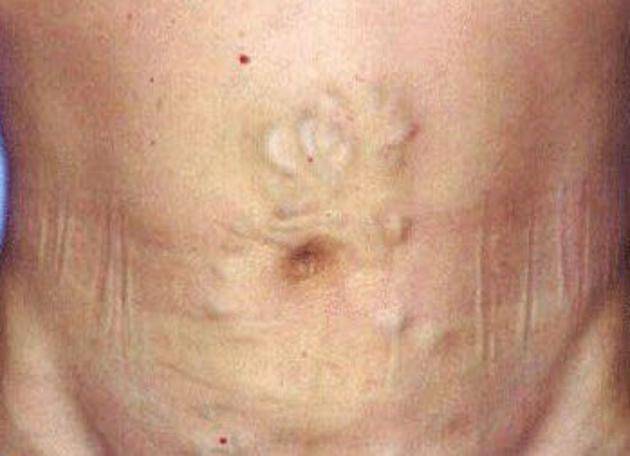 HOW DO WE CONFIRM A DIAGNOSIS?
Definitive diagnosis requires direct measurement of portal venous pressure, but this is invasive and requires significant procedural experience (balloon catheterization into hepatic vein via femoral or jugular route).  Defined as a pressure gradient greater than 10 mm Hg between the portal vein (entering the liver) and hepatic veins (leaving the liver).
*Generally speaking, clinical findings are enough for a functional diagnosis.
HOW DO WE TREAT IT? 
Management of portal hypertension differs by clinical phase of varices : primary goal of treatment is to prevent and treat complications, especially variceal hemorrhage
Monitor varices with endoscopy
Liver transplant needed to ultimately remedy issues with the liver
Transjugular intrahepatic portosystemic shunt (TIPS): connection between the portal vein and hepatic vein shuns blood to the systemic circulation (bypassing liver).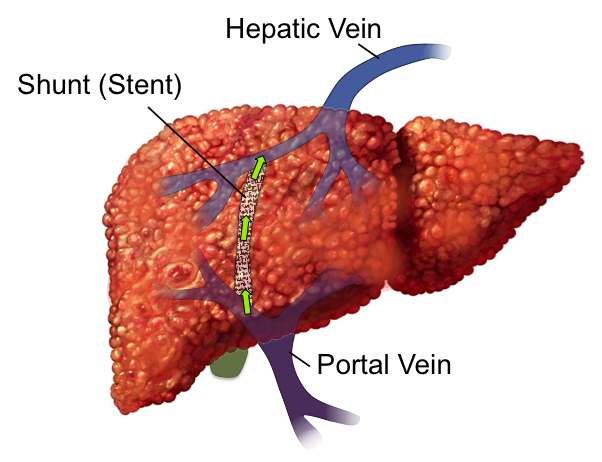 HOW WELL DO THE PATIENTS DO?
Patients generally do not do very well with a condition as serous as portal hypertension.
WAS THERE A WAY TO PREVENT IT? 
Somes causes of portal hypertension are preventible (such as excessive drinking that leads to liver cirrhosis)
WHAT ELSE ARE WE WORRIED ABOUT? 
Esophageal varices rupturing: this is a dangerous occurrence that can be fatal if not treated quickly.
OTHER HY FACTS?
Most cases of portal hypertension are alcohol related in the U.S.

FURTHER READING
Page Updated: 02.04.2016