WHAT IS IT?
Meckel diverticulum: is a true diverticulum (includes all layers of the GI gut wall) caused by a remnant of the vitelline duct (embryologic connection to yolk sac). This is an outpouching of the intestinal wall.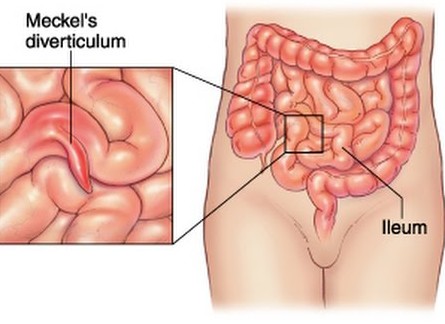 WHY IS IT A PROBLEM?
This outpouching can cause bleeding in the GI tract, and also can cause abdominal pain.
WHAT MAKES US SUSPECT IT?
Risk Factors:
Male sex, young age (commonly presents in first 2 years of life).
Patient Issues/Chief Complaints:
Asymptomatic in most patients: most often detected incidentally during laparotomy or laparoscopy for unrelated disorder
Bloody stools: melena, haematochezia
Abdominal pain: Right lower quadrant is common location of pain.
Fever
Detection On Medical Workup:
This defect can be appreciated intraoperativley either during a laparotomy or laprascopy
Imaging (i.e. C-scan): this abnormality can be detected incidentally on imaging studies.
WHAT ARE IMPORTANT FEATURES OF THE PHYSICAL EXAM?
Abdominal Exam:
No palpable masses should be present on this exam
CLINICAL WORKUP: IMAGING
Meckel's scan this is gastrointestinal scintigraphy (nuclear imaging) used to detect ectopic gastric mucosa, which is often present in Meckel diverticulum.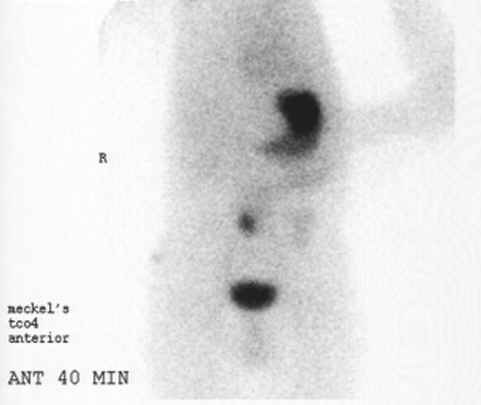 Angiography useful only if patient has active gastrointestinal bleeding
Consider computed tomography (CT) if patient has negative Meckel's scan and no bleeding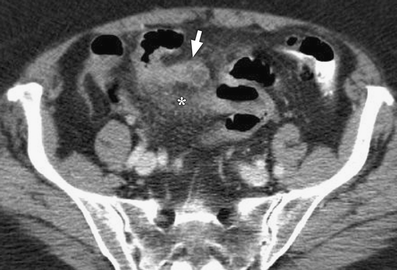 CLINICAL WORKUP:HISTOLOGY
*Definitive diagnosis is usually surgical with histopathologic confirmation: the presence of gastric glands in the tissues that compose the diverticulum is very specific for Meckel diverticulum.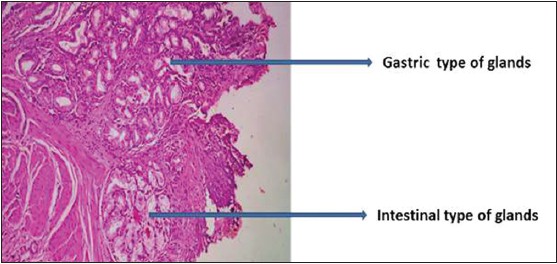 HOW DO WE RULE OTHER DIAGNOSES OUT?
The Meckel scan will ultimately be an important first step in ruling out the possibility of other diagnosis. That being said, a negative Meckel scan will not rule out Meckel diverticulum from the differential.
HOW DO WE TREAT IT?
Definitive treatment is surgical resection of diverticulum (Meckel diverticulectomy)
HOW WELL DO THE PATIENTS DO?
Surgical resection is curative.
WAS THERE A WAY TO PREVENT IT?
N/A
WHAT ELSE ARE WE WORRIED ABOUT?
Small bowel obstruction: this condition can be responsible for causing a small bowel obstruction in some patents.
OTHER HY FACTS?
Commonly remembered by the rule of 2. Found in 2% of the population, usually occurs within 2 feet of the ileocecal valve, 2 inches in length, containing two types of ectopic tissue (gastric and pancreatic), and with 2% of those affected becoming symptomatic, usually before 2 years of age.
Littre's hernia: this is the name of the hernia associated with an incarcerated Meckels diverticulum.
ARCHIVE OF STANDARDIZED EXAM QUESTIONS
This archive compiles standardized exam questions that relate to this topic.
FURTHER READING
Page Updated: 02.03.2016