WHAT IS IT?
Down syndrome/trisomy 21: is a genetic condition where patients have 3 copies of the 21st chromosome. Note that in addition to non- disjunction, patients with Down syndrome can also have an extra 21st chromosome if one of the 21st chromosomes attaches abnormally to another chromosome. This is called translocation and can either be asymptomatic in the mother (e.g., mother has two 21st chromosomes, but one of them is attached to another chromosome, leading to the potential for trisomy 21 in the offspring) or can occur during rearrangement in meiosis.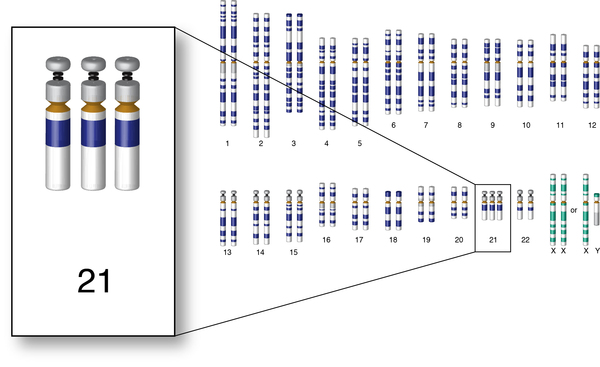 WHY IS IT A PROBLEM?
The presence of this additional chromosome will lead to a wide variety of problems which include: intellectual disability, congenital heart disease, and abnormal facial features (to name a few).
WHAT MAKES US SUSPECT IT?
Risk factors:
family history of chromosomal translocation, increasing number of spontaneous abortions increases risk of all trisomies.

Initial Presentation:
Fetus: a quadruple screen (genetic screening test during the second trimester) can reveal findings that are consistent with a child who has Down syndrome. Here are the results that support this diagnosis from this screen:
Low maternal serum alpha-fetoprotein
Low estradiol
Increased beta-hCG
Increased inhibit A
Young child
Physical Exam:
Typical appearance of infant at birth (such as small head circumference, epicanthal folds, flat nasal bridge, short fifth finger, hypotonia)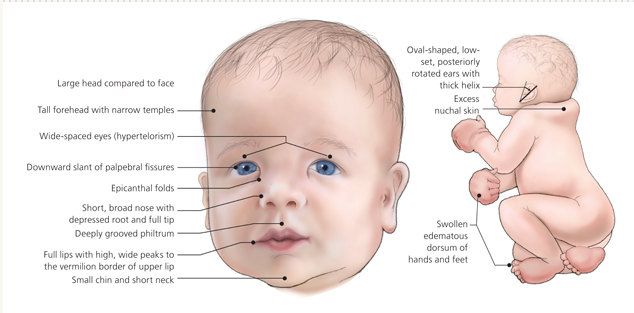 Single palmar crease (also known as a Simian crease) is also present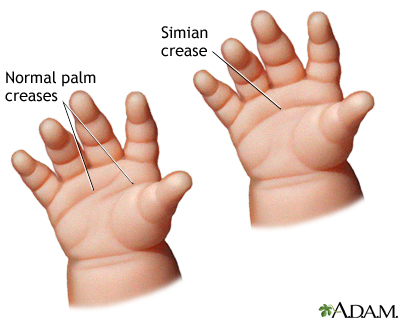 Large gap between first 2 toes
HOW DO WE CONFIRM A DIAGNOSIS?
*Ultimately genetic testing is the most useful with regards to confirming a diagnosis. Most often (especially with the U.S) prenatal genetic screening will demonstrate this trisomy.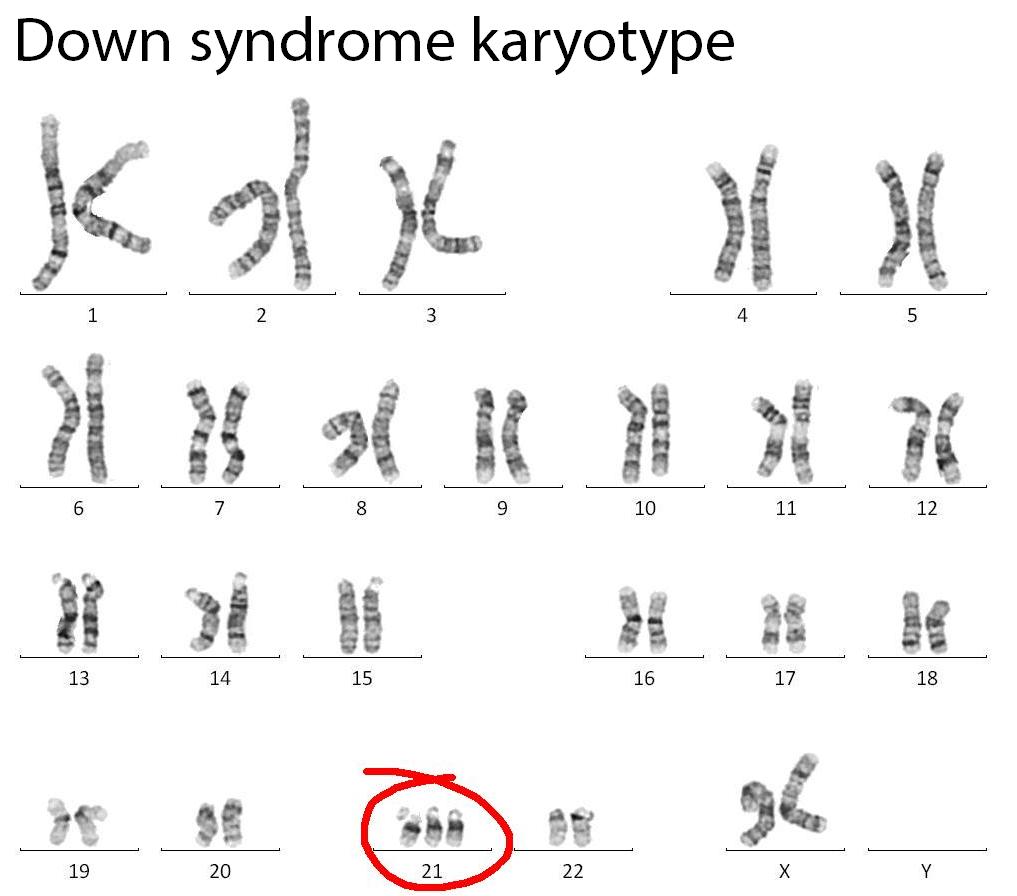 HOW DO WE RULE OTHER DIAGNOSES OUT?
Genetic testing for chromosomal abnormalities is very specific and can rule out the possibility of other diagnosis.
HOW DO WE TREAT IT?
Surgical treatment for cardiac abnormalities.
Modified diet to prevent obesity (these patients have reduced metabolic rates)
HOW WELL DO THE PATIENTS DO?
IQ values vary, usually ranging from 35 to 70, indicating mild-to-moderate mental impairment; severe mental impairment is only occasionally seen in children with Down syndrome
12% mortality for Down syndrome infants during first year of life
*Down syndrome associated with increased risk of mortality and various cancers
WAS THERE A WAY TO PREVENT IT?
While this is a congenital condition, pre-natal genetic screening (chorionic villus sampling/amniocentesis) and ultrasound can help detect it prior to birth.
Ultrasound: looking for nuchal translucency can suggest the possibility of Down syndrome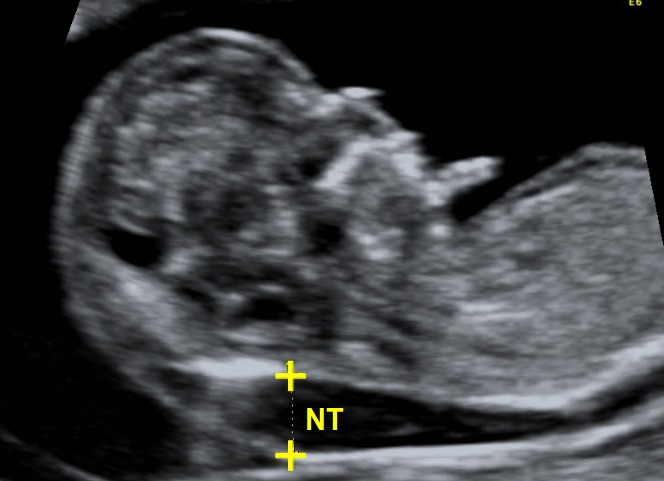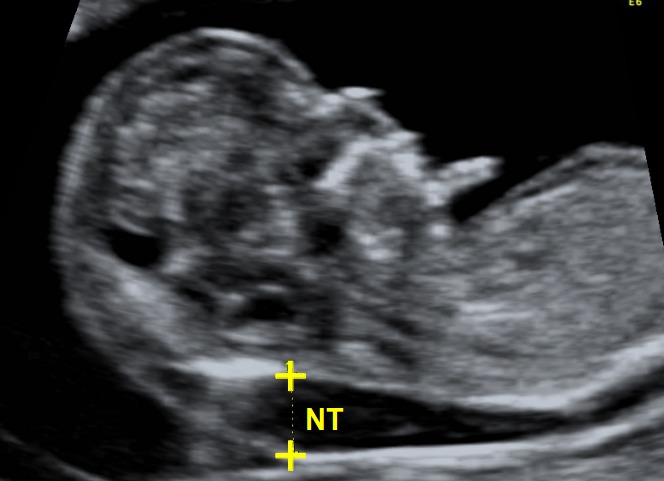 WHAT ELSE ARE WE WORRIED ABOUT?
ALL and AML: patients with down syndrome are at higher risk for acute leukemias
Heart defects: AV septal defects (endocardial cushion defect) are the most common type of heart complication. VSD and ASD are also common.
Alzheimer disease: patients with trisomy 21 are at higher risk for developing a Alzheimer disease
Hirschsprung disease risk is also increased with Down syndrome
Duodenal atresia: this is the congenital absence or complete closure of a portion of the lumen of the duodenum. It causes increased levels of amniotic fluid during pregnancy ( called polyhydramnios) and intestinal obstruction in newborn babies (common in Down syndrome)
Atlantoaxial instability: this refers to mobility between the atlas (C1 vertebrae) and axis (C2 vertebrae) that can be seen in a fraction of patients with Down syndrome. Some patients with this condition are symptomatic and develop: leg spasticity, hyperreflexia, positive Babinski sign, and clonus.
OTHER HY FACTS?
Human chorionic gonadotropin (hCG) is elevated in mothers who have fetuses with down syndrome
There is decreased Alpha-fetoprotein (AFP) in amniotic fluid/maternal serum when the fetus has down syndrome
Umbilical hernia is associated with down syndrome (which is caused by incomplete closure of the umbilical ring)
Most common viable chromosomal disorder
Most common cause of genetic intellectual disability
ARCHIVE OF STANDARDIZED EXAM QUESTIONS
This archive compiles standardized exam questions that relate to this topic.
FURTHER READING
Page Updated: 02.02.2016