WHAT IS IT? 
Bacterial vaginosis (BV) is a disruption in the normal vaginal flora and is commonly caused by the gram-variable coccobacilli Gardnerella vaginalis. Some studies show that bacterial vaginosis is found in 29% of women aged 14-49 years in the U.S. (source).
WHY IS IT A PROBLEM?
Colonization of this pathogen leads to loss of lactobacilli organisms, and an overgrowth of mixed anaerobic organisms which causes the symptoms discussed below (fishy odor, discharge, etc).
Sometimes it is not a problem: it is important to realize that a significant portion of women are colonized with Gardnerella vaginalis but do not have any symptoms of BV.
WHAT MAKES US SUSPECT IT?
Risk Factors: 
smoking, vaginal douching
Chief Complaints: the constellation of chief complaints/symptoms experienced by patients with BV are often characterized as "vaginitis" by medical professionals.
Vaginal itching/burning 
Dyspareunia 
Vaginal odor 
Physical Exam:
Gynecological exam can reveal:
Vaginal odor:

 classically fishy/musty in nature

Vaginal discharge:

thin, gray-white in color

Lack of erythema/edema

given that BV is typically not an inflammatory condition.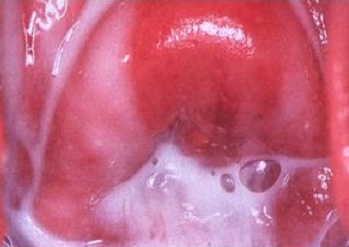 CLINICAL WORKUP
Wet mount: microcopic ananlysis of the patient's vaginal discharge on a wet mount can reveal the presence of clue cells. Typically there will not be many white blood cells present.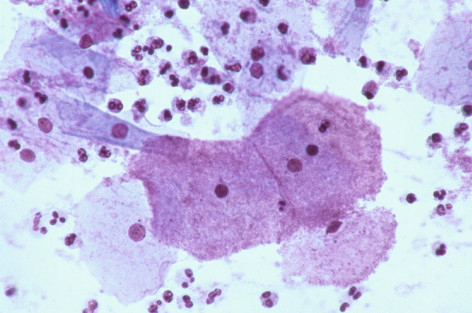 AT WHAT POINT DO WE MAKE THE DIAGNOSIS
There are criteria for diagnosis (Amsel criteria) that require the following three out of four of the following conditions to be met:
Homogenous thin white/grey discharge coating the vaginal walls (no inflammation will be present).
Greater than 20% clue cells present on wet mount microscopy of vaginal discharge.
Vaginal pH > 4.5 (normal values between 3.8-4.5)
Positive whiff test: fishy or amine odor of vaginal discharge alone or after addition of 10% potassium hydroxide (KOH). Adding KOH should increase the intensity of the smell.
Keep in mind that in the absence of any type of vaginal odor the diagnosis of BV is very unlikely.
 HOW DO WE TREAT IT? 
Metronidazole given either orally or as a gel OR Clindamycin cream is used to treat symptomatic women.
HOW WELL DO THE PATIENTS DO?
The treatment is effective, however re-currence is common due to:
persistence of pathogenic bacteria
re-infection
failure of normal lactobacillus-predominant flora to re-establish
WAS THERE A WAY TO PREVENT IT? 
It is difficult to anticipate infections for BV, however abstaining from practices such as douching could potentially be of benefit. Avoiding anything that might upset the vaginal flora ideally should be avoided (however these causes are not that well characterized).
WHAT ELSE ARE WE WORRIED ABOUT? 
While not an STD within itself, BV can sometimes be a result of new sexual partners (which might disrupt the vaginal biome). Make sure to obtain complete sexual histories from your patients.
ARCHIVE OF STANDARDIZED EXAM QUESTIONS
This archive organizes example questions on this topic.
FURTHER READING 
Page Updated: 10.15.2016