WHAT IS IT?
SIADH is a condition that is exactly as it sounds. Essentially this refers to a group of conditions that are characterized by the increases/inappropriate secretion of ADH. A few different causes can be responsible.
Ectopic ADH secretion/paraneoplastic: this can be due to small cell lung carcinoma or a intracranial neoplasm
CNS disorders/ head trauma: can lead to increased ADH secretion by the pituitary
Pulmonary disease/infection: can be secondary to pneumocystis infection (in AIDS patients)
Drug reactions: Carbamazepine, Cyclophosphamide, SSRI
Mutations: in the V2 receptor for ADH can lead to increased ADH signaling even in its absence.
WHY IS IT A PROBLEM?
Excessive levels of ADH secretion will cause increased water resorption in the distal nephron. Increases in water retention will cause aldosterone singling to become diminished, leading to increased loss of sodium though the urine. Ultimately this will all cause hyponatremia in the patient.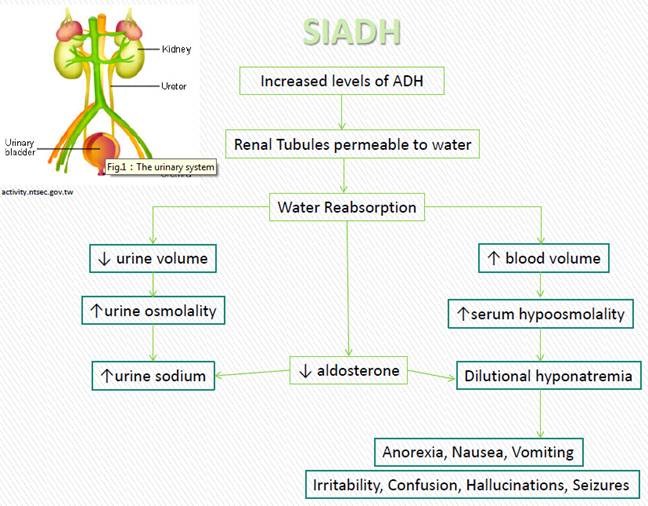 WHAT MAKES US SUSPECT IT?
Risk factors: malignancy, history of cancer, history of AIDS, older age
Chief complaint: confusion and weakness are common, however the presentation will depend on the extent of the hyponatremia the patient is experiencing, which can include:
Headache
Nausea
Disorientation
Seizures
Hallucinations
Coma
Euvolemic: no signs of edema or ascites will be present on physical exam also:
Normal heart rate
No orthostatic blood pressure changes
Normal skin turgor
Lack of dry mucous membranes.
HOW DO WE CONFIRM A DIAGNOSIS?
Narrowing suspicions:
Euvolemic hyponatremia with sustained urinary Na+ excretion (aldosterone is not on)
Urine osmolality > serum osmolality
Diagnostic Criteria for SIAD (source): the essential features for diagnosis require
Decreased effective plasma osmolality (< 275 mOsm/kg)
Increased urine osmolality (> 100 mOsm/kg during plasma hypotonicity)
Increased urinary sodium present (> 40 mmol/L with normal dietary salt intake)
Clinical euvolemic (explained above)
*ADH levels are unreliable for diagnosis given that they can vary greatly based upon cause of SIADH
HOW DO WE RULE OTHER DIAGNOSES OUT?
Hypothyroidism and adrenal insufficiency should be ruled out (respective hormone levels need to be checked)
*Make sure to check patient history for any recent use of diuretics!
HOW DO WE TREAT IT?
*Treating the underlying cause is important for addressing SIADH! General treatments are
Fluid restriction
IV hypertonic saline
ADH antagonists (conivaptan, tolvaptan): these work to block activation of ADH by blocking the V2-receptor
Demeclocycline: this is a tetracycline that is also a ADH antagonist
HOW WELL DO THE PATIENTS DO?
This will depend on the underlying cause of SIADH
WAS THERE A WAY TO PREVENT IT?
This depends on the underlying cause, but avoiding certain medications could prevent the development of SIADH
WHAT ELSE ARE WE WORRIED ABOUT?
Cerebral edema and seizures: decreased sodium can cause cerebral edema, neuronal swelling, and seizures as well.
Osmotic demyelination syndrome (central pontine myelinolysis): rapid correction of hyponatremia can cause damage to the myelin sheath of the brainstem (Pons specifically). Make sure to correct sodium levels slowly to avoid this.
OTHER HY FACTS?
This is one of the most common causes of hyponatremia.
Lithium has been used at some point to treat certain cases of SIADH (board exam fact)
ARCHIVE OF STANDARDIZED EXAM QUESTIONS
This archive compiles standardized exam questions that relate to this topic.
FURTHER READING
Page Updated: 01.29.2016