WHAT IS IT?
Streptococcus pyogenes is a gram positive coccal bacterium.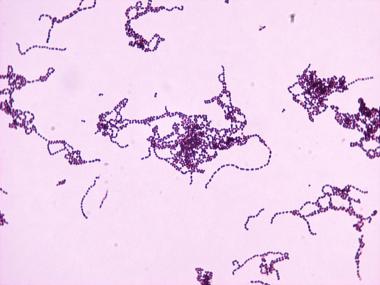 CULTURE CHARACTERISTICS
β-hemolytic bacteria: form clear area of hemolysis on blood agar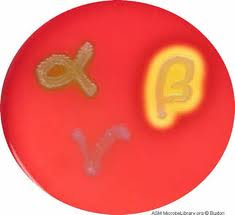 Bacitracin sensitive: this pathogen will not grow on culture plates that contain bacitracin.
Catalase negative: no bubbles observed when bacteria are added to hydrogen peroxide
Pyrrolidonyl arylamidase (PYR) positive: this is the component that is used for a rapid strep test.
MOLECULAR CHARACTERISTICS
Exotoxin A: this toxin binds to the MHC II and T-cell receptor causing activation, and resulting in the overwhelming release of cytokines. The end result is shock (toxic shock syndrome).
Streptolysin O/S: protein that degrades cell membrane. This can destroy RBCs and cause β-hemolysis. Also can lyse WBCs
M protein: M protein is a virulence factor that protects the bacterium from phagocytosis by the host immune system. It is formation of antibodies against this M protein that causes rheumatic fever after strep throat
TRANSMISSION
Direct contact with infected or colonized skin/saliva
CONDITIONS CAUSED
Pyogenic: pharyngitis, cellulitis, impetigo, erysipelas
ƒToxigenic: scarlet fever, toxic shock–like syndrome, necrotizing fasciitis
Immunologic: rheumatic fever, acute glomerulonephritis (both preceded by pharyngitis)
TREATMENT
Penicillin G, V: these are prototypical β-lactam antibiotics that bin penicillin-binding proteins and block the cross-linking of the peptidoglycan in the cell wall.
OTHER HY FACTS
Effective hand washing is a great method for preventing infection.
ARCHIVE OF STANDARDIZED EXAM QUESTIONS
This archive compiles standardized exam questions that relate to this topic.
Page Updated: 01.28.2016